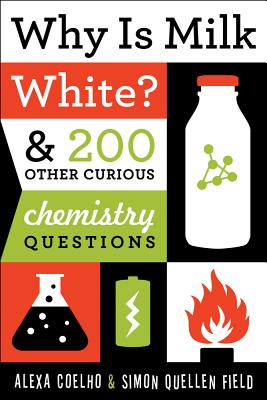 WHY IS MILK WHITE? & 200 OTHER CURIOUS CHEMISTRY QUESTIONS
by Alexa Coel­ho & Simon Quellen Field
Chica­go Review Press
Jan­u­ary 1, 2013
288 pages
Did you (or any chil­dren in your life) ever won­der how soap works, why onions make you cry, or how bad it is for you to breathe in hair­spray? 11-year-old Alexa Coel­ho did, so she pulled togeth­er these and almost 200 oth­er ques­tions about her favorite sub­ject, chem­istry, and asked sci­ence writer Simon Quellen Field to write up the answers. This book is the result.
Alexa did a great job of com­ing up with a huge col­lec­tion of spe­cif­ic, rel­e­vant ques­tions that today's kids (and adults) are sure to be inter­est­ed in, and Simon did an equal­ly great job answer­ing them in clear, easy-to-under­stand expla­na­tions. It's fun to read straight through or to use as a ref­er­ence when­ev­er you come across some­thing inter­est­ing that you want to know more about. The book also has some nice non­fic­tion fea­tures like a detailed table of con­tents, spe­cial sec­tions with hands-on projects for young chemists (and often an adult helper), and a glos­sary of terms.
Unfor­tu­nate­ly, there are a few things miss­ing here. First, I would real­ly love to see an index in a book like this. It's near­ly impos­si­ble to find the answer to the tit­u­lar ques­tion, for exam­ple. I only found ref­er­ence to it in a dif­fer­ent ques­tion about why hair con­di­tion­er is white, which, obvi­ous­ly, isn't in the food sec­tion. Sec­ond, I would have liked to have seen some advice about where to find the ingre­di­ents for some of the projects. Have you pur­chased any muri­at­ic acid late­ly? Final­ly, I wish it had clear­ly stuck to chem­istry ques­tions, or at least acknowl­edged when it was depart­ing from them. Some, such as "Why is the sky blue?", stray pret­ty far afield into oth­er areas of science.
Still, I think the good­ness here far out­weighs the flaws, and mid­dle-school sci­en­tists all the way through curi­ous adults will learn a lot about sci­ence while enjoy­ing this book.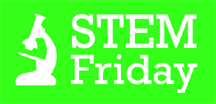 It's STEM Fri­day! Check out the STEM Fri­day blog for more STEM book reviews.
(STEM is Science, Tech­nol­o­gy, Engi­neer­ing, and Math­e­mat­ics)
Dis­claimer: I received a review copy from the pub­lish­er in exchange for a fair and hon­est review.