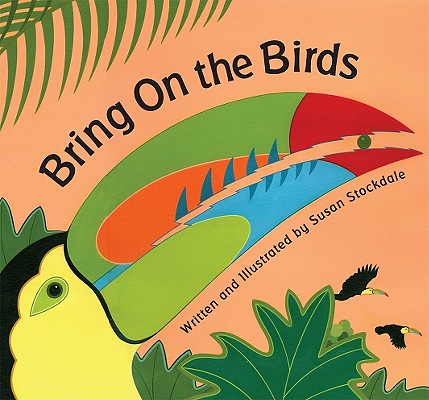 Bring On the Birds
writ­ten and illus­trat­ed by Susan Stock­dale
Peachtree Pub­lish­ers (Feb­ru­ary 1, 2011)
32 pages, ages 4 and up
This is one of my favorite books of all the nom­i­na­tions in the Cybils Non­fic­tion Pic­ture Book cat­e­go­ry this year, and I just can't get over how absolute­ly per­fect it is. The poet­ic text is a sim­ple but ele­gant rhyme with spot on rhythm and meter:
"Swoop­ing birds,
whoop­ing birds,
birds with puffy chests.
Danc­ing birds,
div­ing birds,
birds with fluffy crests."
The illus­tra­tions are bright, clean, and not only depict the var­i­ous birds, but also place them in their appro­pri­ate habitats.
The 21 birds fea­tured run the gamut from the com­mon robin to the more exot­ic blue-foot­ed boo­by, from the great blue heron to the blue bird-of-par­adise. This book cov­ers an enor­mous diver­si­ty of life, then ends just right with what they all have in common:
"All of them have feathers,
and all are hatched from eggs."
This is a won­der­ful intro­duc­tion to birds for the youngest read­ers. It could also be used to talk about diver­si­ty, habi­tats, and classification.
At the end of the book, Stock­dale includes a per­fect­ly brief and spot-on para­graph with infor­ma­tion about each bird pro­filed in the book. The book also includes a bibliography.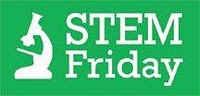 To check out the rest of today's roundup of books for kids about top­ics in sci­ence, tech­nol­o­gy, engi­neer­ing, and math­e­mat­ics, head on over to this week's STEM Fri­day roundup over at Anas­ta­sia Suen's Book­talk­ing.
(Dis­claimer: I received a copy of this book from my local library. I received no mon­e­tary com­pen­sa­tion for this review. All opin­ions expressed here are mine and mine alone.)