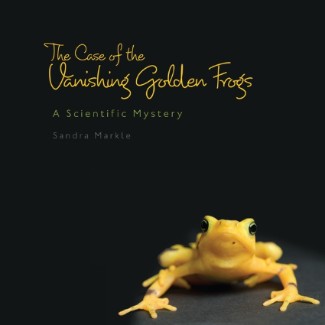 The Case of the Vanishing Golden Frogs: A Scientific Mystery
(Exceptional Science Titles for Intermediate Grades series)
by Sandra Markle (Author)
Millbook Press (Lerner), October 2011
48 pages
Ages: 9-12
From the publisher's web page:
Panamanian golden frogs aren't just cute, little, and yellow. They're also the national symbol of Panama. But they started to disappear about fifteen years ago. What's killing them? Could it be a change in their habitat? What about pollution? Might it be a result of climate change? Follow a team of scientists working to save these frogs and protect frog populations worldwide in this real-life science mystery.
Sandra Markle is one of my favorite authors, and frogs are high on my list of favorite animals, so I was thrilled to have a chance to preview this title. And I wasn't disappointed. The text is informative and easy to understand, but also tells a fascinating and compelling story.
Markle does a great job of capturing both the importance and the fun of science. First, she explains why the disappearance of these tiny creatures matters. Then, she lays out how the mystery unfolded: what questions different scientists asked, and how the answers led to the next piece of the puzzle–and more questions, for other scientists, etc.
In fact, that's one of the things I appreciated most about this book: it doesn't follow just one scientist and his or her unique work. It demonstrates how one person's findings sparked others to advance the science, and how each used his or her own expertise and knowledge to contribute the next vital step in the ongoing process. To me, that makes science feel more accessible to kids by showing that successful scientists don't need to solve a whole big problem, they just need to learn something new and tell others.
Aside from the masterful text, the stunning layout and design and big, bold photographs on every page make the book visually engaging throughout and are more than enough to keep young readers turning the pages to see what's next.
In the author's note, Markle adds this:
No tale of finding a serial killer could be more exciting than this true story. . . . But the story isn't over yet. The amphibian killer is still at large. Perhaps, one day, one of you will become the science detective who finally stops this killer.
The book also includes a table of contents, "how to help" section,  glossary, age-appropriate recommended resources, index, and photo credits.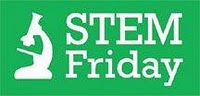 To check out the rest of today's roundup of books for kids about topics in science, technology, engineering, and mathematics, head on over to this week's STEM Friday host, Rasco From RIF!