I love talking about books and writing and being an author to students of all ages! Please see the descriptions of available programs below. I am always happy to autograph books. If it's an in-person visit with your students or faculty, we can share a lunch-time.
If you're looking for something a little different from what I've outlined here or you have a specific curriculum need or budget, I'm happy to discuss altering an existing program to better fit your needs. Please email me with any questions or to schedule a presentation!
If teachers or students are using one of my books for a project or classroom activity, I gladly offer a free 15-minute virtual Q&A author visit session via Skype, Google Hangouts, FaceTime, etc. Full online author visit presentations are also available, at 50% off my standard local in-person rates.
My standard rate is $400/presentation within a 1-hour drive from the Seattle/Eastside area, or $1500/day plus expenses to travel outside of that area (3 presentations max). Discounts may be available depending on the situation, and book sales are strongly encouraged and much appreciated.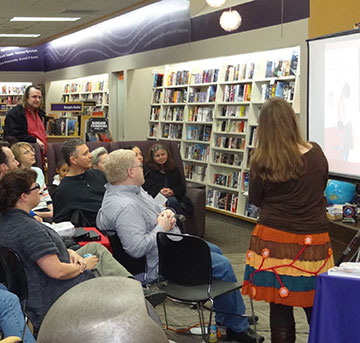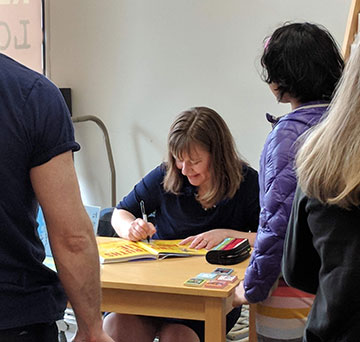 Available Author Visit Programs
Truth and Lies: Can You Tell the Difference?
40-60 minutes
grades 3-8
classroom or assembly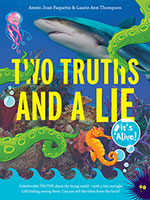 In this presentation, I'll introduce concepts of information literacy and effective research techniques through my Two Truths and a Lie books (co-authored with Ammi-Joan Paquette). Students will learn why being able to spot fake news and question truthfulness is important as well as how to do it. They'll learn how to evaluate sources, whether their own or others'. Finally, they'll learn additional tricks for not getting fooled by less-than-factual information. They'll leave the presentation with a heightened sense of skepticism as well as newfound self-sufficiency as both consumers and producers of information. Length is 40-60 minutes, for large or small audiences.
Testimonial: "Thank you so much for coming and talking to our 6th-grade students! They really enjoyed meeting you and hearing about your writing process. Thank you for reviewing how to find credible resources and spot fake news! The acronym for evaluating research – current, relevant, authority, accuracy, and purpose – will stick with them. They loved reading the book for science, and it has been a favorite for informational reading. Sorry we were unable to spot any tree octopods during your visit." (Brooke Hendry and Jessica Bruning, Jefferson Elementary, 6th grade team)
40-60 minutes
grades K-6
classroom or assembly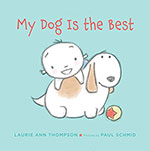 I will read from both Emmanuel's Dream and My Dog Is the Best, using them to show how we make our writing more relevant to both ourselves as writers and to our readers. This author visit offers a glimpse of my writing journey from inspiration to publication and discusses grit and letting go of perfectionism. Students will leave knowing we are all writers and that sharing our stories matters for each and every one of us, whether we're professional authors or not.
Testimonial: "I am so deeply thankful for your visit with our students in Discovery Club this summer. The students' eyes were glued on you, and they were just soaking in your every word as you told stories about researching and writing a book! I could tell they felt very special to get a sneak peek of your soon-to-be-published books. They were truly captivated by your time with them, and you intuitively found ways to show them that all of their questions and ideas were important. We would love for you to visit our students again next year!" (Teddy Dillingham, Lead Educator, Imagine Children's Museum)
flexible length
all ages
large or small groups, hands-on workshop elements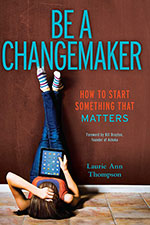 Drawing on my age-appropriate books (either Be a Changemaker or Emmanuel's Dream or Elizabeth Warren's Big, Bold Plans), this author visit presentation will introduce youth to the idea that, in today's world, everyone can—-and should—-strive to be a changemaker. I present real-world examples of young people who had made their marks on the world. I also inspire students to dream big and take positive action in their communities and beyond. Finally, I give students practical tips for success in their own future changemaking efforts. This workshop can be tailored for large or small groups. For smaller groups and/or older students, it can include hands-on workshop elements. Length is flexible, depending on your specific situation and needs.
Testimonial: "Laurie Thompson is a thoughtful, clear and engaging presenter. She spent an hour with our 5th and 6th graders as a culmination to our Lucy Calkins TCRWP unit on informational writing. We used both Emmanuel's Dream and Be a Changemaker as mentor texts for the Teen Activism topic. There is nothing better for the variety of writers in a classroom—emergent, reluctant and proficient—than to hear a published author talk about the struggle and time it takes to create a published piece. The message that writing is 'never done' was professionally and perfectly conveyed to students. If you're looking for ways to engage your students in writing and in making a difference, Laurie Thompson will share her passion with them!" (Maureen Juenger, 5/6 Grades, Sunrise Elementary, Redmond, WA) 
Nonfiction Writing Workshop: Facts Are Fun!
40-60 minutes
grades 1-6
workshop
I start this author visit by talking about where to find ideas and how to decide what to write about. Then I move on to detail the process of nonfiction writing, including research, planning, drafting, revising, and editing. I share techniques for becoming a better writer in any genre. I will share excerpts from my work as examples, and ask students to volunteer to share their thoughts as well. Students will leave the workshop with a list of their own ideas for future nonfiction projects and an opening paragraph for at least one of those topics. This workshop can be 40-60 minutes in length, depending on your needs.
Testimonial: "Thanks so much for your visit to our classroom. It is so important for kids to connect their work in the classroom to authentic, real-life writing that people do in the real world. Your visit was so different from our typical author-visit… we hardly ever get to meet real authors who write non-fiction! The kid-friendly articles you shared fit in perfectly with our study of non-fiction text features, and the tips on generating ideas, conducting research, and then actually writing and publishing your work were all things my 1st graders could really connect to. The students were very engaged throughout your entire talk. Thanks so much for bringing the real world to our classroom, and sharing all your interesting articles!" (Michal Friesen, first grade teacher, Woodridge Elementary, Bellevue, WA )
Writing Nonfiction for Kids | Overview and Resources
In this presentation for adult writers, I provide an overview of the market for nonfiction for children, including magazines, educational/work-for-hire, and trade markets for picture books as well as middle-grade and young-adult nonfiction books. I discuss how to break in and build a career in each of these areas, as well as provide my favorite resources for all writers of nonfiction for children. Depending on the depth desired, this presentation can be 30-90 minutes long.
Writing to Save the World
This is an inspirational and explorational presentation for adult writers of all genres and skill levels. I share quotes about the importance of writing and writers along with examples from my own publishing journey. I also help participants tap into their creativity and passions to discover their true writing purpose through several short, simple writing exercises. Participants should walk away with a greater sense of conviction about the value of their work in the world as well as new tools to help them keep it moving forward.