It is with great excite­ment and grat­i­tude that I give you this list of amaz­ing edu­ca­tion­al resources that won­der­ful edu­ca­tors and design­ers have com­piled to go along with TWO TRUTHS AND A LIE: IT'S ALIVE! and, hope­ful­ly, make it easier–and more fun–for teach­ers or librar­i­ans to put to use in the classroom!
---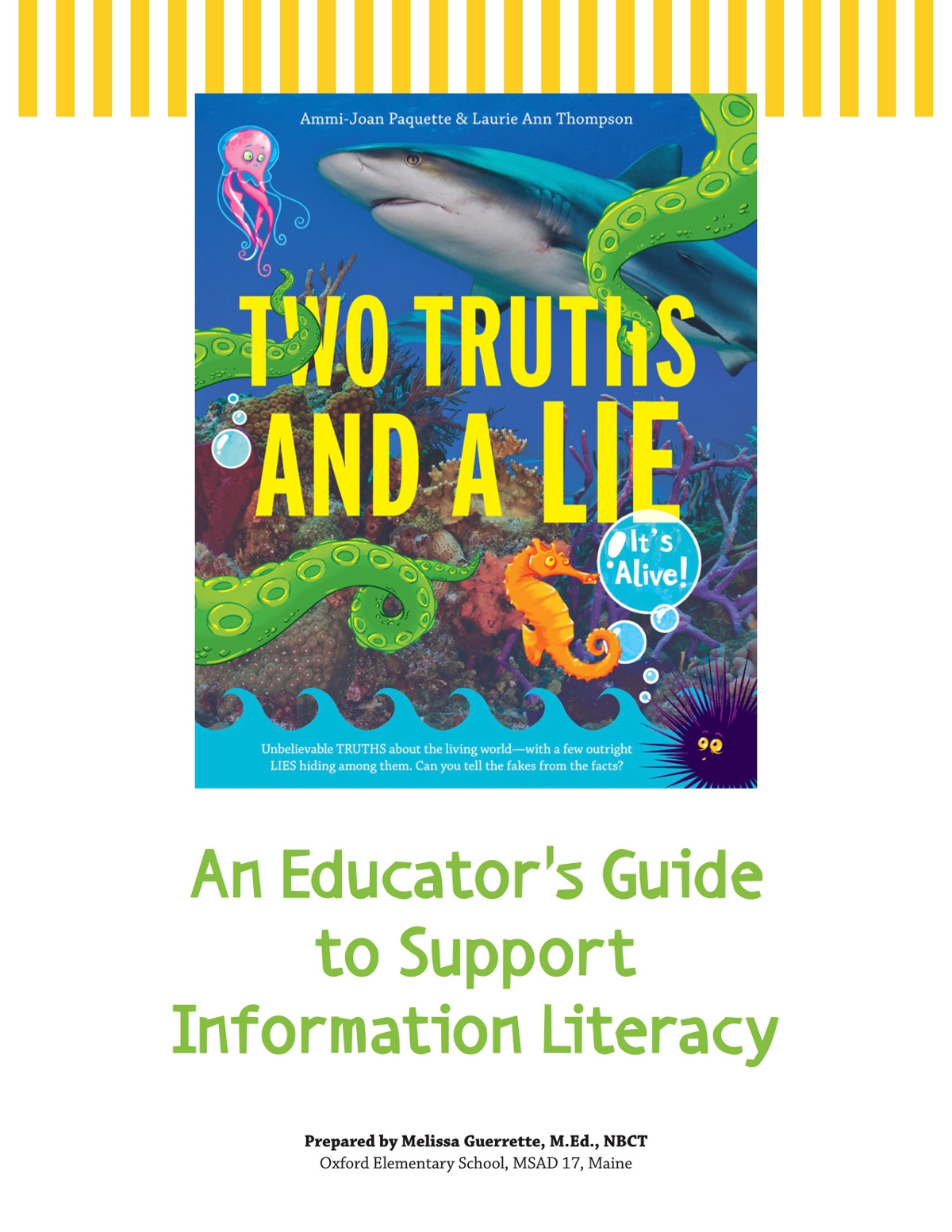 First up is the Edu­ca­tor's Guide to Sup­port Infor­ma­tion Lit­er­a­cy, writ­ten by amaz­ing 5th grade teacher
Melis­sa Guer­rette, M.Ed., NBCT
. This guide is chock full of tips teach­ers can use to teach stu­dents how to eval­u­ate sources and fact-check any mate­ri­als they may encounter, whether they are read­ing the sto­ries from TWO TRUTHS AND A LIE or just about any­thing else.
It includes a print­able Fact or Fic­tion note-tak­ing work­sheet teach­ers can use to help read­ers ana­lyze a text to deter­mine if it is true or false and record evi­dence of their think­ing process­es along the way.
It also has a list of the Com­mon Core State Stan­dards sup­port­ed by the activ­i­ties in the guide, AND an impres­sive col­lec­tion of addi­tion­al resources for teach­ers of infor­ma­tion lit­er­a­cy concepts.
Down­load the PDF of the guide HERE
.
---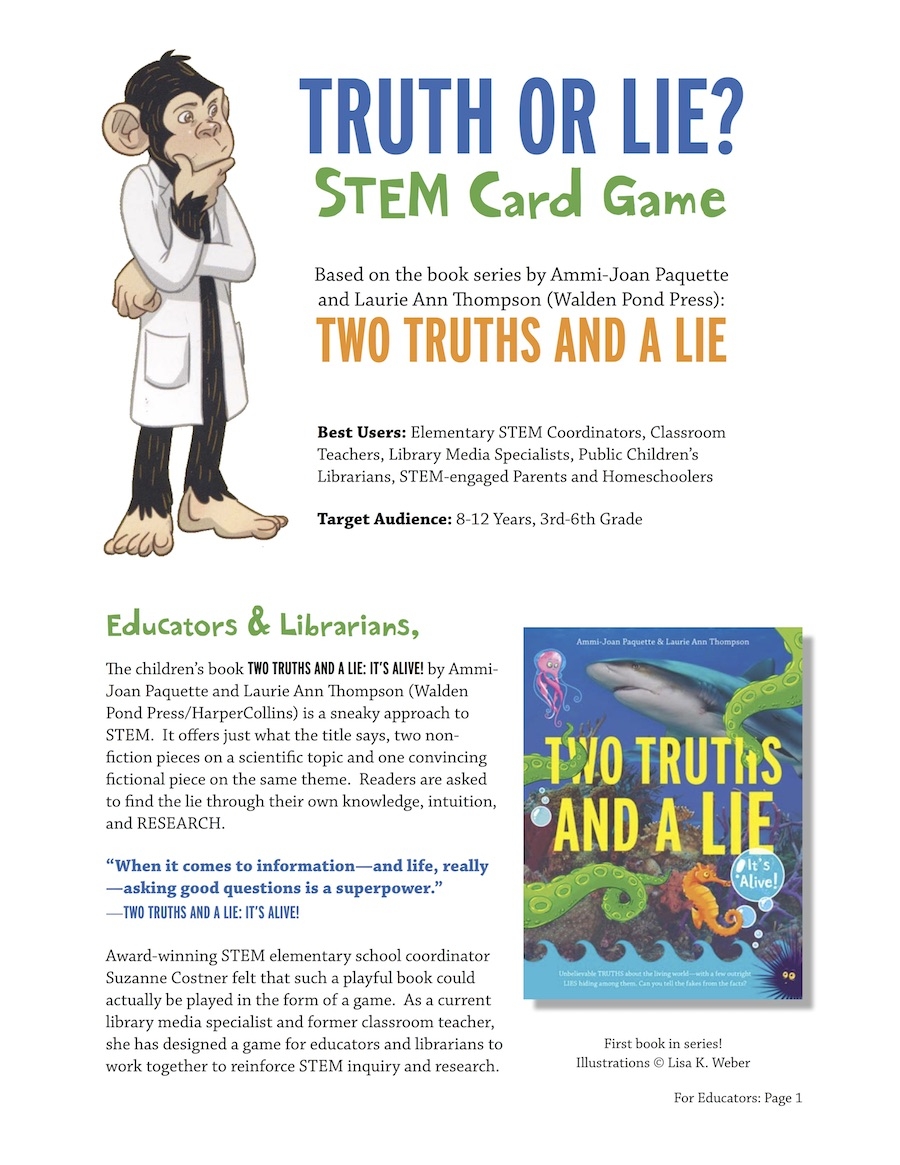 But wait, there's more! Award­ing-win­ning Library Media Spe­cial­ist and STEM Coor­di­na­tor Suzanne Cost­ner part­nered with Curi­ous City DPW to cre­ate a STEM Card Game and com­pan­ion research activ­i­ties. "As a school librar­i­an with a pas­sion for STEM top­ics, I saw this book as an oppor­tu­ni­ty both to explore inter­est­ing sto­ries and to devel­op cru­cial infor­ma­tion lit­er­a­cy skills," says Suzanne. Using sci­en­tif­ic top­ics pulled from the book's side­bars, they cre­at­ed a 52-card card deck that teach­ers can print out for their class­room. In Round 1, Play­er 1 reads a state­ment to Play­er 2 from a card. Play­er 2 decides whether the state­ment is a "Truth" or a "Lie." In Round 2, play­ers choose a research top­ic from their amassed cards and make three game cards of their own – two truths and one lie on their cho­sen top­ic. In Round 3, play­ers try to out­wit each oth­er with the game cards they have cre­at­ed. Each new game in the class­room grows the game deck with new STEM material!
Down­load the PDF of the Truth or Lie? STEM Card Game HERE.
Suzanne and Curi­ous City DPW also put togeth­er the Two Truths and a Lie: What's Your Source?, which pro­vides teach­ers with links for stu­dents to explore for top­ic val­i­da­tion and gives them the chance to com­pare and cross-check the infor­ma­tion before mak­ing their final deci­sion on whether the sto­ries in TWO TRUTHS AND A LIE: IT'S ALIVE! are fact or fic­tion; Two Truths and a Lie: Reach­ing for Resources, which pro­vides edu­ca­tors with links con­nect­ed with the book's chap­ters to build infor­ma­tion lit­er­a­cy lessons upon, and the Two Truths and a Lie: Ratio­nale, Cur­ricu­lum Con­nec­tions & Grad­ing Rubric.
---
To go along with all of this excite­ment, for a lim­it­ed time Curi­ous City DPW is host­ing a GIVEAWAY! Read all about it and ENTER HERE, but hur­ry! Win­ners will be announced Decem­ber 5, 2017!
---
I'm super excit­ed about how these might spur class­room dis­cus­sions around STEM top­ics and infor­ma­tion lit­er­a­cy. If you use either of them with stu­dents, please let me know! I'd love to hear about how teach­ers are putting into prac­tice and any sug­ges­tions for how it could be improved. And, of course, pic­tures would be fantastic!