I've been huge­ly grat­i­fied by the respons­es I've got­ten from teach­ers around the coun­try about using BE A CHANGEMAKER: HOW TO START SOMETHING THAT MATTERS in their class­rooms. The very first of these was a love­ly 8th-grade ELA teacher from a pri­vate Catholic school in Louisiana. She reached out to me before the book was even released, and let me tell you, her enthu­si­asm was a much-appre­ci­at­ed sooth­ing balm for all of my pre-release jitters!
She is using the book for her stu­dents' "20% projects," an idea adapt­ed from the cor­po­rate world where com­pa­nies allow employ­ees to spend 20% of their time work­ing on a pet project that inter­ests them. They'll be using the books through­out the school year to choose self-direct­ed projects and bring them to life. Isn't that excit­ing? I sure think so!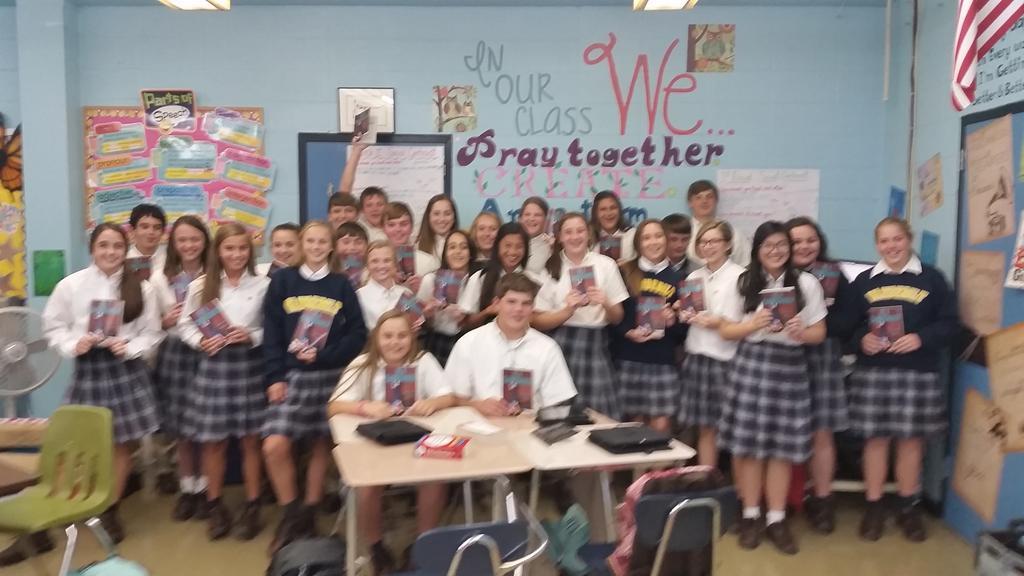 As part of her cur­ricu­lum, she was able to pur­chase a copy of the book for each and every one of the stu­dents, and she even got them per­son­al­ized! It was a huge pile of books for me to sign, and such an incred­i­ble hon­or for me to write each stu­den­t's name in his or her own book.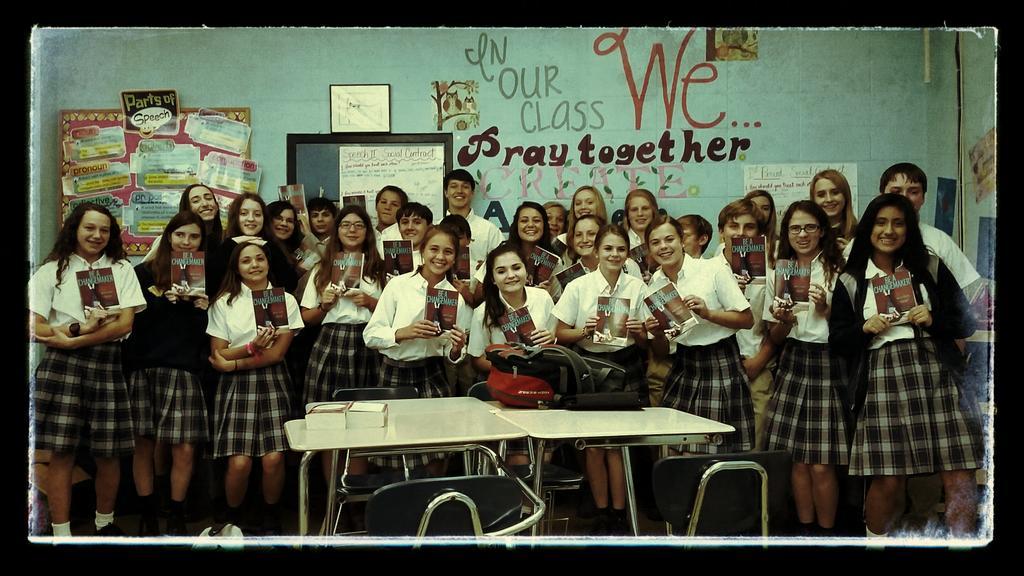 These pic­tures are from the day she hand­ed the books out to all of the stu­dents. I hope you enjoy see­ing them as much as I do!
The stu­dents also watched a video I made for them to help kick off their project. I post­ed about that video ear­li­er this week.
Check it out here
if you missed it.
I can't wait to hear about these stu­dents' ideas and fol­low their progress through­out the school year. I'll post updates here as I get them so you can fol­low along, too.
I love hear­ing about young peo­ple using the book, whether on their own or through a class or oth­er orga­ni­za­tion, so if you're using (or think­ing about using) BE A CHANGEMAKER on your own or with your stu­dents, scouts, chil­dren, youth group, etc., please let me know! My
email address
is at the bot­tom of this page, or you can reach out on
my Face­book author page
or
on Twit­ter
.