It may have been announced more than six months ago, but the ALA Schnei­der Fam­i­ly Book Award was­n't actu­al­ly pre­sent­ed until the end of June, at the ALA Annu­al Con­fer­ence in Orlan­do. I final­ly have some pho­tos to share from this won­der­ful event hon­or­ing Emmanuel's Dream, along with three oth­er won­der­ful books by fab­u­lous authors.
None of my flights went as planned, but I final­ly arrived late at night and went straight to bed. I spent Sat­ur­day find­ing my way around the exhi­bi­tion hall and chat­ting with oth­er kidlit folks who I hap­pened to bump into, like these love­ly agency-mates!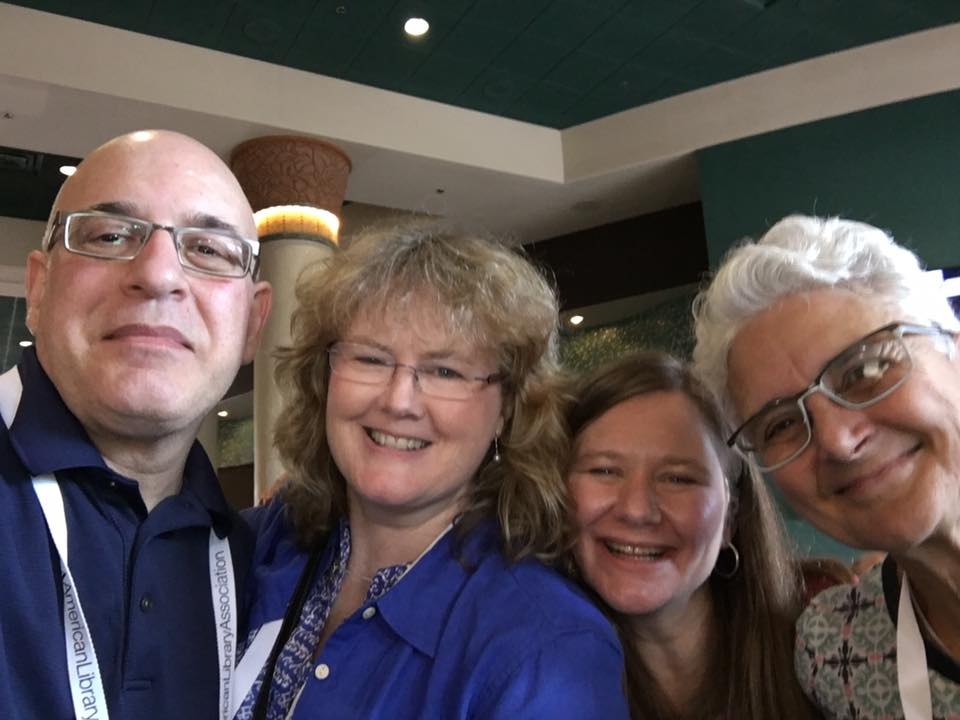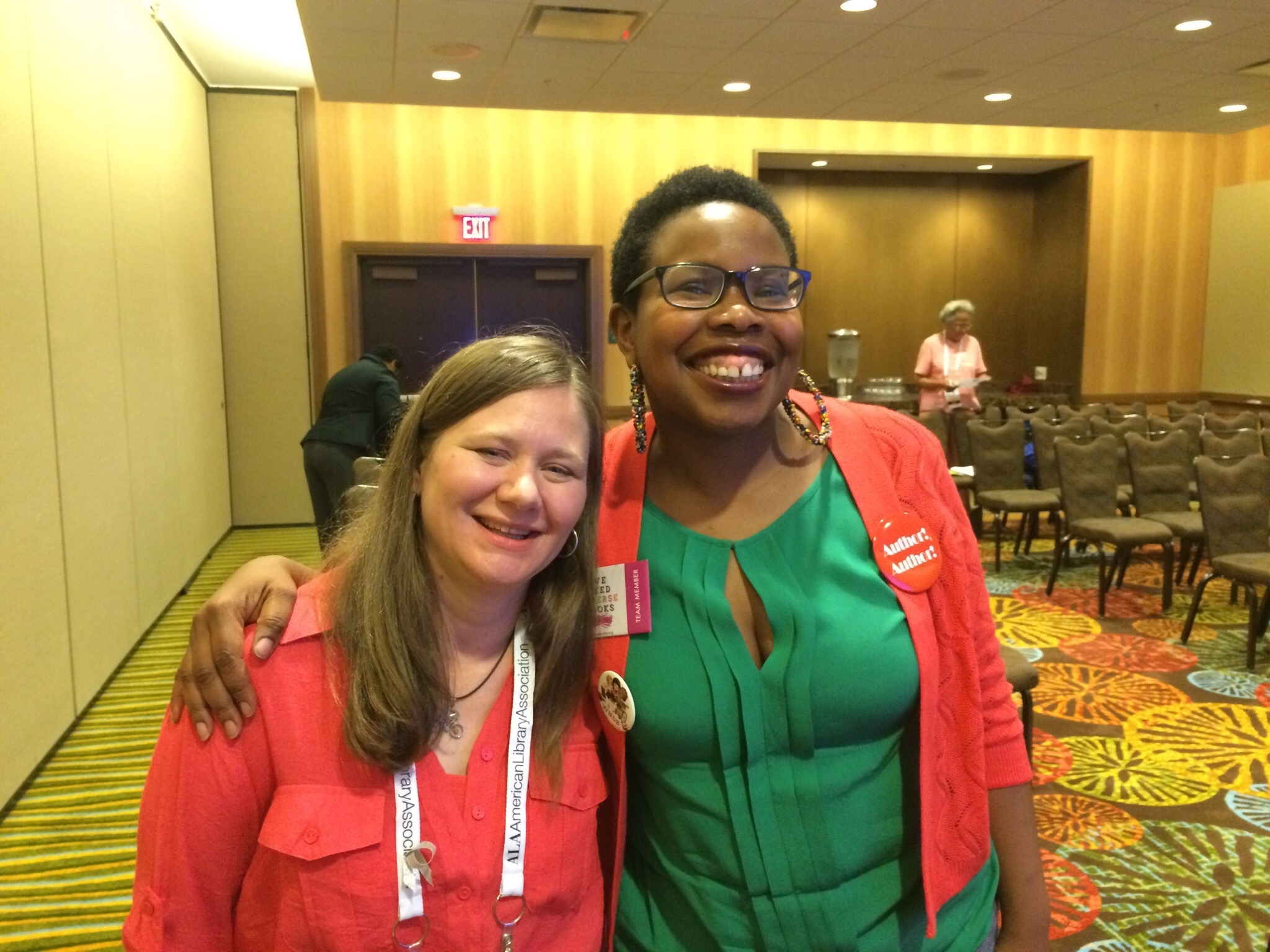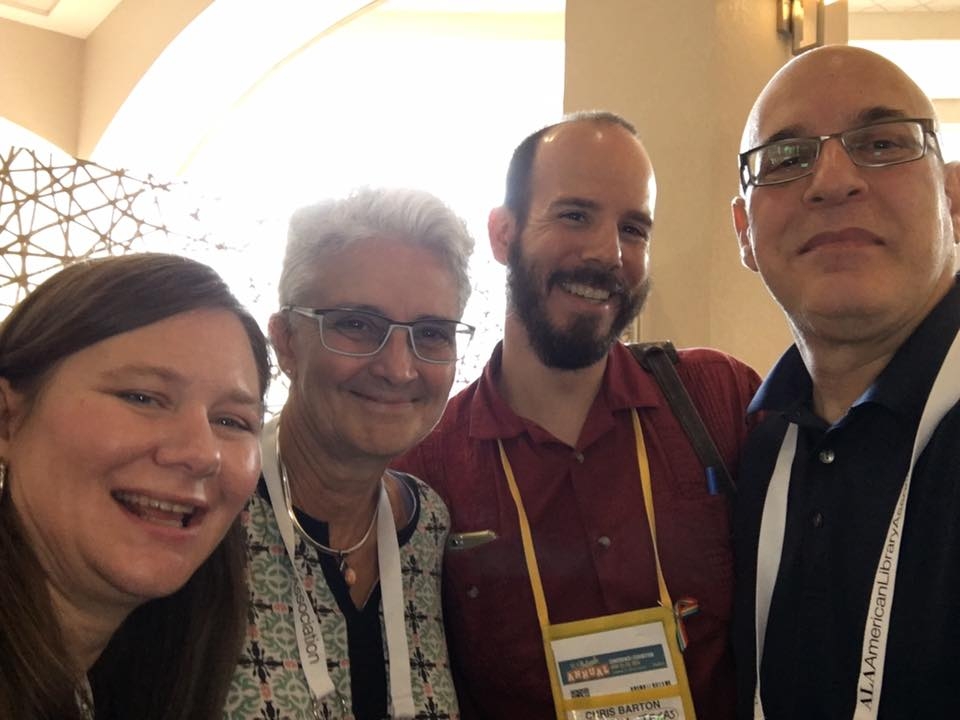 Then, that evening was the Ran­dom House "fam­i­ly din­ner." I love these events, because they're often the first time you get to meet–and thank!–many of the peo­ple who've been work­ing hard to make your book suc­cess­ful. This one was extra spe­cial, because it was the first time I got to meet my edi­tor, Anne Schwartz. Squee! She is just as love­ly in per­son as over email, and we all had a won­der­ful evening.
After­ward I met up with the fab­u­lous
Miran­da Paul
and we hung out at the
We Need Diverse Books
par­ty, the Simon & Schus­ter par­ty (I got a copy of Scraps signed by Lois Ehlert!!!), and the Nerdy Book Club par­ty. There were great peo­ple all around, and at every stop I was remind­ed that this is a very good busi­ness to be in. I could­n't stay out too late, though, because Sun­day was the busy day!
First thing Sun­day morn­ing, I ran into the huge poster in the hall­way of the con­ven­tion cen­ter, and yes, I total­ly teared up, and yes, it was right before our signings.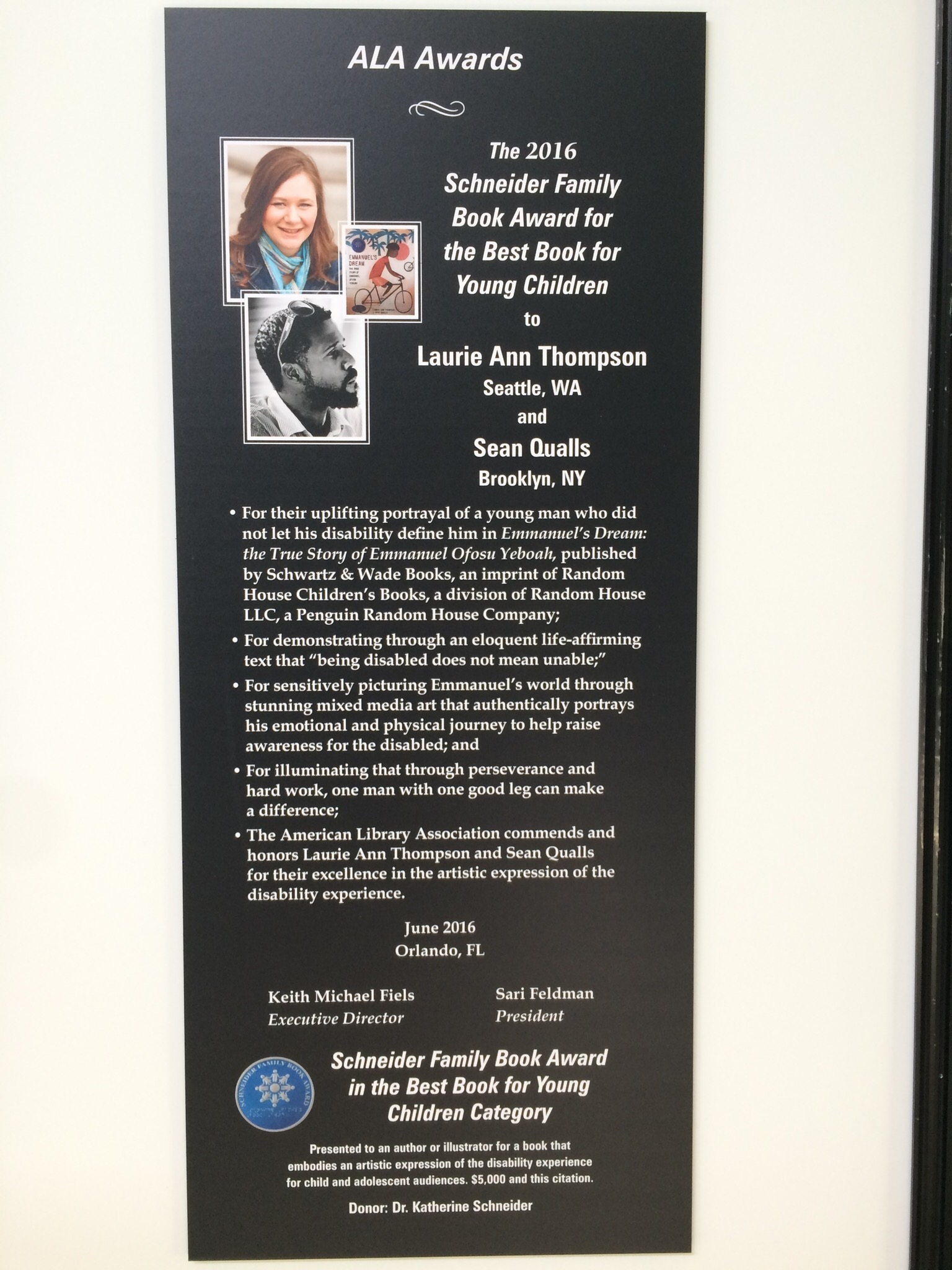 We start­ed out with back-to-back sign­ings on the exhi­bi­tion floor on Sun­day morn­ing, first for Ran­dom House, then for Follett.
Then we went to the pho­to ses­sion for the Schnei­der Fam­i­ly Awards…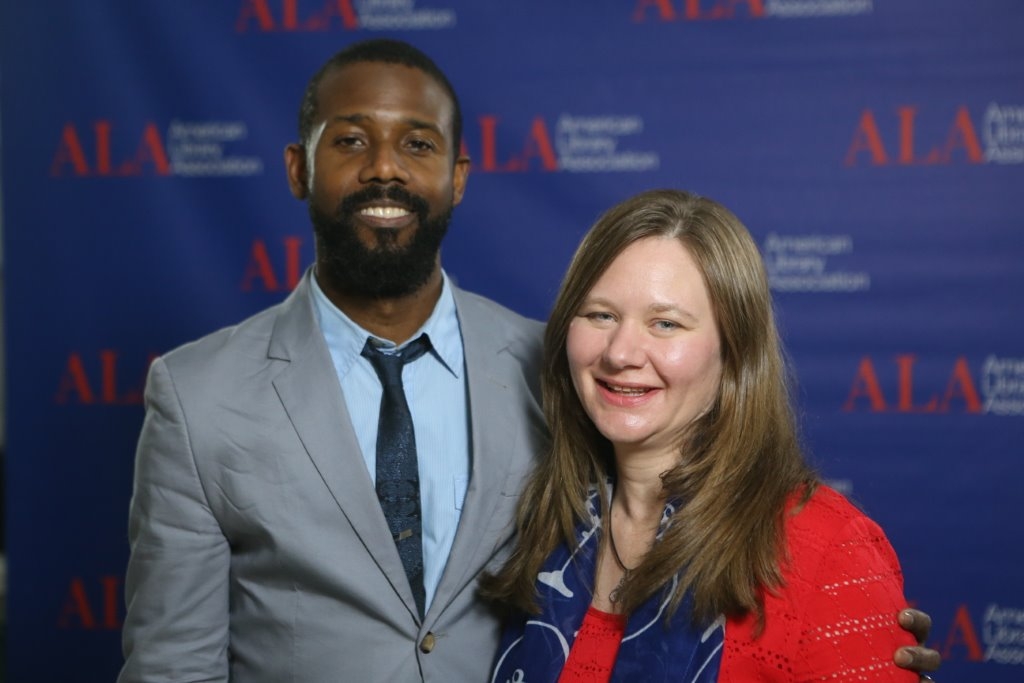 fol­lowed by the cer­e­mo­ny itself!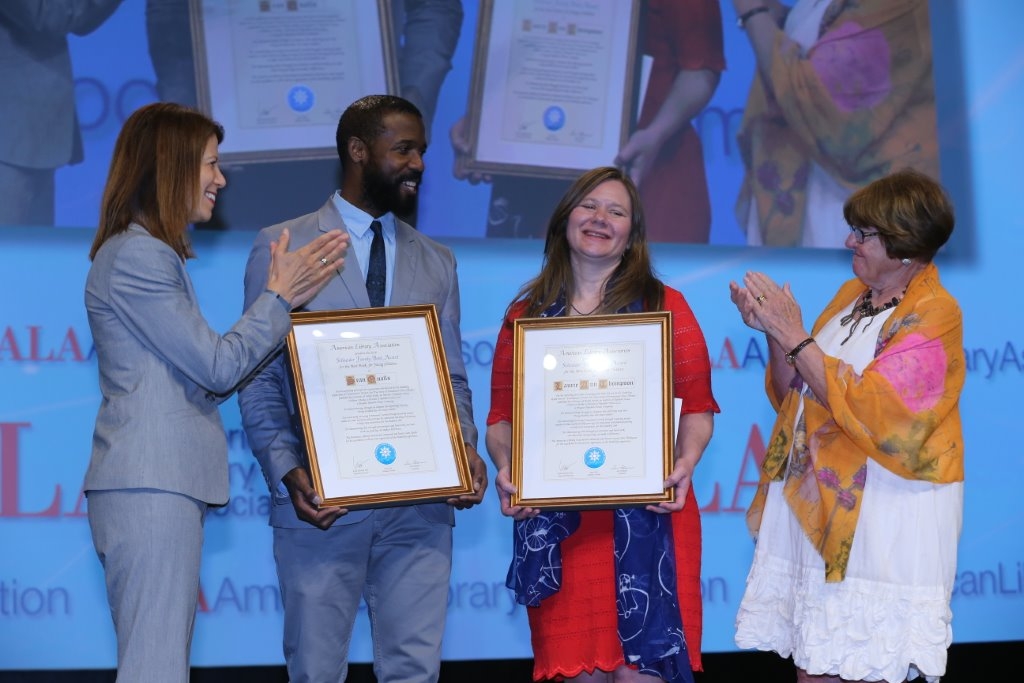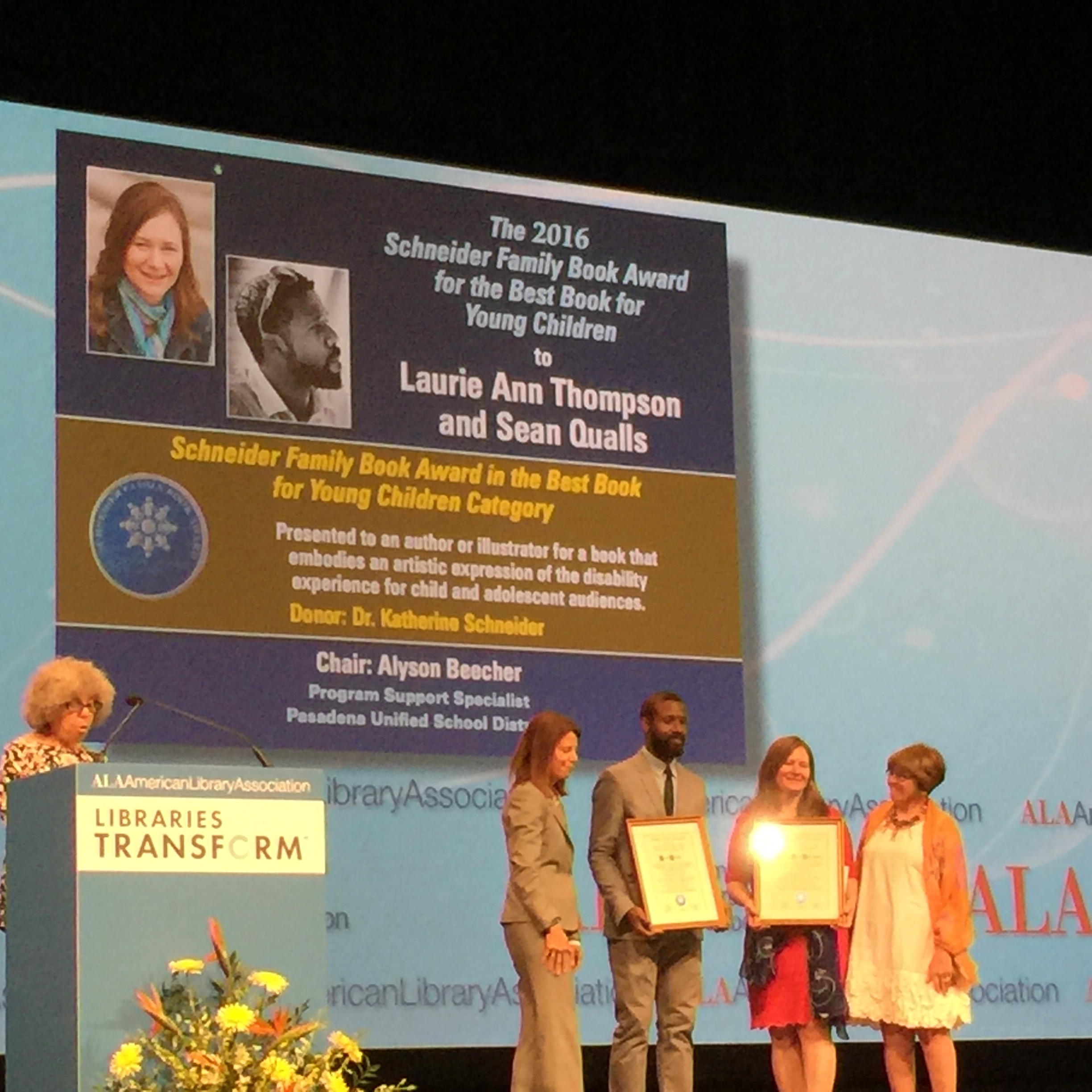 Then it was off to the Pres­i­den­t's Recep­tion. (Thank you, Krista Mari­no, for the wine!)
That was fol­lowed by the New­bery Calde­cott Ban­quet. What a treat! Every one of the speech­es was pow­er­ful and mov­ing, and I got teary all over again. After­ward, I got to catch up with one of my favorite kidlit blog­gers,
Michele Knott
! 🙂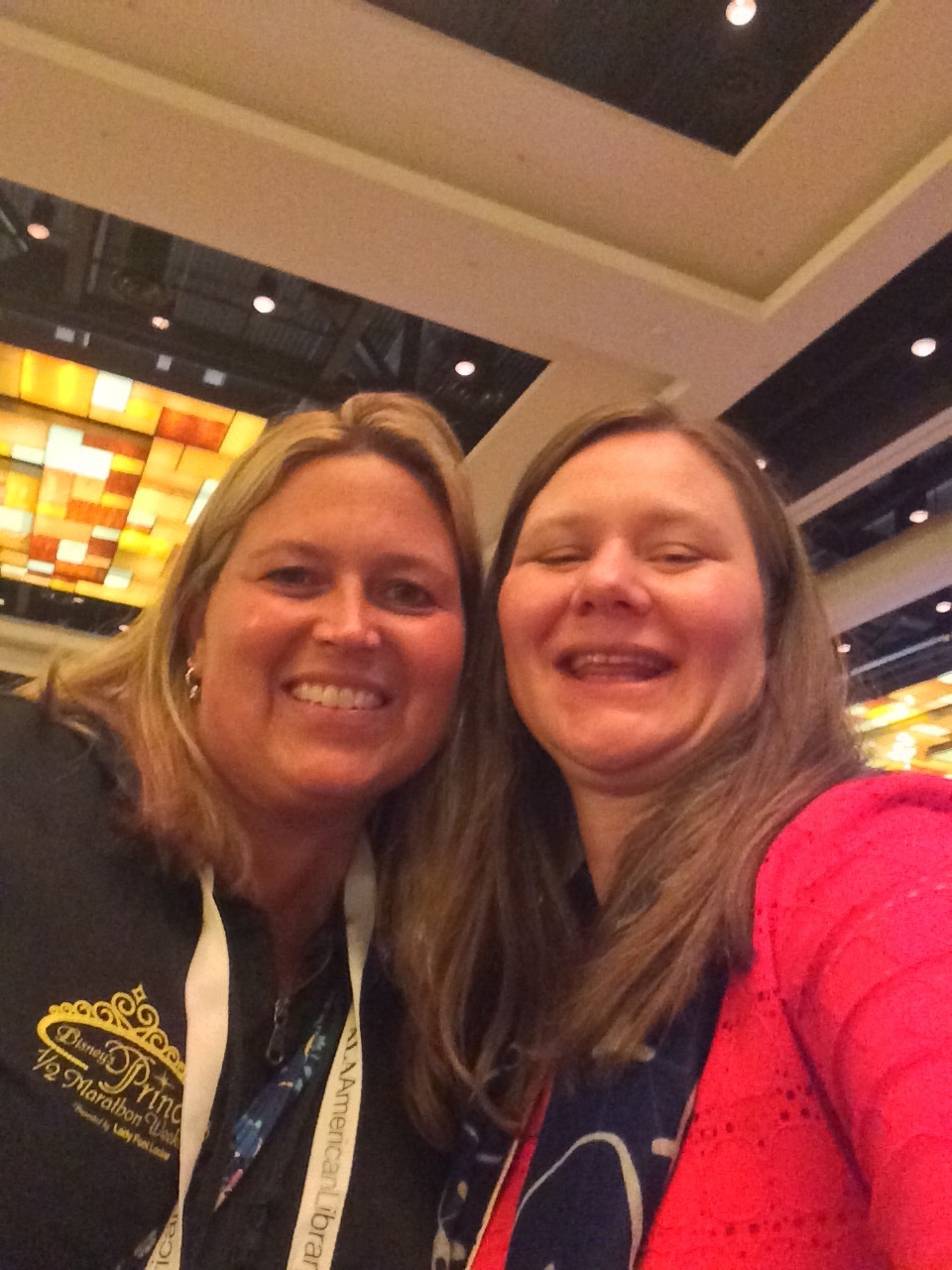 Still, Mon­day was arguably the best day yet. We were treat­ed to the inti­mate Schnei­der Fam­i­ly Award lun­cheon, where we got to meet the award com­mit­tee, ALA rep­re­sen­ta­tives, the oth­er win­ners, and the agents and edi­tors asso­ci­at­ed with the win­ning books. The high­light of the lun­cheon was when we got to con­fer­ence call with the award's spon­sor, Dr. Kather­ine Schnei­der. She told us she'd read, and loved, all of our books, and shared why the award was so impor­tant to her. We were all moved by the con­ver­sa­tion, and I'm extreme­ly grate­ful to have been able to participate.
Flights were a bit of a stress-induc­ing mess on the way home, too, but I did­n't real­ly care: The whole ALA expe­ri­ence was 100% worth it! Huge thanks to ALA, Dr. Schnei­der and the com­mit­tee mem­bers, Anne Schwartz and the whole out­stand­ing team at Ran­dom House, Ammi-Joan Paque­tte and every­one at Erin Mur­phy Lit­er­ary Agency, the tal­ent­ed and classy
Sean Qualls
, and the inspir­ing Emmanuel Ofo­su Yeboah join­ing me on this incred­i­ble journey.