This is old news at this point, but I've been so busy that I'm just now FINALLY get­ting around to post­ing it here. So, just in case you've been too busy to keep up with the news in the chil­dren's lit­er­a­ture indus­try, Emmanuel's Dream has won the Schnei­der Fam­i­ly Book Award from the Amer­i­can Library Asso­ci­a­tion! The pur­pose of this spe­cial award is to "hon­or an author or illus­tra­tor for the artis­tic expres­sion of the dis­abil­i­ty expe­ri­ence for child and ado­les­cent audi­ences," so I'm extreme­ly hon­ored that the com­mit­tee select­ed Emmanuel's Dream.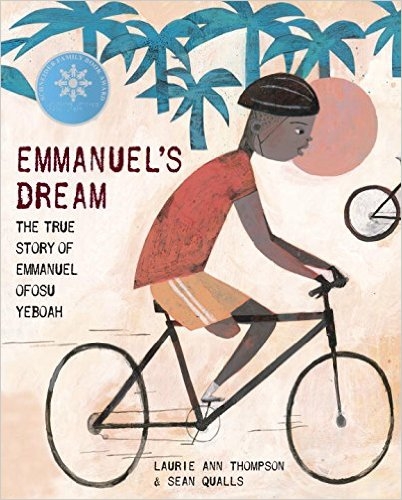 This and oth­er Youth Media Awards were announced on Jan­u­ary 11, 2016, dur­ing the Amer­i­can Library Asso­ci­a­tion (ALA) Mid­win­ter Meet­ing & Exhibits in Boston and via live stream. Here in the Pacif­ic North­west, we have to get up at 5am to catch them, but it was def­i­nite­ly worth it! The award itself will be pre­sent­ed in Orlan­do dur­ing the ALA Annu­al Con­fer­ence & Exhi­bi­tion in June, and both Sean and I are both expect­ing to be able to attend.
Recip­i­ents are select­ed in three cat­e­gories: birth through grade school (age 0–8), mid­dle grade (age 9–13) and teens (age 14–18). Emmanuel's Dream won the award for young chil­dren, which was the very first award to be announced in the entire pro­gram. Next up was Fish in a Tree, which won a mid­dle-grade award. This only added to my excite­ment, as it was writ­ten by my friend and agency sis­ter Lyn­da Mul­laly Hunt!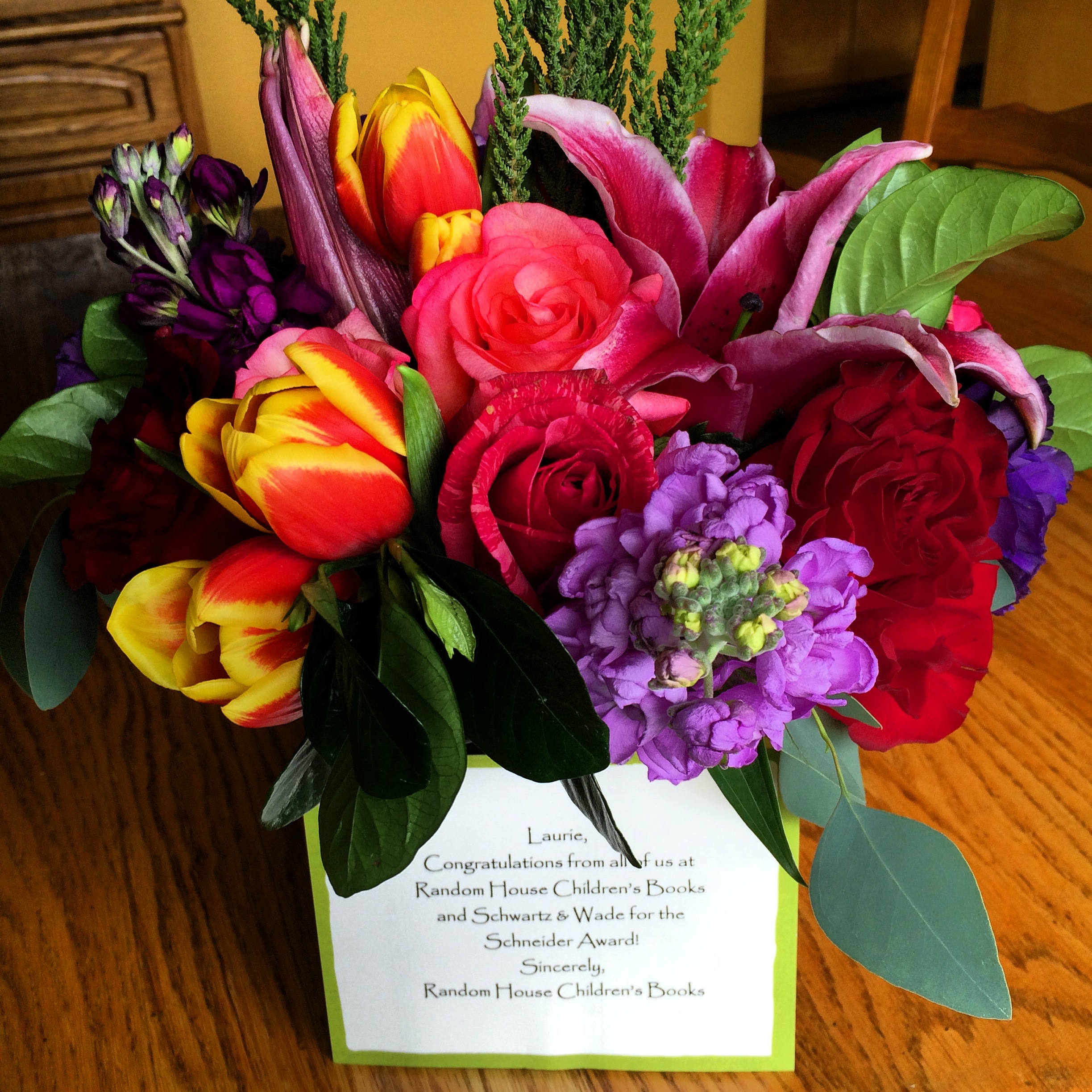 Thank you to all of the mem­bers of the 2016 Schnei­der Fam­i­ly Book Award com­mit­tee, includ­ing Alyson Beech­er (com­mit­tee chair), Nan­cy L. Bau­mann, Bet­sy Fras­er, Beth McGuire, Elsworth Rock­e­feller, Joan­na Tam­plin, Car­o­line Ward, and Jill Gar­cia! I'm espe­cial­ly grate­ful to Kather­ine Schnei­der and the Schnei­der fam­i­ly for spon­sor­ing this impor­tant award. It is such a huge hon­or to receive it, and I hope it will help the book find its way into the hands of more kids who need to hear its mes­sage. Thank you also to my fan­tas­tic agent, Ammi-Joan Paque­tte, for believ­ing in this sto­ry; to Sean Qualls, for illus­trat­ing it so beau­ti­ful­ly; and to every­one at Schwartz & Wade/Random House for all of their hard work and ded­i­ca­tion, which made it into the book it is today. And look, they even sent me some gor­geous flow­ers to celebrate!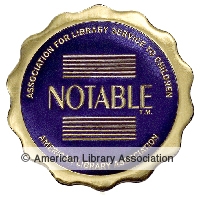 On the heels of the Schnei­der Fam­i­ly Award, it was also announced that Emmanuel's Dream was includ­ed on the ALA ALSC's Notable Chil­dren's Books list. Each year a com­mit­tee of the Asso­ci­a­tion for Library Ser­vice to Chil­dren (ALSC) iden­ti­fies the best of the best in chil­dren's books. Accord­ing to the Nota­bles Cri­te­ria, "notable" is defined as: Wor­thy of note or notice, impor­tant, dis­tin­guished, out­stand­ing. As applied to chil­dren's books, notable should be thought to include books of espe­cial­ly com­mend­able qual­i­ty, books that exhib­it ven­ture­some cre­ativ­i­ty, and books of fic­tion, infor­ma­tion, poet­ry and pic­tures for all age lev­els (birth through age 14) that reflect and encour­age chil­dren's inter­ests in exem­plary ways. It's an incred­i­ble hon­or to see Emmanuel's Dream on that list of amaz­ing books! Thank you, ALSC!