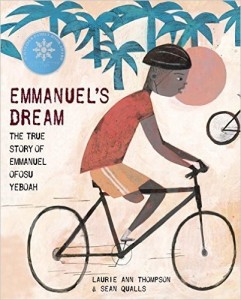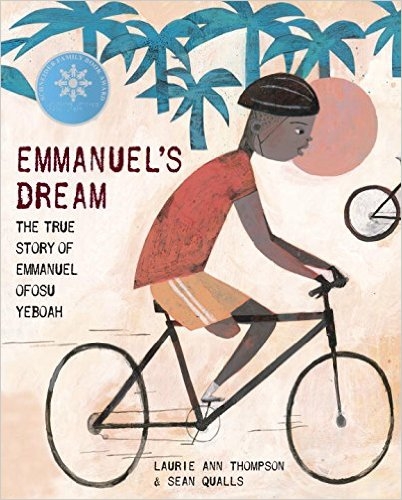 This inspirational picture book biography, illustrated by Sean Qualls, tells the true story of Emmanuel Ofosu Yeboah, who bicycled across Ghana with only one leg. In so doing, he forever changed how his country views people with disabilities and showed us all that one person is enough to change the world. (Schwartz & Wade/Random House, 2015)
¡Ahora disponible en español, también!
Compre aquí: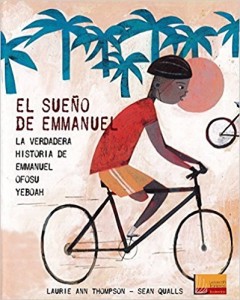 ---
Accolades:
"This powerful and winning picture book tells the story of a young man overcoming the odds…. This uplifting account will resonate with readers and supplement global and cultural studies. A triumph." —School Library Journal starred review
"…[S]imple line drawings and stylish, expressive figures filled with layers of rich, warm color on pale, thickly painted backgrounds—capture Emmanuel's triumphs beautifully." —Booklist
"Thompson…presents a warm, matter-of-fact overview of the life of Emmanuel Ofosu Yeboah…[while] Qualls provides solid visual and emotional scaffolding for the setbacks and triumphs Yeboah faced." —Publishers Weekly
---
Information for educators:
Author "read-aloud plus" now available by request! Please email for details. 
Download the free Emmanuel's Dream curriculum guide, which includes CCSS alignments, critical thinking discussion questions, and reproducible activities.
"Meet the Author" at TeachingBooks.net: Book Reading | Emmanuel's Dream: The True Story of Emmanuel Ofosu Yeboah.
There's a free reproducible crossword puzzle based on the book at TeachersPayTeachers.com.
Check out even more picture books for young changemakers on my Pinterest board.
---
On the web:
The Emmanuel's Dream blog tour
Click here to see posts about this book on my blog.
Find out more about Emmanuel and his ongoing work on behalf of people with disabilities at EmmanuelsDream.org!
---
Goodreads:
---
Where to buy:
---
Already a fan?
Reviews help others discover the book! Please consider leaving a review by clicking on any of the buttons below:


---