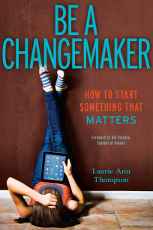 It's a huge honor to announce that Be a Changemaker has won the Society of Children's Book Writers & Illustrators' (SCBWI) Crystal Kite Award for the West division, which includes Washington/Oregon/Alaska/Idaho/Montana/North Dakota/South Dakota! This award is voted on by other SCBWI members, who are also authors and illustrators, so it's especially rewarding to be recognized.

Winning is a bit bittersweet, though. First, there were so many great books in the overall list of eligible titles (including the one I voted for, which didn't make the finals). Second, the other three finalists are all fantastic books, written by a trio of lovely authors whom I'm glad to call my friends. I honestly would've been just as happy to see any of these fine books win as I am to see my own. If you haven't seen these yet, please check them out!
This year's Crystal Kite Award announcement was exciting for another reason, too. My friend and agent-sister Tara Dairman won the Southwest division with her book, All Four Stars! I love All Four Stars, and I'm thrilled to see it get this recognition. Congratulations, Tara!


It was also pretty great to see so many awesome nonfiction books making the list this year. Here are some of my favorites:
| | | |
| --- | --- | --- |
| | | |
| California/Hawaii | New England | New York |

Thank you to all who voted! For a complete list of all the 2015 winners, click here.