I have to admit, I'm a lit­tle more ner­vous about attend­ing the SCBWI con­fer­ence in NY this year. Yes, they're going to have great speak­ers (Lois Lowry! Jane Yolen! R. L. Stine! Mo Willems! and plen­ty of oth­er won­der­ful peo­ple!). And yes, there will be agents, edi­tors, and pub­lish­ers there. But I've got­ten fair­ly used to that by going to so many great SCBWI events over the last few years. No, that's not why I'm nervous.
I'm ner­vous because NYC has been called "the bed­bug cap­i­tal of the world."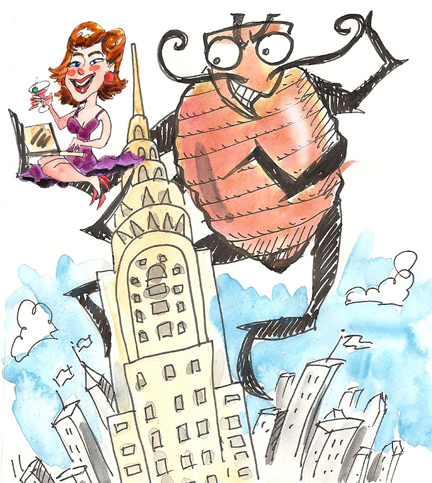 I guess that's sup­posed to be me, although the incred­i­bly tal­ent­ed Dana Sul­li­van must have missed my tweet about pack­ing to stay warm and only wear­ing com­fort­able shoes this trip (sor­ry NYC fash­ion­istas, but it's not like I had a chance any­way). And a mar­ti­ni? Per­haps he also does­n't know I'm more of a Guin­ness-girl. At the very least, cock­tails should def­i­nite­ly not have veg­eta­bles in them. Besides that, though, Dana's pure bril­liance. You can see more fun­ny things from him, or even sign up to receive one by email every week, here.
Any­way, I've got plas­tic bags for all my clothes, I plan to keep my suit­case and clothes off the floor at all times, and I WILL be check­ing the bed and room when I arrive. So, let's hope the only new things I bring back home with me are books.
Wish me luck!