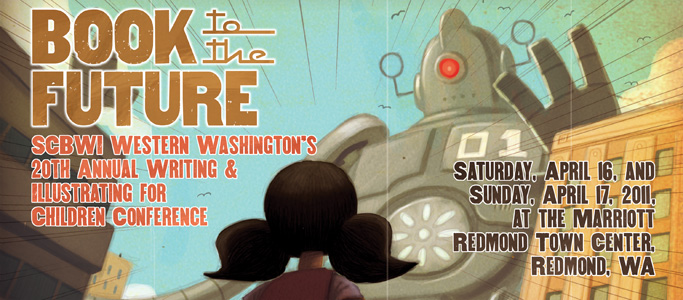 Yes, the SCBWI Western Washington's 20th Annual Writing & Illustrating for Children conference was over a month ago. I'm finally coming down from the high that weekend always leaves me with–and recovering from the hard work and long hours that go into organizing it. So, I thought I'd share some of the high points (for me) here.
On Friday, April 15, 2011, I attended our first ever Nonfiction Intensive, presented by Lionel Bender, Editorial Director at Bender Richardson White (BRW) and Jim Whiting, author and freelance editor. They gave us a great over of work-for-hire nonfiction from initial concept all the way to promotion and reviews, with everything in between. Some of the key takeaways for me were:
Always ask for a style guide
Consider getting your own consultant to fact-check for you
Always think globally for the broadest appeal
In many highly graphical nonfiction titles, design and layout come first, with author fitting appropriate text into designated spaces.
Never submit a manuscript that is under the requested word count. Better to be over if necessary, but try to stay as close as possible!
Try not to use any sources more than 4-5 years old.
Saturday, we started out with the editor/agent/art director panel. I always love hearing a) optimistic, b) down-to-earth friendly, and c) similar these industry professionals are. Far the doom and gloom scenarios we hear so often (picture books are dead, ebooks are going to destroy the world, etc.), these people believe in the power of story, and the need for those who can deliver it. They're human beings (and darn nice ones, usually, if they're in children's publishing). And they all want to find the same thing, a great book.
Deborah Wiles gave one of the best keynotes I've ever heard. She's a human being, too, and one of the most authentic and lovely ones I've had the pleasure of meeting. I was not the only one in the room dabbing my eyes and trying not to start the day with my makeup all a mess!
For Saturday's afternoon breakout sessions, I first went to Lionel Bender's "Working With a Book Packager." Did you know most work-for-hire projects are published within about 6 months of when they are STARTED? I also went to Lionel's "Visiting Book Fairs and Exhibitions." I can't wait until ALA midwinter is right here in Seattle in 2013! How great would it be to have a book to promote by then? I also learned about revision from the amazing Deborah Wiles in a stuffed-to-the-gills room. She analyzed some wonderful picture books for universal examples we should all try to emulate. Some of her tips included:
Every good story has a surprise–the end isn't really the end.
Stick with NOUNS and VERBS!
Incorporate both contrasts and echoes.
Every emotion has an ACTION. What does it LOOK like? Show, don't tell.
"The better you know your own story, the better writer you will be."
Make and keep lists!
Saturday night we ate, drank, and danced the night away with both the faculty and the attendees. Ah, could it get any better?
I'll answer that in the next blog post!