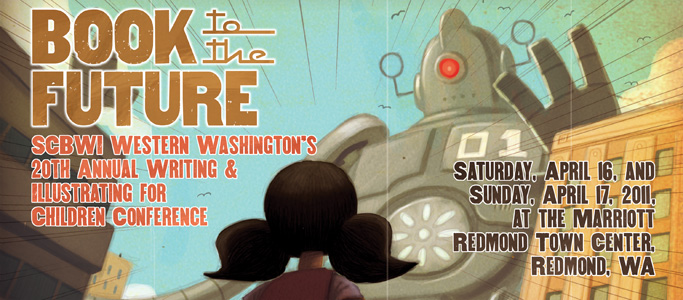 Yes, the SCBWI West­ern Wash­ing­ton's 20th Annu­al Writ­ing & Illus­trat­ing for Chil­dren con­fer­ence was over a month ago. I'm final­ly com­ing down from the high that week­end always leaves me with–and recov­er­ing from the hard work and long hours that go into orga­niz­ing it. So, I thought I'd share some of the high points (for me) here.
On Fri­day, April 15, 2011, I attend­ed our first ever Non­fic­tion Inten­sive, pre­sent­ed by Lionel Ben­der, Edi­to­r­i­al Direc­tor at Ben­der Richard­son White (BRW) and Jim Whit­ing, author and free­lance edi­tor. They gave us a great over of work-for-hire non­fic­tion from ini­tial con­cept all the way to pro­mo­tion and reviews, with every­thing in between. Some of the key take­aways for me were:
Always ask for a style guide
Con­sid­er get­ting your own con­sul­tant to fact-check for you
Always think glob­al­ly for the broad­est appeal
In many high­ly graph­i­cal non­fic­tion titles, design and lay­out come first, with author fit­ting appro­pri­ate text into des­ig­nat­ed spaces.
Nev­er sub­mit a man­u­script that is under the request­ed word count. Bet­ter to be over if nec­es­sary, but try to stay as close as possible!
Try not to use any sources more than 4–5 years old.
Sat­ur­day, we start­ed out with the editor/agent/art direc­tor pan­el. I always love hear­ing a) opti­mistic, b) down-to-earth friend­ly, and c) sim­i­lar these indus­try pro­fes­sion­als are. Far the doom and gloom sce­nar­ios we hear so often (pic­ture books are dead, ebooks are going to destroy the world, etc.), these peo­ple believe in the pow­er of sto­ry, and the need for those who can deliv­er it. They're human beings (and darn nice ones, usu­al­ly, if they're in chil­dren's pub­lish­ing). And they all want to find the same thing, a great book.
Deb­o­rah Wiles gave one of the best keynotes I've ever heard. She's a human being, too, and one of the most authen­tic and love­ly ones I've had the plea­sure of meet­ing. I was not the only one in the room dab­bing my eyes and try­ing not to start the day with my make­up all a mess!
For Sat­ur­day's after­noon break­out ses­sions, I first went to Lionel Ben­der's "Work­ing With a Book Pack­ager." Did you know most work-for-hire projects are pub­lished with­in about 6 months of when they are STARTED? I also went to Lionel's "Vis­it­ing Book Fairs and Exhi­bi­tions." I can't wait until ALA mid­win­ter is right here in Seat­tle in 2013! How great would it be to have a book to pro­mote by then? I also learned about revi­sion from the amaz­ing Deb­o­rah Wiles in a stuffed-to-the-gills room. She ana­lyzed some won­der­ful pic­ture books for uni­ver­sal exam­ples we should all try to emu­late. Some of her tips included:
Every good sto­ry has a surprise–the end isn't real­ly the end.
Stick with NOUNS and VERBS!
Incor­po­rate both con­trasts and echoes.
Every emo­tion has an ACTION. What does it LOOK like? Show, don't tell.
"The bet­ter you know your own sto­ry, the bet­ter writer you will be."
Make and keep lists!
Sat­ur­day night we ate, drank, and danced the night away with both the fac­ul­ty and the atten­dees. Ah, could it get any better?
I'll answer that in the next blog post!