I did­n't think SCBWI West­ern Wash­ing­ton's 2011 con­fer­ence could get any bet­ter than it was on Sat­ur­day, but yes, it could! Sun­day start­ed a lit­tle lat­er (thank good­ness, after all that danc­ing!). On Sun­day, April 17, we start­ed out by cel­e­brat­ing our awe­some­ly tal­ent­ed and ded­i­cat­ed advi­so­ry com­mit­tee. And they cel­e­brat­ed us with a great big sur­prise presentation!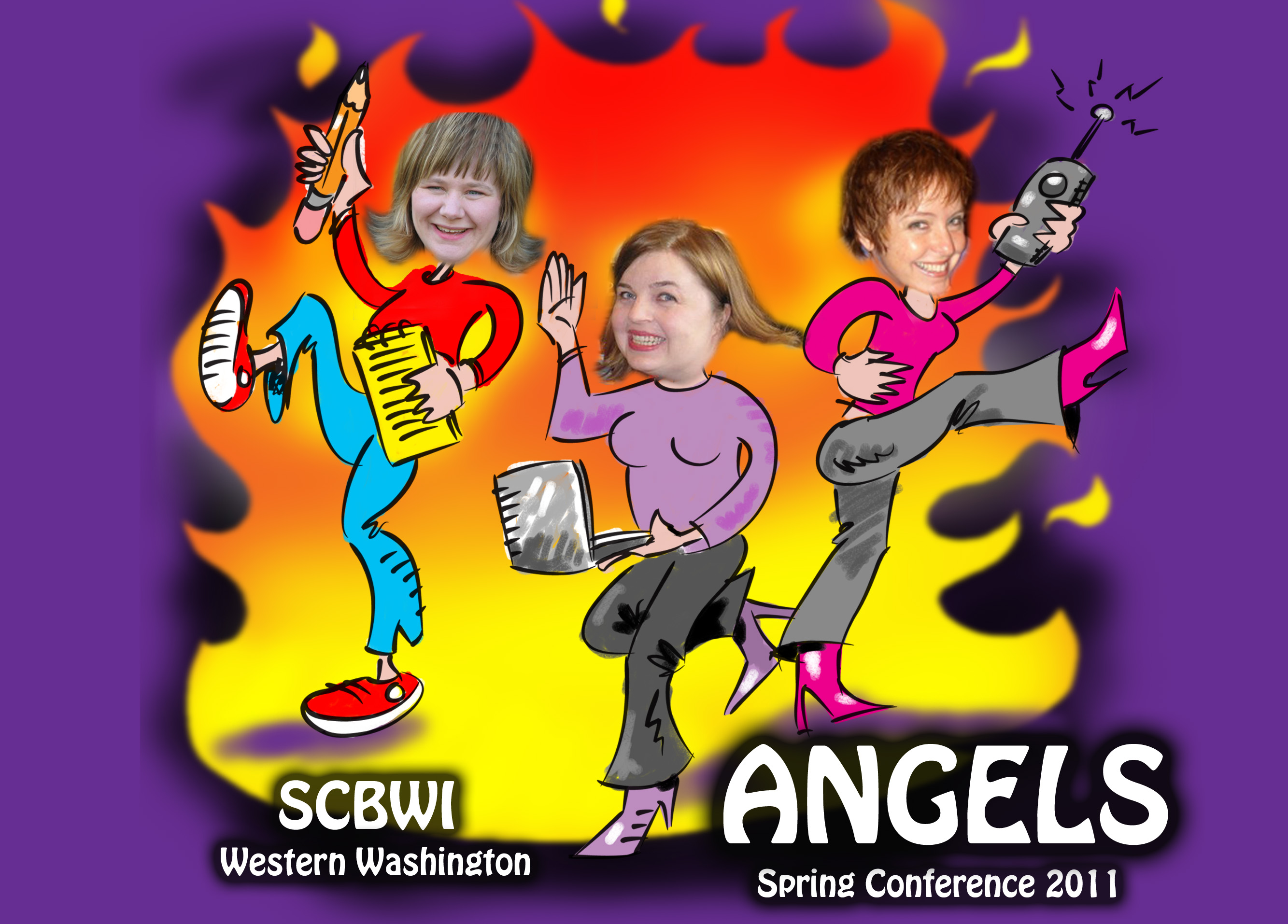 Before we even had time to see what good­ies they put togeth­er for us, we jumped right into gear with Dan San­tat's keynote. He not only gave a peek into the tra­jec­to­ry of his career so far (and trust me, it's only going up, folks!), but he showed us that he, too, is indeed human. He made him­self cry by show­ing us a pic­ture of why he works so hard (his fam­i­ly), and he took the rest of us right along with him. 400 peo­ple want­ed to give Dan a hug, but I think most of us set­tled for buy­ing his books and becom­ing life­long fans.
The local suc­cess sto­ry pan­el is always one of my favorites because 1) I usu­al­ly know most of the peo­ple of the pan­el and love cel­e­brat­ing their suc­cess­es, and 2) the sto­ries are always so inspir­ing and leave us all feel­ing that some­day, if we keep work­ing hard, we could be up there telling our sto­ries (about our sto­ries). This year's panel–featuring Car­ole Dagg, Cari­dad Fer­rer, Liz Mills, Craig Orback, Wendy Wah­man, Jesse Joshua Wat­son, and Jim Whit­ing–did not dis­ap­point! From the 14-year labor-of-love per­son­al-his­to­ry nov­el to the 90-day start-to-fin­ish top­i­cal and time­ly pic­ture book (writ­ten AND illus­trat­ed by the same per­son!), these folks were all full of exam­ples of the rewards that come from hard work and dedication.
Copy­right Dana Sullivan
Dur­ing lunch I final­ly had a chance to peek at the good­ies from AdCom–HUGE MISTAKE! They had all writ­ten per­son­al notes and mes­sages inside the card (see awe­some pic­ture of the card front, above), and I total­ly teared up, again! We have such a great team, and I'm so thank­ful to work with each and every one of them. For them to go all out to thank ME reduced me to a blub­ber­ing mess. I final­ly pulled myself togeth­er enough to return to the ball­room, where I watched our awe­some Assis­tant Region­al Advi­sor, Kim­ber­ly Bak­er, open the thank you gift we got her. She burst into tears, so yeah, there I went AGAIN. Then, our Pub­lished Pro Liai­son, Sara East­er­ly, pre­sent­ed our region's first ever Life­time Achieve­ment Award to Peg­gy King Ander­son. You can read Peg­gy's take on it here, but we all know and love Peg­gy, so–yep, you guessed it–MORE tears!
Thank good­ness the after­noon was jam-packed with infor­ma­tion! First I went to Jim Whit­ing's talk on Non­fic­tion Hooks. He had oodles of exam­ples of revis­ing to hook the write audience–with hand­outs! Then Jesse Joshua Wat­son talked about Writ­ing for Change, with the inspir­ing sto­ry about how his book HOPE FOR HAITI came to be and orga­ni­za­tions he has part­nered with since (okay, I got a lit­tle teary here, too). Final­ly, the last break­out of the day for me was about authen­tic­i­ty, pre­sent­ed by agent Mari­et­ta Zack­er. Mari­et­ta gave a bril­liant talk illus­trat­ing the need to be absolute­ly true to your­self while still per­fect­ly address­ing your audi­ence (yep, misty-eyed, sigh).
The rest, unfor­tu­nate­ly, is a bit of a blur. But I know I end­ed the day on a total high–even before the foot mas­sage and cocktails. 😉