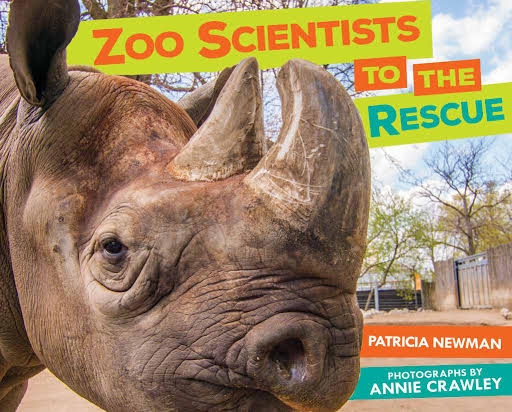 ZOO SCIENTISTS TO THE RESCUE
by Patricia Newman, photographs by Annie Crawley
Millbrook Press/August 1, 2017
Grades 4-8, 64 pages
Here's what the publisher says:
Zoos take care of animals and welcome visitors of all ages, but that's not all zoos do. Author Patricia Newman and photographer Annie Crawley bring readers behind the scenes at three zoos to meet scientists working to save endangered animals.
Meredith Bastian's experiences studying wild orangutans help educate both zoo visitors and the zoo workers who care for captive orangutans. Jeff Baughman breeds black-footed ferrets and reintroduces them into the wild. And Rachel Santymire examines poop from black rhinoceroses at the zoo and in their natural habitat to benefit all black rhinos. Find out how zoo scientists are helping us learn more about these remarkable, at-risk species before it's too late!
Features: Author Biography, Bibliography, Full-Color Photographs, Further Reading, Glossary, Index, Maps, Primary Source Quotations, Websites
The professional reviewers liked it:
"Many kids are familiar with zoos, but there's much more to these attractions than an opportunity to see animals up close. Newman shines a light on the important work zoo scientists do to aid conservation and contribute important research, both at zoo labs and in the wild. This engagingly written book focuses on three scientists and their work protecting and researching orangutans, black-footed ferrets, and black rhinoceroses, respectively. Each scientist describes his or her background, research in the wild, challenges to conservation efforts, and how zoo labs help them do their work. Photos of the scientists in the field, as well as their animal research subjects, enlivens the already fascinating material. Newman clearly describes the conditions that led to each species becoming endangered and encourages readers to think carefully about their own actions in light of threats to wildlife. Though the book appears slim, the content is fairly dense, so this will likely appeal more to middle-grade readers. Hand this to kids who can't get enough of the Scientists in the Field series." —Booklist

"In this incredibly informative book, readers learn about three zoo scientists who are working to save three species (orangutans, black-footed ferrets, and wild black rhinos) using a variety of methods, from conservation education to breeding programs. Newman also includes ideas on how students can contribute to conservation efforts, such as reducing palm oil usage. Various zoos and organizations that focus on conservation are also mentioned; for example, biobanks, where scientists freeze the sperm and eggs of various species in order to protect it from a catastrophic loss. The photographs show the animals as well as the scientists and effectively enhance the information presented. Several charts, including one comparing apes and monkeys, add a deeper level of understanding. Maps of the original and current habitats of the creatures are helpful in visualizing how the earth has changed over the years. A great book for research or for students interested in conservation. —School Library Journal
And here are my thoughts:
I really enjoyed this book. As the Booklist review above says, the book is quite slim, so I was not expecting to learn as much as I did once I cracked the cover! On the one hand, I didn't want to put the book down, because I was so engrossed in the stories and information. On the other, it was nicely broken up into the three separate stories following three separate scientists and their efforts to help three specific species, so it was easy to pick up where I'd left off when I was forced to walk away for a bit. The science is fascinating, the human stories are compelling, and the gorgeous photography brings it all to life right before your eyes. I've been ambivalent about zoos my whole life. I love animals, so I love being able to see them… but I also want them to live as happily and naturally as possible. This book helped me see a different side of zoos that I have heard about but never really had a chance to explore in much detail or depth, the conservation aspect. I admire the scientists profiled in this book and the work that they're doing, and I am grateful to Patricia Newman and Annie Crawley for sharing their stories with us.
Finally, watch the trailer to see some of the people and animals from the book!