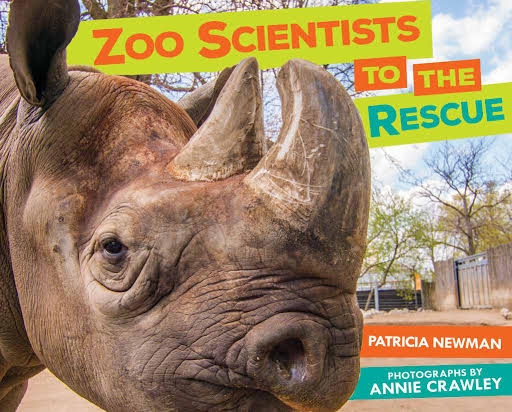 ZOO SCIENTISTS TO THE RESCUE
by Patri­cia New­man, pho­tographs by Annie Crawley
Mill­brook Press/August 1, 2017
Grades 4–8, 64 pages
Here's what the pub­lish­er says:
Zoos take care of ani­mals and wel­come vis­i­tors of all ages, but that's not all zoos do. Author Patri­cia New­man and pho­tog­ra­ph­er Annie Craw­ley bring read­ers behind the scenes at three zoos to meet sci­en­tists work­ing to save endan­gered animals.
Mered­ith Bas­tian's expe­ri­ences study­ing wild orang­utans help edu­cate both zoo vis­i­tors and the zoo work­ers who care for cap­tive orang­utans. Jeff Baugh­man breeds black-foot­ed fer­rets and rein­tro­duces them into the wild. And Rachel San­tymire exam­ines poop from black rhi­noc­er­os­es at the zoo and in their nat­ur­al habi­tat to ben­e­fit all black rhi­nos. Find out how zoo sci­en­tists are help­ing us learn more about these remark­able, at-risk species before it's too late!
Fea­tures: Author Biog­ra­phy, Bib­li­og­ra­phy, Full-Col­or Pho­tographs, Fur­ther Read­ing, Glos­sary, Index, Maps, Pri­ma­ry Source Quo­ta­tions, Websites
The pro­fes­sion­al review­ers liked it:
"Many kids are famil­iar with zoos, but there's much more to these attrac­tions than an oppor­tu­ni­ty to see ani­mals up close. New­man shines a light on the impor­tant work zoo sci­en­tists do to aid con­ser­va­tion and con­tribute impor­tant research, both at zoo labs and in the wild. This engag­ing­ly writ­ten book focus­es on three sci­en­tists and their work pro­tect­ing and research­ing orang­utans, black-foot­ed fer­rets, and black rhi­noc­er­os­es, respec­tive­ly. Each sci­en­tist describes his or her back­ground, research in the wild, chal­lenges to con­ser­va­tion efforts, and how zoo labs help them do their work. Pho­tos of the sci­en­tists in the field, as well as their ani­mal research sub­jects, enlivens the already fas­ci­nat­ing mate­r­i­al. New­man clear­ly describes the con­di­tions that led to each species becom­ing endan­gered and encour­ages read­ers to think care­ful­ly about their own actions in light of threats to wildlife. Though the book appears slim, the con­tent is fair­ly dense, so this will like­ly appeal more to mid­dle-grade read­ers. Hand this to kids who can't get enough of the Sci­en­tists in the Field series." —Book­list

"In this incred­i­bly infor­ma­tive book, read­ers learn about three zoo sci­en­tists who are work­ing to save three species (orang­utans, black-foot­ed fer­rets, and wild black rhi­nos) using a vari­ety of meth­ods, from con­ser­va­tion edu­ca­tion to breed­ing pro­grams. New­man also includes ideas on how stu­dents can con­tribute to con­ser­va­tion efforts, such as reduc­ing palm oil usage. Var­i­ous zoos and orga­ni­za­tions that focus on con­ser­va­tion are also men­tioned; for exam­ple, biobanks, where sci­en­tists freeze the sperm and eggs of var­i­ous species in order to pro­tect it from a cat­a­stroph­ic loss. The pho­tographs show the ani­mals as well as the sci­en­tists and effec­tive­ly enhance the infor­ma­tion pre­sent­ed. Sev­er­al charts, includ­ing one com­par­ing apes and mon­keys, add a deep­er lev­el of under­stand­ing. Maps of the orig­i­nal and cur­rent habi­tats of the crea­tures are help­ful in visu­al­iz­ing how the earth has changed over the years. A great book for research or for stu­dents inter­est­ed in con­ser­va­tion. —School Library Journal
And here are my thoughts:
I real­ly enjoyed this book. As the Book­list review above says, the book is quite slim, so I was not expect­ing to learn as much as I did once I cracked the cov­er! On the one hand, I did­n't want to put the book down, because I was so engrossed in the sto­ries and infor­ma­tion. On the oth­er, it was nice­ly bro­ken up into the three sep­a­rate sto­ries fol­low­ing three sep­a­rate sci­en­tists and their efforts to help three spe­cif­ic species, so it was easy to pick up where I'd left off when I was forced to walk away for a bit. The sci­ence is fas­ci­nat­ing, the human sto­ries are com­pelling, and the gor­geous pho­tog­ra­phy brings it all to life right before your eyes. I've been ambiva­lent about zoos my whole life. I love ani­mals, so I love being able to see them… but I also want them to live as hap­pi­ly and nat­u­ral­ly as pos­si­ble. This book helped me see a dif­fer­ent side of zoos that I have heard about but nev­er real­ly had a chance to explore in much detail or depth, the con­ser­va­tion aspect. I admire the sci­en­tists pro­filed in this book and the work that they're doing, and I am grate­ful to Patri­cia New­man and Annie Craw­ley for shar­ing their sto­ries with us.
Final­ly, watch the trail­er to see some of the peo­ple and ani­mals from the book!