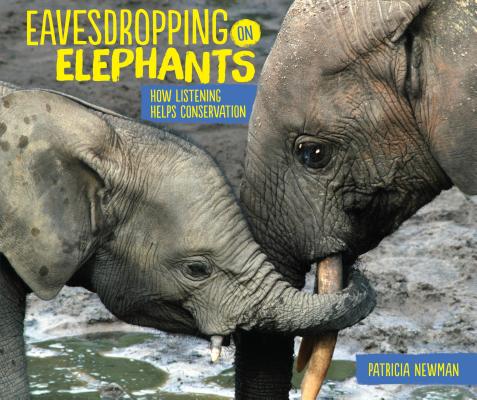 EAVESDROPPING ON ELEPHANTS
by Patricia Newman
Millbrook Press/August 1, 2018
Grades 4-8, 56 pages
Here's what the publisher says:
Can understanding how forest elephants communicate help scientists find ways to protect this vulnerable species? Researcher Katy Pane and others involved with Cornell University's Elephant Listening Project believe it can. Patricia Newman takes readers behind the scenes to see how scientists are making new discoveries about elephant communication and using what they learn to help these majestic animals.
Features: Author/Illustrator biography, Bibliography/further reading, Glossary, Index, Maps, Page Plus, Primary source quotations/images, and Reviewed
And what the critics say:
A Junior Library Guild Selection
"An inviting introduction to biologists at work." —Booklist
"…this book does an excellent job of transporting readers and providing a clear, multifaceted picture of African forest elephants…"The more you listen to wildlife, the more your mind opens up to new ideas about why the world is a place worth saving." VERDICT A great pick for middle school nonfiction collections." —School Library Journal
"Fascinating for earnest conservationists." —Kirkus Reviews
And here are my thoughts:
Patricia Newman does it again, with another engaging piece of narrative nonfiction! This is a highly engaging read about the less well-known African forest elephants and several of the scientists who study them. The science here–bioacoustics–is quite interesting and the human stories give it a personal touch. I always appreciate when we get to see how scientists really work, and it's especially rewarding to get a peek at how they collaborate with one another on their separate-but-related research projects. The book also mentions some of the conservation aspects involved and even how kids can participate if they're so inspired. An added bonus is that most of the scientists in the book happen to be women, which is so important for showing young girls that they can indeed have an important career in the sciences.
Finally, watch the trailer to see–and hear–some of the animals from the book!