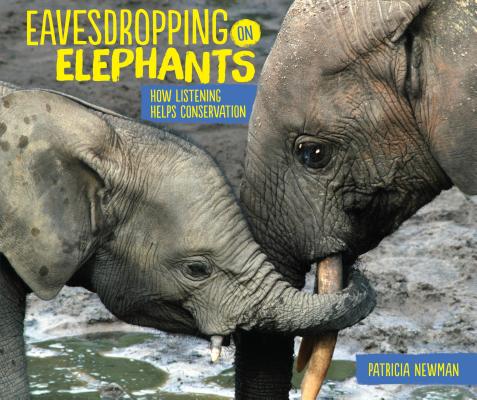 EAVESDROPPING ON ELEPHANTS
by Patri­cia Newman
Mill­brook Press/August 1, 2018
Grades 4–8, 56 pages
Here's what the pub­lish­er says:
Can under­stand­ing how for­est ele­phants com­mu­ni­cate help sci­en­tists find ways to pro­tect this vul­ner­a­ble species? Researcher Katy Pane and oth­ers involved with Cor­nell University's Ele­phant Lis­ten­ing Project believe it can. Patri­cia New­man takes read­ers behind the scenes to see how sci­en­tists are mak­ing new dis­cov­er­ies about ele­phant com­mu­ni­ca­tion and using what they learn to help these majes­tic animals.
Fea­tures: Author/Illustrator biog­ra­phy, Bibliography/further read­ing, Glos­sary, Index, Maps, Page Plus, Pri­ma­ry source quotations/images, and Reviewed
And what the crit­ics say:
A Junior Library Guild Selection
"An invit­ing intro­duc­tion to biol­o­gists at work." —Book­list
"…this book does an excel­lent job of trans­port­ing read­ers and pro­vid­ing a clear, mul­ti­fac­eted pic­ture of African for­est elephants…"The more you lis­ten to wildlife, the more your mind opens up to new ideas about why the world is a place worth sav­ing." VERDICT A great pick for mid­dle school non­fic­tion col­lec­tions." —School Library Journal
"Fas­ci­nat­ing for earnest con­ser­va­tion­ists." —Kirkus Reviews
And here are my thoughts:
Patri­cia New­man does it again, with anoth­er engag­ing piece of nar­ra­tive non­fic­tion! This is a high­ly engag­ing read about the less well-known African for­est ele­phants and sev­er­al of the sci­en­tists who study them. The sci­ence here–bioacoustics–is quite inter­est­ing and the human sto­ries give it a per­son­al touch. I always appre­ci­ate when we get to see how sci­en­tists real­ly work, and it's espe­cial­ly reward­ing to get a peek at how they col­lab­o­rate with one anoth­er on their sep­a­rate-but-relat­ed research projects. The book also men­tions some of the con­ser­va­tion aspects involved and even how kids can par­tic­i­pate if they're so inspired. An added bonus is that most of the sci­en­tists in the book hap­pen to be women, which is so impor­tant for show­ing young girls that they can indeed have an impor­tant career in the sciences.
Final­ly, watch the trail­er to see–and hear–some of the ani­mals from the book!