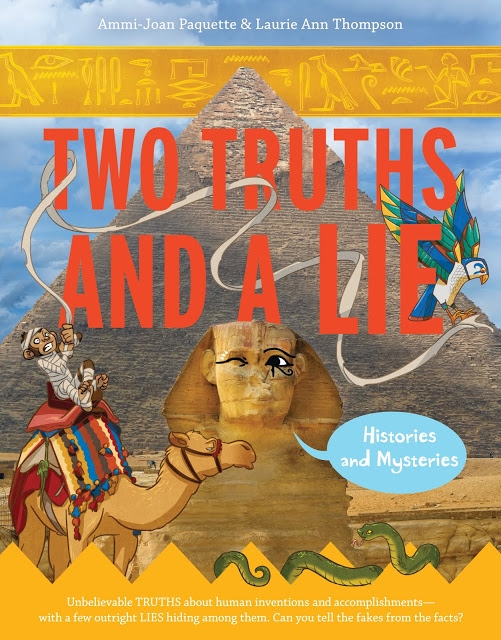 Our latest in the Two Truths and a Lie series, Histories and Mysteries, has been out for a few weeks now, and we were lucky enough to have it hit the web for its official blog tour right around publication day. Now that the dust has started to settle a bit, I wanted to share all of the in-depth reviews, educational materials, and bonus content that appeared over the course of the tour.
June 19: Brilliant fantasy author (and dear friend) Janet Lee Carey hosted us on her blog, Library Lions Roar, with a fun interview plus a video (which is only slightly cringe-worthy).

😉

June 20: Heidi Grange posted a lovely review of Two Truths and a Lie: Histories and Mysteries on Geo Librarian.
June 21: Beth posted her thoughts about the timeliness and relevance of the book on A Foodie Bibliophile in Wanderlust.
June 21: Ammi-Joan and I shared some ideas for how parents can talk to their kids about information literacy and the importance of knowing the truth on Medium at Roadmap to Reality: Helping Kids Find Their Way in a World of Fake News.
June 26: This was release day, so it's only appropriate that it was the featured title on The Official Tumblr of Walden Media.
June 26: Nicole gave it a rave review on Bluestocking Thinking.
June 27: Kellee gives a glowing review, shares some sneak peeks at the content, and even offers some read-alikes in her post on Unleashing Readers.
June 27: Ammi-Joan and I teamed up for a post on the Nerdy Book Club blog about incorporating summer reading into all kinds of family activities.
June 27: Kirsti Call shares her review (including a nice endorsement from her 7-year-old son!) over at Writers Rumpus.
June 28: Kristen posted her short-but-sweet review on The Book Monsters.
June 29: Mia Wenjen posted her honest review on her blog at Pragmatic Mom.
Many, many thanks to the hard-working bloggers who help share the book love and get the word out to book buyers and readers! Also, thank you yet again to the excellent folks at Walden Pond Press who put this event together. xoxo
You can find out more about the book and grab your copy here or here.