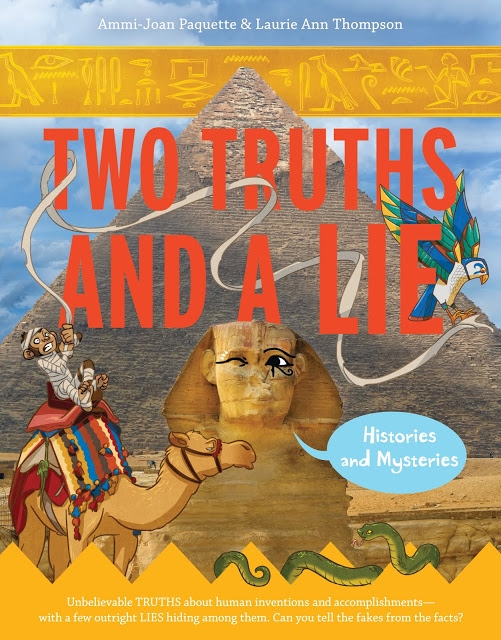 Our lat­est in the Two Truths and a Lie series, His­to­ries and Mys­ter­ies, has been out for a few weeks now, and we were lucky enough to have it hit the web for its offi­cial blog tour right around pub­li­ca­tion day. Now that the dust has start­ed to set­tle a bit, I want­ed to share all of the in-depth reviews, edu­ca­tion­al mate­ri­als, and bonus con­tent that appeared over the course of the tour.
June 19: Bril­liant fan­ta­sy author (and dear friend) Janet Lee Carey host­ed us on her blog, Library Lions Roar, with a fun inter­view plus a video (which is only slight­ly cringe-wor­thy).

😉

June 20: Hei­di Grange post­ed a love­ly review of Two Truths and a Lie: His­to­ries and Mys­ter­ies on Geo Librar­i­an.
June 21: Beth post­ed her thoughts about the time­li­ness and rel­e­vance of the book on A Food­ie Bib­lio­phile in Wan­der­lust.
June 21: Ammi-Joan and I shared some ideas for how par­ents can talk to their kids about infor­ma­tion lit­er­a­cy and the impor­tance of know­ing the truth on Medi­um at Roadmap to Real­i­ty: Help­ing Kids Find Their Way in a World of Fake News.
June 26: This was release day, so it's only appro­pri­ate that it was the fea­tured title on The Offi­cial Tum­blr of Walden Media.
June 26: Nicole gave it a rave review on Blue­stock­ing Think­ing.
June 27: Kellee gives a glow­ing review, shares some sneak peeks at the con­tent, and even offers some read-alikes in her post on Unleash­ing Read­ers.
June 27: Ammi-Joan and I teamed up for a post on the Nerdy Book Club blog about incor­po­rat­ing sum­mer read­ing into all kinds of fam­i­ly activities.
June 27: Kirsti Call shares her review (includ­ing a nice endorse­ment from her 7‑year-old son!) over at Writ­ers Rum­pus.
June 28: Kris­ten post­ed her short-but-sweet review on The Book Mon­sters.
June 29: Mia Wen­jen post­ed her hon­est review on her blog at Prag­mat­ic Mom.
Many, many thanks to the hard-work­ing blog­gers who help share the book love and get the word out to book buy­ers and read­ers! Also, thank you yet again to the excel­lent folks at Walden Pond Press who put this event togeth­er. xoxo
You can find out more about the book and grab your copy here or here.