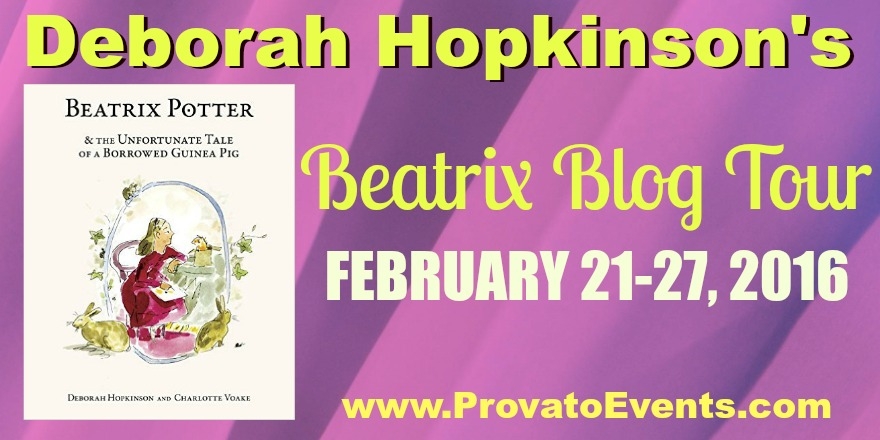 Deborah Hopkinson
is the author of nearly 50 fantastic books for young readers. I have blogged previously about several of these books, including her most recent nonfiction work,
Courage & Defiance
, which was named a NCTE Orbis Pictus recommended book and Sydney Taylor award notable book. Her newest middle grade novel,
A Bandit's Tale, The Muddled Misadventures of a Pickpocket
, a Junior Library Guild selection, will be released this April. And today we're celebrating the recent release of 
Beatrix Potter and the Unfortunate Tale of a Borrowed Guinea Pig
(
Schwartz & Wade), which I know will have a special place in my heart because a) I love guinea pigs, and b) when I was a little girl I had a beloved set of bunnies named Flopsy, Mopsy, and Cottontail. Just check out this intriguing review:
"As this book's foreboding title suggests, a guinea pig does not survive its encounter with the future creator of Peter Rabbit—nor do Sally the snake, an unnamed bat, and numerous snails. In her childhood, Beatrix Potter made a habit of capturing London's wild creatures. "But the sad truth is that although Beatrix loved animals, she did not always have the best of luck with them," sighs Hopkinson (Courage & Defiance), who shares evidence from Potter's childhood diary and, according to an afterword, takes a few authorial liberties with actual events. Troubles arise when Beatrix borrows a pet guinea pig, drolly named Queen Elizabeth, to sketch. After Queen Elizabeth devours a fatal "repast of paper, paste, and string," Beatrix humbly returns to its owner with "a stiff and bloated Queen Elizabeth" and a "delightful little watercolor" of the subject. Hopkinson's jesting tone combines false grandeur with a note of regret, and Voake's (Ginger) breezy watercolors suggest Beatrix's combination of curiosity and nonchalance. Sensitive souls will feel for Beatrix's victims, even as this diverting narrative sheds light on her childhood fascinations. Ages 4–8. Author's agent: Steven Malk, Writers House. (Feb.)."  — Publishers Weekly
And now, here is today's guest post, written by Deborah Hopkinson herself:
This year marks the 150th anniversary of the birth of Beatrix Potter (1866-1943), the creator of some of the best-loved children's classics in the world. I first began toying with the idea of writing about Beatrix five years ago, but it took more than a year and a half of trial and error. Finally, with the guidance of my editor Anne Schwartz at Schwartz & Wade, I found my way to the story that became Beatrix Potter and the Unfortunate Tale of a Borrowed Guinea Pig. Inspired by a true incident that Beatrix recorded in her journal, she recounts borrowing a guinea pig named Queen Elizabeth from her neighbor, only to have it expire in the night from eating paste and glue and other forbidden treats.
Beatrix Potter was a fascinating woman, as well as a legendary artist, author, and conservationist. Her journal, written in code, was decoded and transcribed in 1958 by Leslie Linder and published in 1966. In it, Beatrix describes a series of pet disasters, some of which appear in my book.
I was also intrigued by Beatrix's creative process. Her first book, The Tale of Peter Rabbit, published in 1902, was originally a "picture letter" written to cheer up a sick boy named Noel Moore, the son of her former governess. She begins, "My dear Noel, I don't know what to write to you so I will tell you a story about four little rabbits whose names were Flopsy, Mopsy, Cottontail, and Peter.
I love playing with the structure of picture books. Some of my previous books have been written in journal format, or divided into innings or courses (like chapters). For this book, we wanted to as much as possible imitate one of Beatrix Potter's own picture letters. Even before the title page, the story begins with an introduction: "My dear Reader." At the end, the story is signed by me. The postscript? That's an author's note which includes photos of Beatrix and images of her journal and the picture letter to Noel. As an author who visits schools all over the country, I'm looking forward to incorporating picture letter into my author visits and can't wait to see what students will create. I'm also eager to share with them the story of an artist and writer who began practicing her craft at a young age.
Charlotte Voake, whose delightful watercolors make this book so special, is British, and I'm excited that our book will also be published in Great Britain in July, to coincide with Beatrix Potter's birthday on July 28. The Royal Mint is issuing 50p coins in honor of Beatrix (there is also a coin to mark the 400th anniversary of Shakespeare's death).
For more Beatrix Potter special events, follow the hashtag #Beatrix150 on Twitter. And, as Beatrix learned the hard way, do be careful whenever you borrow something from a neighbor.
Many thanks to Deborah Hopkinson for guest blogging here today!  For other stops on the
Beatrix
Blog Tour please visit 
deborahhopkinson.com
.