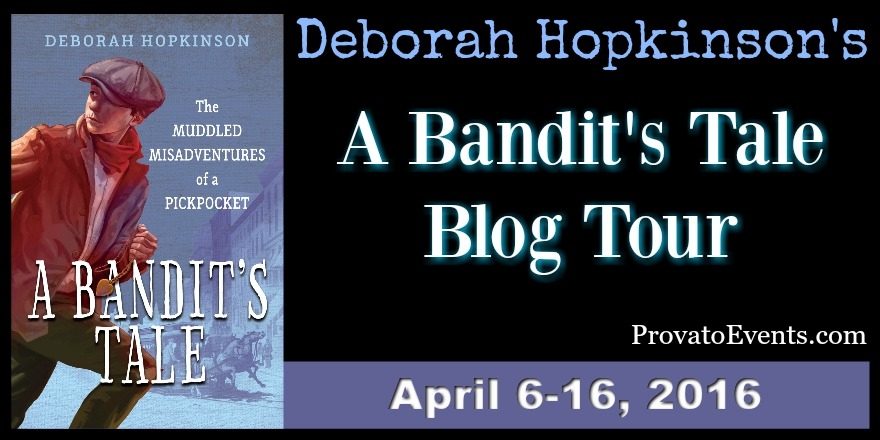 Today, I'm thrilled to be participating in another blog tour for Deborah Hopkinson! This time, the award-winning master of historical fiction for children takes readers back to nineteenth-century New York City in her new middle-grade novel: A BANDIT'S TALE: THE MUDDLED MISADVENTURES OF A PICKPOCKET (Alfred A. Knopf Books for Young Readers | on sale April 5, 2016 | Ages 8–12 | $16.99). Here's the publisher's description of this story of survival, crime, adventure, and horses:
Here are a few words from other reviewers:
"A strong choice for those who enjoy adventures about scrappy and resourceful kids."
—School Library Journal, Starred Review
"A dynamic historical novel ideal for both classroom studies and pleasure reading."
—Publishers Weekly, Starred Review
And here are a few more from me:
I am a diehard animal lover, so when I found out that the founder of the ASPCA, Henry Bergh, appears as a character in this novel and that part of the plot is about helping the street horses in NYC, I knew I had to read it! What I found was so much more. It turns out there were several other things I loved about this novel, too:
It's an interesting setting, late 1800s New York City, that I hadn't really thought about much before. The novel immerses readers in this world and brings it to life on a very human level. I love when historical fiction does that!
There's a secret! I won't give away any spoilers, but there's an incident at the beginning of the book that isn't fully explained or understood by the reader until much later, but it sure keeps you wondering.
I love the voice. The book is written in first-person from Rocco's somewhat irreverent point of view, sometimes addressing the reader directly. Rocco thinks and sounds like a completely believable 11- to 12-year-old. He is naive and immature but good-hearted and trying to cope as best he can with a challenging and complex world. I especially appreciated how with age and experience he is able to look back on previous events and see them differently.
Okay, as much as enjoyed the setting, plot, and character of the novel, what truly blew me away was the backmatter. (I love fiction, but I guess I'm a nonfiction girl at heart!) There's a map; an explanation of what a picaresque novel is; notes about the setting, times, and people; a glossary of terms used by the thieves; a guide for further reading; and source notes. Many real people are referenced in the novel, and Hopkinson takes great care to explain exactly what is true and what she made up for the sake of the story. I think readers and writers alike will find it interesting to see how the fiction and facts can intertwine and overlap.
Adding to all of this were the photos! Being able to see authentic vintage photos from the actual time and place of the novel really added to the intellectual understanding as well as the emotional impact of the fictional scenes.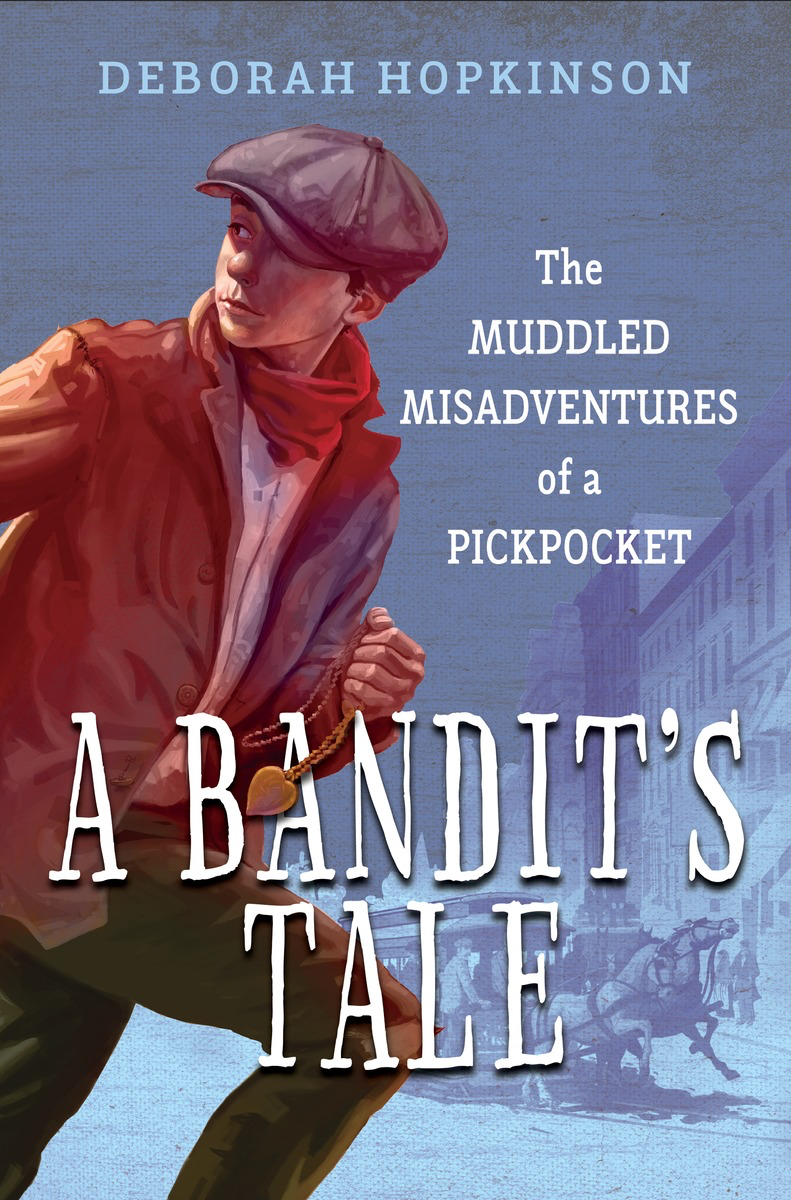 All in all, this book earns A Bandit's Tale two thumbs up from this reader! I would highly recommend handing it to anyone who enjoys historical fiction, animal lovers, adventure lovers, ruffians and rogues, and, yes, even readers who tend to prefer nonfiction history and/or biography.
Thank you to Deborah Hopkinson and Michele Kophs at Provato Events for the pleasure of reading this advance reader's copy!
For other stops on the Bandit Blog Tour please check deborahhopkinson.com and watch for the hashtag, #BanditBlogTour.