Today I'm thrilled to be a part of the blog tour for Clare Hodgson Meeker's new book, Growing Up Gorilla!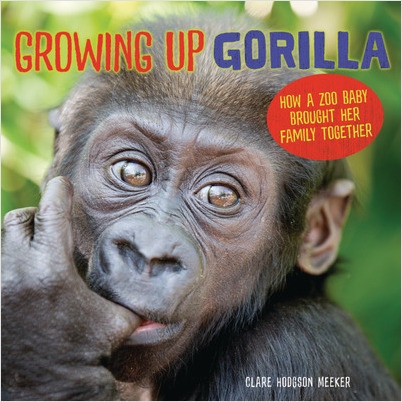 GROWING UP GORILLA
by Clare Hodgson Meeker
Millbrook Press/September 3, 2019
Grades 3–6, 48 pages
Here's what the publisher says about Growing Up Gorilla:
This heart­warm­ing true sto­ry chron­i­cles what hap­pened after a moth­er goril­la gave birth for the first time and then walked away from her new­born baby at Seattle's Wood­land Park. The ded­i­cat­ed staff worked tire­less­ly to find inno­v­a­tive ways for moth­er and baby to build a rela­tion­ship. The efforts were ulti­mate­ly suc­cess­ful, as baby Yola bond­ed with her moth­er and the rest of the fam­i­ly group.
And here are my thoughts about Growing Up Gorilla:
This beau­ti­ful­ly pho­to-illus­trat­ed non­fic­tion is both metic­u­lous­ly researched and lov­ing­ly told. Meek­er does a fan­tas­tic job of bring­ing this true sto­ry to life in a very kid-friend­ly way, bring­ing us into the world of both the goril­las and their keep­ers in a way that keeps read­ers thor­ough­ly absorbed at all times. There is some­thing for every­one here, with plen­ty of dra­ma and sus­pense as well as heart-tug­ging emo­tion and (spoil­er alert!) a hap­py ending.
The book also con­tains a table of con­tents and exten­sive back­mat­ter, includ­ing an author's note, fur­ther reading/websites/videos, glos­sary, index, maps, pri­ma­ry source quotations/images, side­bars, and more.
AND, here's my interview with the author of Growing Up Gorilla, Clare Hodgson Meeker!
LAT: Can you describe your writing process? Did Growing Up Gorilla require any particular changes to how your typical process?
CHM: Nor­mal­ly I don't start writ­ing a book until I've worked out the arc of the sto­ry from begin­ning to end and done enough research and inter­view­ing to feel ready to tell the sto­ry with excite­ment and con­fi­dence. Prepar­ing a pro­pos­al helps me orga­nize my thoughts — out­lin­ing the sto­ry with chap­ter sum­maries helps me think in scenes and how I'm going to thread in the fac­tu­al infor­ma­tion I think is rel­e­vant. Once I have that, I can begin writ­ing my first scene of the book and con­tin­ue chrono­log­i­cal­ly through the sto­ry. The only change in my writ­ing process with Grow­ing Up Goril­la was hav­ing to write a full draft before inter­view­ing the goril­la keep­ers who were direct­ly involved with help­ing Yola and her moth­er Nadiri bond. I was able to inter­view them once I had a pub­lish­er on board, which sat­is­fied the Zoo's require­ments. How­ev­er, the zoo staff did give me some access to the Keeper's Dai­ly Record book, which includ­ed their notes of what hap­pened dur­ing the first few months after Yola's birth, to help me write the first draft.
LAT: What do you find most challenging about writing for kids? About Growing Up Gorilla in particular?
CHM: I've taught writ­ing in the schools to chil­dren for many years. When we talk about plot and what makes a sto­ry inter­est­ing, kids agree that there needs to be a prob­lem that has to be solved and a main char­ac­ter they can relate to who wants some­thing and/or has to solve the sto­ry prob­lem. In writ­ing a book about a baby goril­la whose moth­er ini­tial­ly refused to care for her after her birth, my chal­lenge was to get chil­dren to relate to these char­ac­ters and care about their prob­lems. Children's books should be action-ori­ent­ed and avoid too much descrip­tion or flash­back. I had to choose care­ful­ly the places where I slowed down the action to describe a scene in more detail — like the night Nadiri went into labor where I want­ed to show the close rela­tion­ship between Nadiri and the infant care spe­cial­ist who had hand-raised her at birth after Nadiri's moth­er reject­ed her. I don't believe in writ­ing down to a cer­tain grade lev­el or lim­it­ing word choice to a grade-appro­pri­ate list. I think about pre­sent­ing the sto­ry in the most nat­ur­al way I can as though I am telling it to the read­er sit­ting next to me.
LAT: What authors and or books do you most admire, and why? Did you have any specific mentor texts that you looked at for Growing Up Gorilla?
CHM: Kather­ine Applegate's mid­dle-grade nov­el The One and Only Ivan and her pic­ture book Ivan: The Remark­able True Sto­ry of the Shop­ping Mall Goril­la are fan­tas­tic exam­ples of a goril­la char­ac­ter and sto­ry that chil­dren can relate to and empathize with, in both a fic­tion­al ver­sion and in a more con­densed non­fic­tion format.
CHM: I am also a big fan of Sy Mont­gomery, who has writ­ten many of the Sci­en­tists in the Field series books pub­lished by Houghton Mif­flin Har­court. Her voice is so dis­tinc­tive as she takes you on an adven­ture shad­ow­ing biol­o­gists and nat­u­ral­ists who are study­ing ani­mals in the wild around the world and weav­ing in fas­ci­nat­ing facts about them.
LAT: Outside of the writing itself, what kinds of things do you do that you feel help your writing career?
CHM: I am a life-long learn­er. I love tak­ing class­es in dif­fer­ent writ­ing gen­res, from poet­ry and pic­ture books to essay and nov­el writ­ing. Hugo House in Seat­tle is a won­der­ful place to take class­es, get inspired, and meet oth­ers in the writ­ing and read­ing com­mu­ni­ty. I also enjoy writ­ing con­fer­ences where I can get tips on writ­ing and the busi­ness of writ­ing lis­ten­ing to edi­tors and talk­ing with fel­low children's book authors.
LAT: What advice would you give to someone who is interested in writing nonfiction for kids?
CHM: Children's non­fic­tion is a very pop­u­lar genre today, espe­cial­ly STEM sub­jects (sci­ence, tech­nol­o­gy, engi­neer­ing, and math). My advice is to choose a top­ic that you are excit­ed about and will­ing to immerse your­self in, so that you can feel con­fi­dent writ­ing a sto­ry that kids and pub­lish­ers will love. Think of cre­ative ways to present your book idea, like Lau­rie Ann Thomp­son did in her Two Truths and a Lie series. It also helps to include themes that reflect the cur­rent ele­men­tary sci­ence or human­i­ties cur­ricu­lum stan­dards so a pub­lish­er can mar­ket your book to schools and libraries.
LAT: Wow, thanks so much for that shout out, Clare! And thanks so much for including me in the blog tour for Growing Up Gorilla and for taking the time to do this interview for us.
Please check out the rest of the Growing Up Gorilla blog tour stops on the schedule below!