Today I'm thrilled to be a part of the blog tour for Clare Hodgson Meeker's new book, Growing Up Gorilla!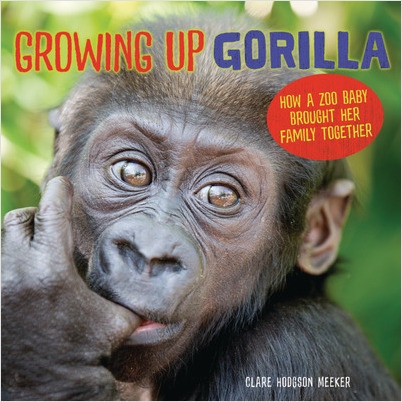 GROWING UP GORILLA
by Clare Hodgson Meeker
Millbrook Press/September 3, 2019
Grades 3-6, 48 pages
Here's what the publisher says about Growing Up Gorilla:
This heartwarming true story chronicles what happened after a mother gorilla gave birth for the first time and then walked away from her newborn baby at Seattle's Woodland Park. The dedicated staff worked tirelessly to find innovative ways for mother and baby to build a relationship. The efforts were ultimately successful, as baby Yola bonded with her mother and the rest of the family group.
And here are my thoughts about Growing Up Gorilla:
This beautifully photo-illustrated nonfiction is both meticulously researched and lovingly told. Meeker does a fantastic job of bringing this true story to life in a very kid-friendly way, bringing us into the world of both the gorillas and their keepers in a way that keeps readers thoroughly absorbed at all times. There is something for everyone here, with plenty of drama and suspense as well as heart-tugging emotion and (spoiler alert!) a happy ending.
The book also contains a table of contents and extensive backmatter, including an author's note, further reading/websites/videos, glossary, index, maps, primary source quotations/images, sidebars, and more.
AND, here's my interview with the author of Growing Up Gorilla, Clare Hodgson Meeker!
LAT: Can you describe your writing process? Did Growing Up Gorilla require any particular changes to how your typical process?
CHM: Normally I don't start writing a book until I've worked out the arc of the story from beginning to end and done enough research and interviewing to feel ready to tell the story with excitement and confidence. Preparing a proposal helps me organize my thoughts – outlining the story with chapter summaries helps me think in scenes and how I'm going to thread in the factual information I think is relevant. Once I have that, I can begin writing my first scene of the book and continue chronologically through the story. The only change in my writing process with Growing Up Gorilla was having to write a full draft before interviewing the gorilla keepers who were directly involved with helping Yola and her mother Nadiri bond. I was able to interview them once I had a publisher on board, which satisfied the Zoo's requirements. However, the zoo staff did give me some access to the Keeper's Daily Record book, which included their notes of what happened during the first few months after Yola's birth, to help me write the first draft.
LAT: What do you find most challenging about writing for kids? About Growing Up Gorilla in particular?
CHM: I've taught writing in the schools to children for many years. When we talk about plot and what makes a story interesting, kids agree that there needs to be a problem that has to be solved and a main character they can relate to who wants something and/or has to solve the story problem. In writing a book about a baby gorilla whose mother initially refused to care for her after her birth, my challenge was to get children to relate to these characters and care about their problems. Children's books should be action-oriented and avoid too much description or flashback. I had to choose carefully the places where I slowed down the action to describe a scene in more detail – like the night Nadiri went into labor where I wanted to show the close relationship between Nadiri and the infant care specialist who had hand-raised her at birth after Nadiri's mother rejected her. I don't believe in writing down to a certain grade level or limiting word choice to a grade-appropriate list. I think about presenting the story in the most natural way I can as though I am telling it to the reader sitting next to me.
LAT: What authors and or books do you most admire, and why? Did you have any specific mentor texts that you looked at for Growing Up Gorilla?
CHM: Katherine Applegate's middle-grade novel The One and Only Ivan and her picture book Ivan: The Remarkable True Story of the Shopping Mall Gorilla are fantastic examples of a gorilla character and story that children can relate to and empathize with, in both a fictional version and in a more condensed nonfiction format.
CHM: I am also a big fan of Sy Montgomery, who has written many of the Scientists in the Field series books published by Houghton Mifflin Harcourt. Her voice is so distinctive as she takes you on an adventure shadowing biologists and naturalists who are studying animals in the wild around the world and weaving in fascinating facts about them.
LAT: Outside of the writing itself, what kinds of things do you do that you feel help your writing career?
CHM: I am a life-long learner. I love taking classes in different writing genres, from poetry and picture books to essay and novel writing. Hugo House in Seattle is a wonderful place to take classes, get inspired, and meet others in the writing and reading community. I also enjoy writing conferences where I can get tips on writing and the business of writing listening to editors and talking with fellow children's book authors.
LAT: What advice would you give to someone who is interested in writing nonfiction for kids?
CHM: Children's nonfiction is a very popular genre today, especially STEM subjects (science, technology, engineering, and math). My advice is to choose a topic that you are excited about and willing to immerse yourself in, so that you can feel confident writing a story that kids and publishers will love. Think of creative ways to present your book idea, like Laurie Ann Thompson did in her Two Truths and a Lie series. It also helps to include themes that reflect the current elementary science or humanities curriculum standards so a publisher can market your book to schools and libraries.
LAT: Wow, thanks so much for that shout out, Clare! And thanks so much for including me in the blog tour for Growing Up Gorilla and for taking the time to do this interview for us.
Please check out the rest of the Growing Up Gorilla blog tour stops on the schedule below!