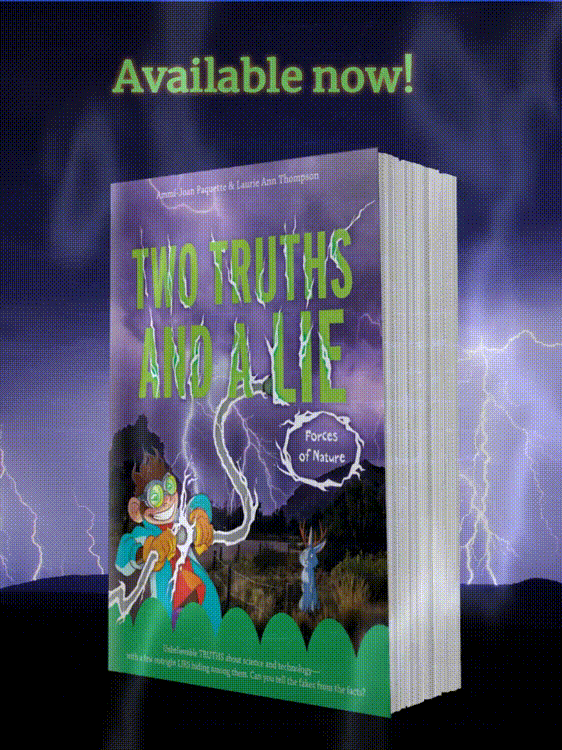 TWO TRUTHS AND A LIE: FORCES OF NATURE, the third book in the series, is final­ly here! So, what's this one about? Here's an overview:
Crazy-but-true sto­ries make this acclaimed non­fic­tion series per­fect for fans of curiosi­ties and wonders—and any­one look­ing to explore ways to sep­a­rate fact from fiction.

Did you know stud­ies have shown that too many fid­get spin­ners spin­ning in the same direc­tion could poten­tial­ly have an adverse effect on Earth's grav­i­ta­tion­al field? Or that there's a com­pa­ny that can turn your deceased loved one's remains into a dia­mond? Or that the loud­est record­ed sound in his­to­ry was made by the erup­tion of a vol­cano in 1883, whose echo­ing blast cir­cled the plan­et at least three times?

Wel­come to Two Truths and a Lie: Forces of Nature! You've heard of the game: Every sto­ry in this book is strange and astound­ing, but one out of every three is an out­right lie. Pick­ing out the fakes isn't as easy as you think, how­ev­er. Some false sto­ries are based on truth, and some of the true sto­ries are just plain unbe­liev­able! Don't be fooled by the pho­tos that accom­pa­ny each story—it's going to take all your smarts and some clever research to fer­ret out the truth.

From a man who gave him­self an appen­dec­to­my to radio sig­nals from oth­er plan­ets to eagles that have been trained to take out spy drones, the sto­ries in this third install­ment in the Two Truths and a Lie series will amaze you! Just don't believe every­thing you read.…

(Walden Pond Press/HarperCollins, June 2019)
Cre­at­ing a book is a high­ly col­lab­o­ra­tive process, and this book has had an incred­i­ble team work­ing on it from day one. Many, many thanks to my co-author, Ammi-Joan Paque­tte; our agent, Erin Mur­phy; our edi­tor, Jor­dan Brown; and all the won­der­ful folks at Walden Pond Press and Harper­Collins. It's been an hon­or and a joy to work with you all on this book and the entire TWO TRUTHS AND A LIE series!
Buy it now, at your local inde­pen­dent book­store, or any­where books are sold!