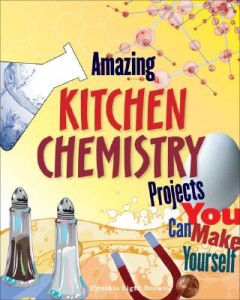 Amazing Kitchen Chemistry Projects You Can Make Yourself
by Cynthia Light Brown (Author)
Nomad Press (May 1, 2008)
122 pages
Ages: 9-12
From the publisher's web page:
"In Amazing Kitchen Chemistry Projects You Can Build Yourself, kids ages 9 and up will experiment with kitchen materials to discover chemistry. Readers will learn about atoms, molecules, solids, liquids, gases, polymers, the periodic table, the important history of science, and much more. Along the way, they'll make goop, cause chemical reactions, and create delicious treats, and all of it will illustrate important chemistry concepts. Amazing Kitchen Chemistry Projects is a fun and exciting way for young readers to learn all about chemistry and become scientists right in the kitchen."
My son has always loved science, so we've gone through many books like this over the years. As a parent, I have to say this is my favorite one so far. Why? First, all the supplies and ingredients are already in my house or readily available. Yay! He can pick a project and we can DO it, rather than make a shopping list and get back to it when I've collected all the hard-to-find necessities. Second, the science concepts behind the projects and any specialized vocabulary words are explained in a clear, accessible way. Finally, the projects themselves as well as the layout, fun facts, sidebars, and illustrations, are just plain FUN!
Topics include atoms and molecules, mixtures, reactions, acids and bases, solids, liquids, gases, state changes, polymers, and water. Some of things you can make are a buckyball, a chroma-color bookmark, an Alka-Seltzer rocket, invisible messages, crystals, rock candy, a wave tank, a Mentos explosion, taffy, ice cream, oobleck, meringue cookies, paper, bubble solution, and more!
I think this is a book that young scientists, as well as their parents and teachers, will appreciate.
In the interests of "keeping it real," though, I have to share my son's one and only complaint: "It's not even in color!" With so much great stuff happening on every page, I honestly hadn't even noticed. He's very visual, so it was a big drawback for him. I don't know if other kids would be as sensitive, and I'm sure most adults will appreciate the cost savings.
This book also includes a table of contents, an introduction, a glossary, recommended resources, and index.
FAVORITE FUN FACT: On page 18, I learned that Alfred Hitchcock's The Birds was based on a real event! In 1961, birds started crashing into houses in the middle of the night in a coastal California town. People went out with flashlights to investigate, and the birds flew toward the lights and pecked at the people, who ran back inside for cover. The next day, they found the streets full of dead and confused birds. 26 years later, scientists finally discovered it was caused by a neurotoxin that can build up in sea creatures that eat a dangerous type of phytoplankton, and the birds–or people–that in turn eat those sea creatures! Who knew? 
To check out the rest of today's roundup of books for kids about topics in science, technology, engineering, and mathematics, head on over to this week's STEM Friday host, Wrapped in Foil!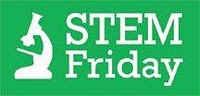 (Disclaimer: I received this copy for free directly from the publisher for review.)