Writ­ten by Lau­rie Ann Thomp­son, illus­trat­ed by Jay Fleck
Dial Books, April 2023
I'm thrilled to announce the release of my two newest books, YOU ARE A HONEY BEE! and YOU ARE A RACCOON!, the first two books in an adorable, STEM nonfiction picture book series that encourages very young readers to learn—through gentle interactivity and play—about the animals who share their world.
This play­ful and infor­ma­tive series, avail­able in hard­cov­er, ebook, and audio­book edi­tions, invites you to take a clos­er look at the amaz­ing ani­mals that live right along­side you in rur­al, sub­ur­ban, and urban land­scapes across North Amer­i­ca. In each book, words and art inspire you to act out ani­mal actions that are not so dif­fer­ent from your own habits. And robust back­mat­ter offers even more facts and fun. From the ani­mals' fam­i­lies and foods to their envi­ron­ments and behav­iors, let's meet your world!
PRAISE FOR MEET YOUR WORLD:
"A very use­ful work for envi­ron­men­tal sci­ence and ani­mal stud­ies in the class­room and for indi­vid­ual read­ing. The hard­work­ing life of a hon­ey bee is shown through a live­ly text and col­or­ful illus­tra­tions which offer sig­nif­i­cant infor­ma­tion." – School Library Journal
"Thomp­son has craft­ed a tru­ly won­der­ful book that not only pulls read­ers in with a cute tale about ani­mals but also incor­po­rates activ­i­ties that mim­ic the lives of raccoons—all while being edu­ca­tion­al! All libraries will want to include this in their children's col­lec­tions." – School Library Journal
"Nat­u­ral­is­tic and charm­ing." – Kirkus Reviews
---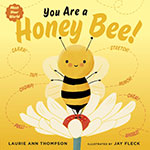 Swish, swoosh, fly!
You might have heard the words "busy as a bee," but what do bees actu­al­ly do each day? Did you know bees clean their rooms, help feed baby bees, and build the hive they live in? From birth to first flight and beyond, dis­cov­er all that goes into being a bee in this charm­ing pic­ture book, the first in the Meet Your World series.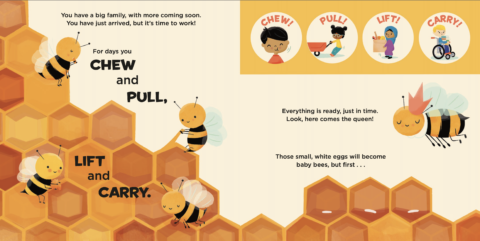 ---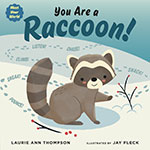 Crawl, cling climb!
You may have seen a rac­coon scur­ry up a tree or across the road just before dark. Did you know that rac­coons stay up at night play­ing, hunt­ing, and eat­ing when you go to sleep? From birth to first stripes and beyond, dis­cov­er all that goes into being a rac­coon in this charm­ing pic­ture book, the sec­ond in the Meet Your World series.