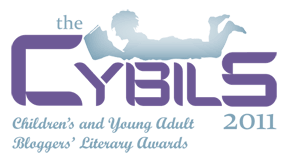 The Cybils' Non­fic­tion Pic­ture Book pan­el for round one, which I was thrilled to be a part of this year, recent­ly fin­ished our deliberations.
The pan­elists were:
There were 87 non­fic­tion pic­ture books to read. Of those, 23 end­ed up on my "pos­si­ble con­tenders" list, and only four of those end­ed up on my "absolute­ly must fight for" list. The sev­en of us had to ulti­mate­ly agree on sev­en (or few­er) titles to send on to the round two judges. (And, I'm hap­py to report, we did it! But you'll have to wait a few more days to find out what we chose.)
What a thought-pro­vok­ing and edu­ca­tion­al expe­ri­ence this was to go through, as both a writer and as a read­er. These smart, savvy, and opin­ion­at­ed book-lov­ing women val­i­dat­ed many of my own feel­ings about non­fic­tion for kids, and brought to light some nuances that I hadn't real­ly thought about before, and the whole process real­ly made me think about the titles that I loved through both lens­es of the Cybils cri­te­ria: lit­er­ary mer­it AND kid appeal. It wasn't enough to have one or the oth­er (which many titles did). Our job was to iden­ti­fy at most sev­en titles we felt were the best of both worlds. A few titles were easy shoe-ins: we agreed on those right away. The remain­ing spots were only filled after great debate, with some argu­ing for and oth­er against. The rea­sons not to include some­thing on the short list were often even more enlight­en­ing than the rea­sons to include something.
Major rea­sons why oth­er­wise deserv­ing titles got passed over:
Insuf­fi­cient back mat­ter. Back mat­ter can real­ly make or break a non­fic­tion book, even a pic­ture book for the youngest
read­ers. If we, the adults, don't trust you, the author, we're not going to put that book into a kid's hands. Authors and pub­lish­ers: it's worth bud­get­ing the space for those extra pages at the back. Con­sid­er it your chance to show off your hard work and prove your exper­tise, as well as to share your pas­sion with your read­ers, adults and chil­dren alike. Sad­ly, I think insuf­fi­cient back mat­ter hurt both lit­er­ary mer­it and kid appeal on many oth­er­wise won­der­ful titles.
Art and design. Not being an artist myself, I was sur­prised how divi­sive this area could be. Some­times we loved the art, but didn't feel the words were up to par. Some­times we loved the text, but reject­ed the art. Some­times we even loved both, just not togeth­er! And often, we had con­flict­ing opin­ions across the pan­el. Some­times the lay­out and design added to the oth­er ele­ments, some­times it took so much away as to knock a title out of the run­ning alto­geth­er. As an author, I'll have no con­trol over this (gulp!), but it makes me even more aware of how impor­tant it is to find an edi­tor and a pub­lish­ing house that I can trust to get it all right.
Age appro­pri­ate­ness. There were sub­jects that seemed either too young or too old for the audi­ences they were writ­ten for, either too dumb­ed down or too sophis­ti­cat­ed to be appeal­ing to the intend­ed read­ers. It's tough to strike that bal­ance of read­ing lev­el, inter­est lev­el, and rel­e­van­cy, but as an author (and illus­tra­tor), you just have to do it. I'll be hold­ing up my own man­u­scripts to much greater scruti­ny in this area.
I want to thank each and every one of the pan­elists for a thor­ough­ly enjoy­able and eye-open­ing deci­sion-mak­ing process. I hope the round two judges are pleased with our choic­es and look for­ward to their choice for the win­ner. I don't envy their job one bit!