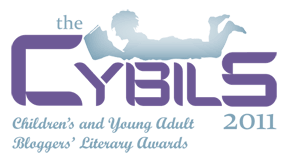 The Cybils' Nonfiction Picture Book panel for round one, which I was thrilled to be a part of this year, recently finished our deliberations.
The panelists were:
There were 87 nonfiction picture books to read. Of those, 23 ended up on my "possible contenders" list, and only four of those ended up on my "absolutely must fight for" list. The seven of us had to ultimately agree on seven (or fewer) titles to send on to the round two judges. (And, I'm happy to report, we did it! But you'll have to wait a few more days to find out what we chose.)
What a thought-provoking and educational experience this was to go through, as both a writer and as a reader. These smart, savvy, and opinionated book-loving women validated many of my own feelings about nonfiction for kids, and brought to light some nuances that I hadn't really thought about before, and the whole process really made me think about the titles that I loved through both lenses of the Cybils criteria: literary merit AND kid appeal. It wasn't enough to have one or the other (which many titles did). Our job was to identify at most seven titles we felt were the best of both worlds. A few titles were easy shoe-ins: we agreed on those right away. The remaining spots were only filled after great debate, with some arguing for and other against. The reasons not to include something on the short list were often even more enlightening than the reasons to include something.
Major reasons why otherwise deserving titles got passed over:
Insufficient back matter. Back matter can really make or break a nonfiction book, even a picture book for the youngest
readers. If we, the adults, don't trust you, the author, we're not going to put that book into a kid's hands. Authors and publishers: it's worth budgeting the space for those extra pages at the back. Consider it your chance to show off your hard work and prove your expertise, as well as to share your passion with your readers, adults and children alike. Sadly, I think insufficient back matter hurt both literary merit and kid appeal on many otherwise wonderful titles.
Art and design. Not being an artist myself, I was surprised how divisive this area could be. Sometimes we loved the art, but didn't feel the words were up to par. Sometimes we loved the text, but rejected the art. Sometimes we even loved both, just not together! And often, we had conflicting opinions across the panel. Sometimes the layout and design added to the other elements, sometimes it took so much away as to knock a title out of the running altogether. As an author, I'll have no control over this (gulp!), but it makes me even more aware of how important it is to find an editor and a publishing house that I can trust to get it all right.
Age appropriateness. There were subjects that seemed either too young or too old for the audiences they were written for, either too dumbed down or too sophisticated to be appealing to the intended readers. It's tough to strike that balance of reading level, interest level, and relevancy, but as an author (and illustrator), you just have to do it. I'll be holding up my own manuscripts to much greater scrutiny in this area.
I want to thank each and every one of the panelists for a thoroughly enjoyable and eye-opening decision-making process. I hope the round two judges are pleased with our choices and look forward to their choice for the winner. I don't envy their job one bit!