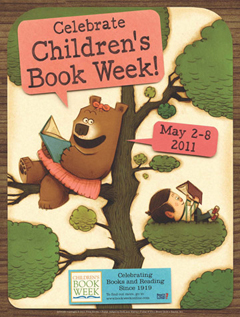 Children's Book Week has been celebrated through the United States since 1919 with appearances by authors and illustrators, parties, storytelling, and other book-related events in schools, libraries, bookstores, etc., and this year it takes place May 2-8!
Don't you just love that poster (above) created by the talented Peter Brown? I do! You can order one for yourself right here.
Here are some of my favorite ways you can celebrate (this week–or anytime!):
Test your skills with our Children's Book Week puzzles!
Help great authors finish a story they have started at Story Starters!
Download the official Children's Book Week bookmark, or make your own charmed bookmark. Better yet, do both!
Volunteer to read to patients in a hospital or residents in a nursing home.
Host a Children's Book Week party.
Hold a book exchange.
Donate books to a local family shelter or children's hospital.
Raise money for a library, school, day care, senior center, or literacy organzation so they can buy books.
Buy books, check out books, read books… every day!
Locally, Third Place Books in Lake Forest Park has some fun events scheduled, including book talks with Mark Kurlansky and his daughter Talia  (WORLD WITHOUT FISH) and Sean Beaudoin (YOU KILLED WESLEY PAYNE) tonight (May 3rd) at 7:00 p.m. and Carmela D'Amico (SUKI THE VERY LOUD BUNNY) on Sunday, May 8th, at 4:00 p.m. They'll also have a craft table set up all week for kids to make bookmarks and will be offering grab bag coupons.
So, no excuses–it's time to celebrate!