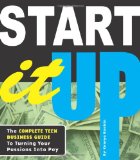 START IT UP by Kenrya Rankin is a must-have resource for teen (and even middle-grade) readers who wish to start any kind of business, whether it be for profit, nonprofit, or mixed.
The book is clearly written and easy to understand, yet includes a wealth of information for young entrepreneurs. The design is clean and functional, with pullouts for quick tips, anecdotes, quotes, and recommended resources. There are also fun quizzes and helpful worksheets. All of this combines to turn what could be a dull, dry topic into a fun, encouraging yet realistic resource.
I'd bet there's enough substance there's enough substance in this little gem that even the most seasoned entrepreneurs (adults included!) will find something of use here. And it's presented in such a way that even the least business-minded individuals (again, adults included!) will be inspired and able to get started in no time.
For changing a life, or changing the world, this book is a winner! For more great nonfiction books, check out the rest of the catalog at Zest Books–Teen Reads With a Twist. (And no, I haven't been compensated in any way for this post. I received a free galley from NetGalley for review purposes only.)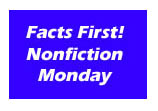 This post is part of the Facts First! Nonfiction Monday roundup. Nonfiction Monday takes place every Monday at various blogs throughout the kidlitosphere, who write about nonfiction books for kids and collect all the reviews in one place. This week, the Nonfiction Monday roundup is being hosted by Jean Little Library. To see the entire schedule, please visit the Nonfiction Monday blog.