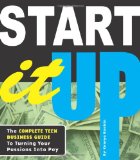 START IT UP by Ken­rya Rankin is a must-have resource for teen (and even mid­dle-grade) read­ers who wish to start any kind of busi­ness, whether it be for prof­it, non­prof­it, or mixed.
The book is clear­ly writ­ten and easy to under­stand, yet includes a wealth of infor­ma­tion for young entre­pre­neurs. The design is clean and func­tion­al, with pull­outs for quick tips, anec­dotes, quotes, and rec­om­mend­ed resources. There are also fun quizzes and help­ful work­sheets. All of this com­bines to turn what could be a dull, dry top­ic into a fun, encour­ag­ing yet real­is­tic resource.
I'd bet there's enough sub­stance there's enough sub­stance in this lit­tle gem that even the most sea­soned entre­pre­neurs (adults includ­ed!) will find some­thing of use here. And it's pre­sent­ed in such a way that even the least busi­ness-mind­ed indi­vid­u­als (again, adults includ­ed!) will be inspired and able to get start­ed in no time.
For chang­ing a life, or chang­ing the world, this book is a win­ner! For more great non­fic­tion books, check out the rest of the cat­a­log at Zest Books–Teen Reads With a Twist. (And no, I haven't been com­pen­sat­ed in any way for this post. I received a free gal­ley from Net­Gal­ley for review pur­pos­es only.)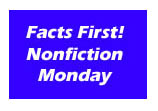 This post is part of the Facts First! Non­fic­tion Mon­day roundup. Non­fic­tion Mon­day takes place every Mon­day at var­i­ous blogs through­out the kidl­i­tos­phere, who write about non­fic­tion books for kids and col­lect all the reviews in one place. This week, the Non­fic­tion Mon­day roundup is being host­ed by Jean Lit­tle Library. To see the entire sched­ule, please vis­it the Non­fic­tion Mon­day blog.