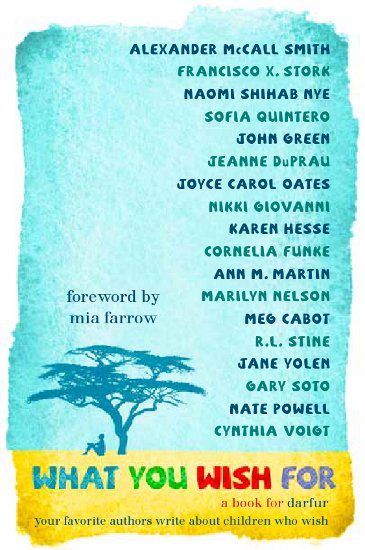 I just pre-ordered my copy of WHAT YOU WISH FOR: A BOOK FOR DARFUR, and I am so look­ing for­ward to read­ing it.
Com­ing from Pen­guin Group's G.P. Putnam's Sons in Sep­tem­ber, 2011, the book is a col­lec­tion of YA poet­ry and short sto­ries writ­ten by var­i­ous authors, includ­ing Cor­nelia Funke, Meg Cabot, R. L. Stine, John Green, Ann M. Mar­tin, Alexan­der McCall Smith, Cyn­thia Voigt, Karen Hesse, Joyce Car­ol Oates, Nik­ki Gio­van­ni, Jane Yolen, Nate Pow­ell, Gary Soto, Jeanne DuPrau, Fran­cis­co X. Stork, Mar­i­lyn Nel­son, Nao­mi Shi­hab Nye, and Sofia Quin­tero.
Prof­its from the book sales will be donat­ed to the Unit­ed Nations High Com­mis­sion for Refugees (UNHCR), an orga­ni­za­tion build­ing libraries in Dar­fur refugee camps in Chad.
Read more here or pre-order your own copy here.