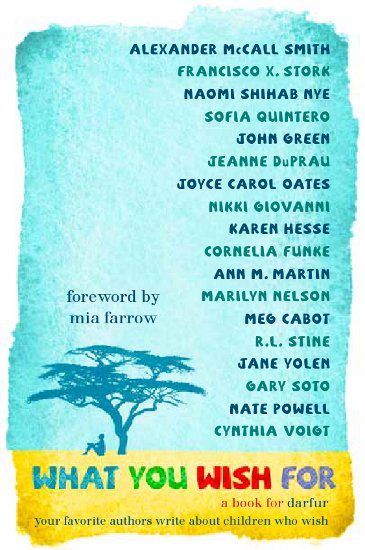 I just pre-ordered my copy of WHAT YOU WISH FOR: A BOOK FOR DARFUR, and I am so looking forward to reading it.
Coming from Penguin Group's G.P. Putnam's Sons in September, 2011, the book is a collection of YA poetry and short stories written by various authors, including Cornelia Funke, Meg Cabot, R. L. Stine, John Green, Ann M. Martin, Alexander McCall Smith, Cynthia Voigt, Karen Hesse, Joyce Carol Oates, Nikki Giovanni, Jane Yolen, Nate Powell, Gary Soto, Jeanne DuPrau, Francisco X. Stork, Marilyn Nelson, Naomi Shihab Nye, and Sofia Quintero.
Profits from the book sales will be donated to the United Nations High Commission for Refugees (UNHCR), an organization building libraries in Darfur refugee camps in Chad.
Read more here or pre-order your own copy here.