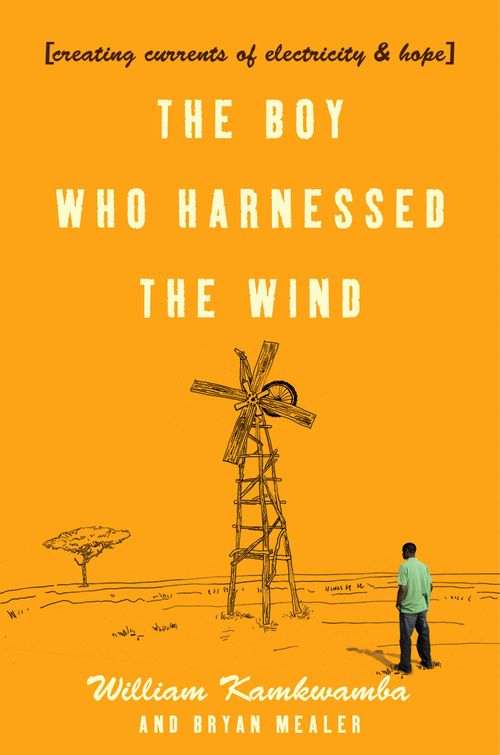 Most of my recent read­ing has been cre­ative or nar­ra­tive non­fic­tion. Before the hol­i­days, I was read­ing THE BOY WHO HARNESSED THE WIND by William Kamk­wam­ba and Bryan Meal­er. I'm in awe of, and frankly a lit­tle intim­i­dat­ed by, the lev­el of detail they go into. I don't think I'd ever be able to inter­view a sub­ject enough to get that kind of back­ground. Of course, in this case, the sub­ject is also one of the authors, so maybe that col­lab­o­ra­tion is the secret.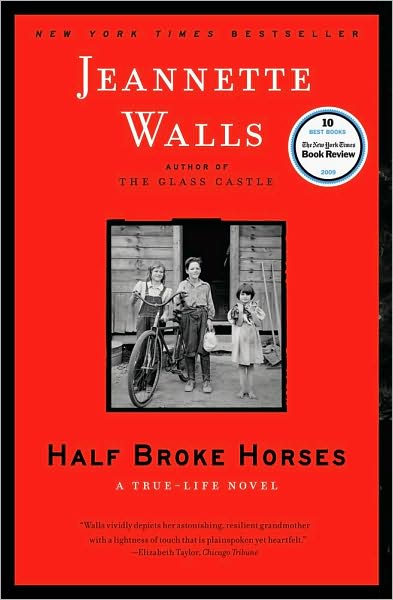 For Christ­mas, my hus­band got me Jean­nette Walls' HALF-BROKE HORSES. It's fic­tion, but was heav­i­ly researched and based on the true life sto­ry of the author's grand­moth­er. I think a non­fic­tion writer can learn a lot by study­ing this book. The writ­ing is sim­ple, engag­ing, and beau­ti­ful all at the same time. The biggest take-away from this one, though, is voice. As a read­er, you can hear the grandmother's voice and feel her per­son­al­i­ty while you're read­ing, and that, in turn, allows you sneak peeks inside her char­ac­ter and go beyond what the author is telling you directly.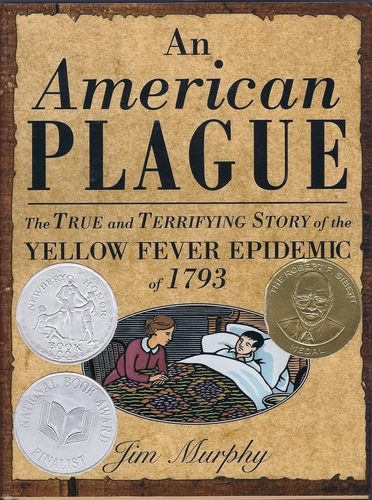 San­ta brought my daugh­ter Jim Murphy's AN AMERICAN PLAGUE: THE TRUE AND TERRIFYING STORY OF THE YELLOW FEVER EPIDEMIC OF 1793. (San­ta has good taste in books, no?) This book is pure non­fic­tion, but it reads like a nov­el. The strong devel­op­ment of the set­ting feels like you are right there Philadel­phia (thank good­ness it doesn't have scratch and sniff stick­ers!). The ten­sion is ris­ing at a fever pitch (for­give the pun) as the fever itself spreads. And the writ­ing is pure poet­ry. Check out this clos­ing para­graph of Chap­ter 2:
"On Sat­ur­day, August 25, a sav­age storm hit the city, bring­ing winds and tor­rents of rain. Water cas­cad­ed of roofs, splashed loud­ly onto the side­walks, and ran in bur­bling rivers through the streets. The howl­ing wind and pound­ing rain made a fright­ful noise, and yet through it all a sin­gle, chill­ing sound could still be heard—the awful tolling of the church bells." [they rang the bells to announce a death]
My tech­ni­cal writer/journalist ten­den­cies would have been to say some­thing like, "x num­ber of peo­ple died that day." Con­cise, fac­tu­al… and bor­ing! The para­graph above does so much more. Then, the clos­ing para­graph of Chap­ter 3 kicks it up anoth­er notch:
"Philadel­phia was a city in pan­ic and flight. It did not even help when May­or Clark­son act­ed on anoth­er rec­om­men­da­tion from the Col­lege of Physi­cians. The tolling bells that had so thor­ough­ly ter­ri­fied every­one were ordered to remain still. The great silence that fol­lowed did lit­tle to com­fort those left behind. It was too much like the eter­nal silence of the grave."
Chills, right? And that's only Chap­ter 3.
I also love the design of this book. The fac­ing page of every new chap­ter is a pho­to­graph­ic repro­duc­tion of a pri­ma­ry source rel­e­vant to the chap­ter: a news­pa­per page, let­ter, gov­ern­ment report, etc. You can gloss over them if you want with­out miss­ing any of the sto­ry, but you can also find your­self rev­el­ing in the thrill of going through the pri­ma­ry source mate­r­i­al for your­self. I love that they chose to do it this way, espe­cial­ly in a book for children.
Final­ly, I recent­ly read the pic­ture book BIBLIOBURRO by Jeanette Win­ter. This book is so sim­ple, so con­cise, but yet so beau­ti­ful­ly told. The art­work is gor­geous, but it's also a mas­ter­piece of say­ing every­thing you want to say, and noth­ing more. What struck me as par­tic­u­lar­ly inter­est­ing about this one is that she chose to tell the whole sto­ry in present tense, even though the point in time changes part of the way into the sto­ry! And it works.
Anoth­er thing that struck me about this book is the sub­ject. It's about some­one no one (at least in the U.S.) has ever heard of deliv­er­ing books to remote vil­lages by bur­ro. Hav­ing been told that you can't sell a book these days about some­one no one has ever heard of, no mat­ter how inter­est­ing their sto­ry is, I'm thrilled to see that a respect­ed pub­lish­er like Beach Lane Books took a chance on this one. I hope they con­tin­ue to seek out those inter­est­ing yet under­re­port­ed sto­ries that more of us need to hear about.
What are your recent non­fic­tion favorites, and what makes them stand out for you?