I've been working on and off for years on a biography for kids. It's getting really close, but there's still something missing. In a few weeks, though, I finally get to meet and interview the subject, Emmanuel Osofu Yeboah, in person! No, I'm not flying to his home in Ghana (bummer), but he'll be in San Diego this month after riding in the Challenged Athlete's Foundation Million Dollar Challenge (a seven-day, 620-mile bike ride down the California coastline from San Francisco to San Diego). The meeting is scheduled, and the plane tickets are purchased. Yay!
On one hand I'm shaking with excitement about meeting him simply because he's a personal hero of mine. I find him to be so interesting and his story to be so inspirational. In the five years since I first heard of him and his accomplishments, I've not grown tired of reading, talking, or writing about him.
And I'm absolutely thrilled to get the chance to interview him in person. The phone and email interviews haven't been as productive as I'd like; they always feel way too formal. An in-person interview will hopefully allow me to finally fill in some of the gaps in my research. Even more importantly, I want my readers to really get to know him. If I have gotten to know him myself, I'll have a much better chance of sharing his character with my readers.
I also want to reassure him that I'm serious about this project, and not a dreamer or a freak. (Okay, so it may be fair to say I'm both of those things, but not about this project!) An in-person interview feels like the piece that's been missing all along. I believe it will allow me to, finally, make this manuscript into a book.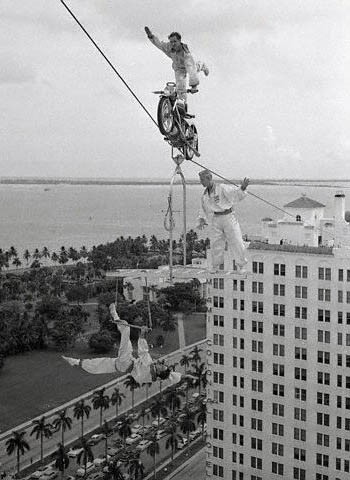 That's where the nerves come in, though. What if he does think I'm too much of a dreamer or a freak? What if go all fan-girl on him and can't think straight? What if I go too far the other way and come off as too forceful, too serious? What if I can't establish the connection I'm looking for or don't get the answers I need? Whatever the reason, if I can't take the manuscript to the next step after this interview, will I ever be able to get it there? It's feeling a bit like do or die time.
So, I'm feeling all the excitement and nerves of a tightrope walker before the big event. I want to be prepared to get all that I need as an interviewer (because I might not get another chance), but I don't want to get so focused that I miss the opportunity to make a human connection with an amazing individual.
Any tips on striking the right balance?