I've been work­ing on and off for years on a biog­ra­phy for kids. It's get­ting real­ly close, but there's still some­thing miss­ing. In a few weeks, though, I final­ly get to meet and inter­view the sub­ject, Emmanuel Oso­fu Yeboah, in per­son! No, I'm not fly­ing to his home in Ghana (bum­mer), but he'll be in San Diego this month after rid­ing in the Chal­lenged Ath­lete's Foun­da­tion Mil­lion Dol­lar Chal­lenge (a sev­en-day, 620-mile bike ride down the Cal­i­for­nia coast­line from San Fran­cis­co to San Diego). The meet­ing is sched­uled, and the plane tick­ets are pur­chased. Yay!
On one hand I'm shak­ing with excite­ment about meet­ing him sim­ply because he's a per­son­al hero of mine. I find him to be so inter­est­ing and his sto­ry to be so inspi­ra­tional. In the five years since I first heard of him and his accom­plish­ments, I've not grown tired of read­ing, talk­ing, or writ­ing about him.
And I'm absolute­ly thrilled to get the chance to inter­view him in per­son. The phone and email inter­views haven't been as pro­duc­tive as I'd like; they always feel way too for­mal. An in-per­son inter­view will hope­ful­ly allow me to final­ly fill in some of the gaps in my research. Even more impor­tant­ly, I want my read­ers to real­ly get to know him. If I have got­ten to know him myself, I'll have a much bet­ter chance of shar­ing his char­ac­ter with my readers.
I also want to reas­sure him that I'm seri­ous about this project, and not a dream­er or a freak. (Okay, so it may be fair to say I'm both of those things, but not about this project!) An in-per­son inter­view feels like the piece that's been miss­ing all along. I believe it will allow me to, final­ly, make this man­u­script into a book.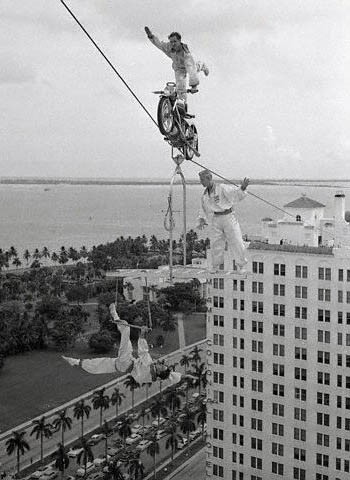 That's where the nerves come in, though. What if he does think I'm too much of a dream­er or a freak? What if go all fan-girl on him and can't think straight? What if I go too far the oth­er way and come off as too force­ful, too seri­ous? What if I can't estab­lish the con­nec­tion I'm look­ing for or don't get the answers I need? What­ev­er the rea­son, if I can't take the man­u­script to the next step after this inter­view, will I ever be able to get it there? It's feel­ing a bit like do or die time.
So, I'm feel­ing all the excite­ment and nerves of a tightrope walk­er before the big event. I want to be pre­pared to get all that I need as an inter­view­er (because I might not get anoth­er chance), but I don't want to get so focused that I miss the oppor­tu­ni­ty to make a human con­nec­tion with an amaz­ing individual.
Any tips on strik­ing the right balance?