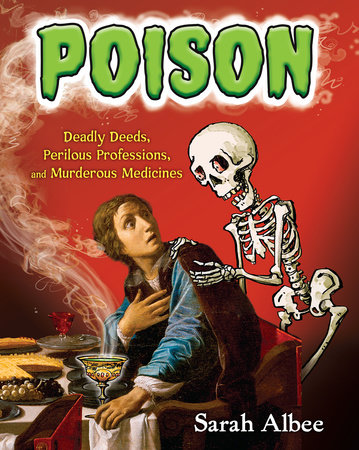 POISON: DEADLY DEEDS, PERILOUS PROFESSIONS, AND MURDEROUS MEDICINES
by Sarah Albee
Pen­guin Ran­dom House/September 05, 2017
Mid­dle Grade (8–12), 192 pages
Here's what the pub­lish­er says:
Sci­ence geeks and arm­chair detec­tives will soak up this non-lethal, humor­ous account of the role poi­sons have played in human his­to­ry. Per­fect for STEM enthusiasts!
For cen­turies, peo­ple have been poi­son­ing one another—changing per­son­al lives and the course of empires alike.
From spurned spous­es and rivals, to con­demned pris­on­ers like Socrates, to endan­gered emper­ors like Alexan­der the Great, to mod­ern-day lead­ers like Joseph Stal­in and Yass­er Arafat, poi­son has played a star­ring role in the demise of count­less indi­vid­u­als. And those are just the delib­er­ate poi­son­ings. Med­ical mishaps, greedy "snake oil" sales­men and food con­t­a­m­i­nants, poi­so­nous Pro­hi­bi­tion, and indus­tri­al tox­ins also impact­ed millions.
Part his­to­ry, part chem­istry, part who­dunit, Poi­son: Dead­ly Deeds, Per­ilous Pro­fes­sions, and Mur­der­ous Med­i­cines traces the role poi­sons have played in his­to­ry from antiq­ui­ty to the present and shines a ghoul­ish light on the dead­ly inter­sec­tion of human nature … and Moth­er Nature.
The pro­fes­sion­al review­ers have weighed in favorably:
"[Albee's] light tone makes this mor­bid, well-researched study a sin­is­ter indul­gence."—Book­list starred review

"A com­pelling, enter­tain­ing, and infor­ma­tive intro­duc­tion to a sin­is­ter aspect of human his­to­ry." Kirkus Reviews
"There's plen­ty of mate­r­i­al here to delight fans of [Geor­gia] Bragg's pop­u­lar How They Croaked." —The Bul­letin
"Ide­al for read­ers, includ­ing reluc­tant ones, who delight in the sci­ence and scare fac­tor of poi­sons or grotesque med­i­cine." —School Library Journal
And here are my thoughts:
This book is deli­cious­ly dark fun! Sarah Albee's POISON is the per­fect mix of sci­ence, his­to­ry, mys­tery, and enter­tain­ment, and read­ers of many dif­fer­ent gen­res will be thor­ough­ly engaged by this book. I know I was! From ancient times to today (and beyond!), Albee shows us how poisons–both nat­ur­al and man-made–have affect­ed humans lives and cul­ture. The facts are shock­ing and fas­ci­nat­ing, but bro­ken down in a way that makes them acces­si­ble. There's also a ton of humor to bal­ance the heavy sub­ject mat­ter, with puns and sar­casm galore, espe­cial­ly in the titles and cap­tions. And all of it is tied togeth­er with a com­pelling design fea­tur­ing side­bars, pull­outs, pho­tos, and illus­tra­tions. There are also some seri­ous non­fic­tion fea­tures, includ­ing a table of con­tents, author's note, acknowl­edge­ments, notes, select­ed bib­li­og­ra­phy, research guide, index, and more. A high­ly rec­om­mend­ed mid­dle-grade nonfiction!
Here are some inte­ri­or views to give you a bet­ter sense of what you can expect: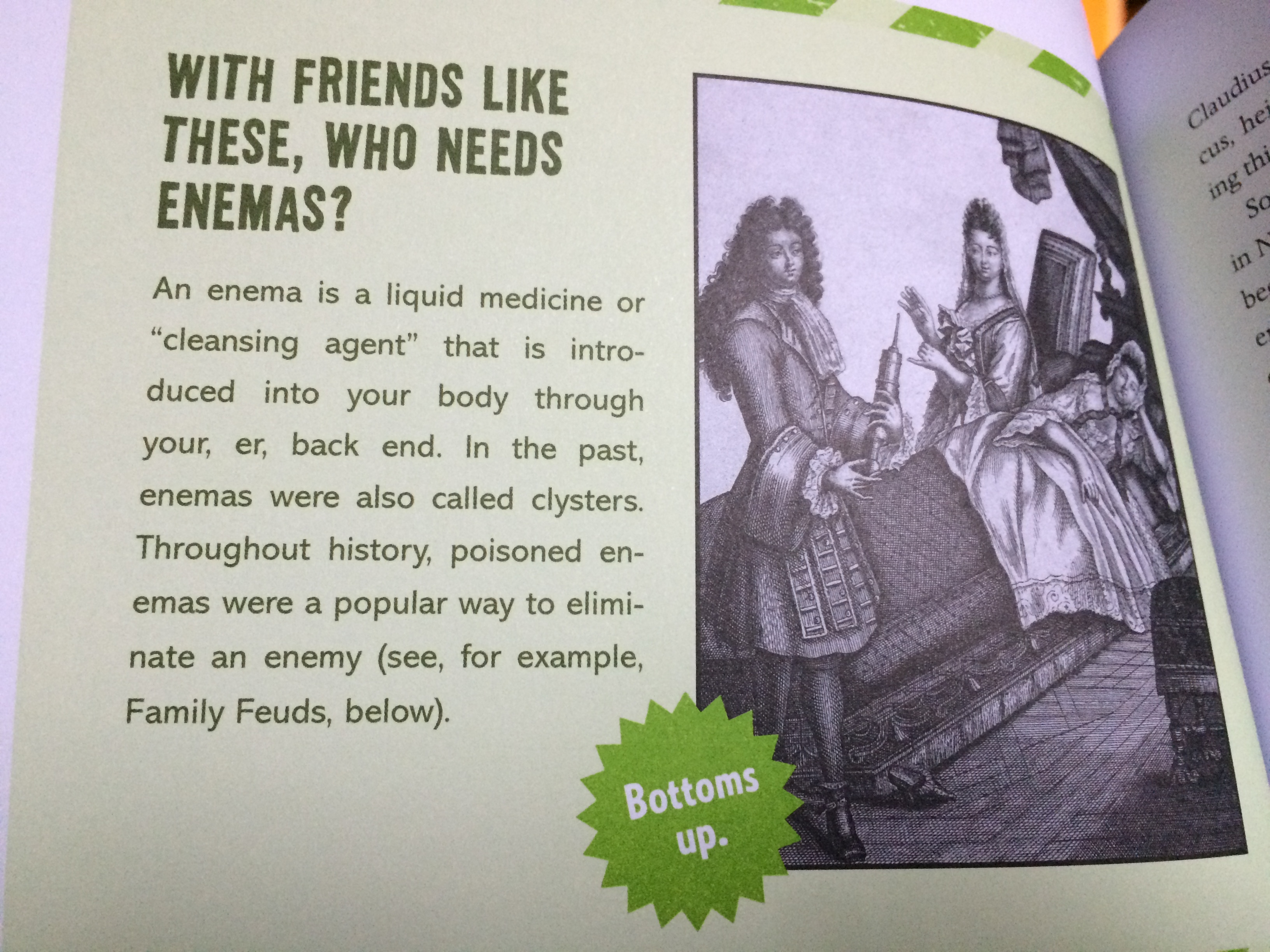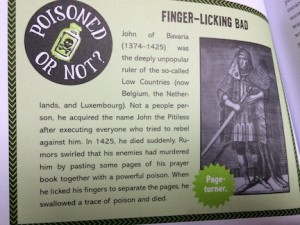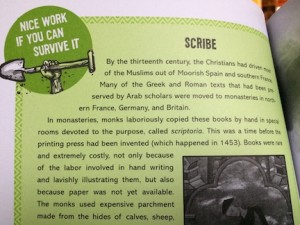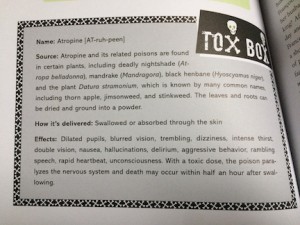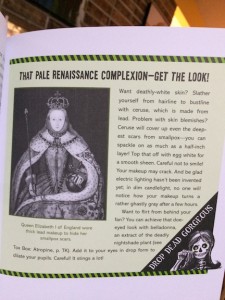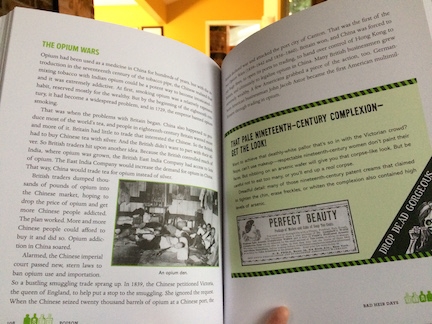 And yes, if you're won­der­ing, this review is per­fect for Labor Day! One of my favorite fea­tures of the book was the "Nice Work if You Can Sur­vive It" side­bars, which told of var­i­ous pro­fes­sions through­out the ages where peo­ple were actu­al­ly poi­soned by their jobs (did you know mad hat­ters were mad because of the chem­i­cals used for felt­ing?). Sober­ing, to say the least. And it made me even more grate­ful for reg­u­la­tions that pro­tect work­ers from unscrupu­lous busi­ness owners!
Be sure to check out Sarah's oth­er great books, too!