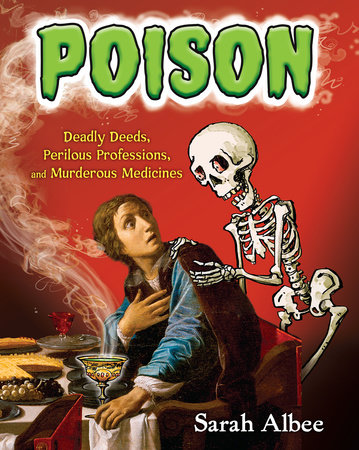 POISON: DEADLY DEEDS, PERILOUS PROFESSIONS, AND MURDEROUS MEDICINES
by Sarah Albee
Penguin Random House/September 05, 2017
Middle Grade (8-12), 192 pages
Here's what the publisher says:
Science geeks and armchair detectives will soak up this non-lethal, humorous account of the role poisons have played in human history. Perfect for STEM enthusiasts!
For centuries, people have been poisoning one another—changing personal lives and the course of empires alike.
From spurned spouses and rivals, to condemned prisoners like Socrates, to endangered emperors like Alexander the Great, to modern-day leaders like Joseph Stalin and Yasser Arafat, poison has played a starring role in the demise of countless individuals. And those are just the deliberate poisonings. Medical mishaps, greedy "snake oil" salesmen and food contaminants, poisonous Prohibition, and industrial toxins also impacted millions.
Part history, part chemistry, part whodunit, Poison: Deadly Deeds, Perilous Professions, and Murderous Medicines traces the role poisons have played in history from antiquity to the present and shines a ghoulish light on the deadly intersection of human nature . . . and Mother Nature.
The professional reviewers have weighed in favorably:
"[Albee's] light tone makes this morbid, well-researched study a sinister indulgence."—Booklist starred review

"A compelling, entertaining, and informative introduction to a sinister aspect of human history." Kirkus Reviews
"There's plenty of material here to delight fans of [Georgia] Bragg's popular How They Croaked." —The Bulletin
"Ideal for readers, including reluctant ones, who delight in the science and scare factor of poisons or grotesque medicine." —School Library Journal
And here are my thoughts:
This book is deliciously dark fun! Sarah Albee's POISON is the perfect mix of science, history, mystery, and entertainment, and readers of many different genres will be thoroughly engaged by this book. I know I was! From ancient times to today (and beyond!), Albee shows us how poisons–both natural and man-made–have affected humans lives and culture. The facts are shocking and fascinating, but broken down in a way that makes them accessible. There's also a ton of humor to balance the heavy subject matter, with puns and sarcasm galore, especially in the titles and captions. And all of it is tied together with a compelling design featuring sidebars, pullouts, photos, and illustrations. There are also some serious nonfiction features, including a table of contents, author's note, acknowledgements, notes, selected bibliography, research guide, index, and more. A highly recommended middle-grade nonfiction!
Here are some interior views to give you a better sense of what you can expect: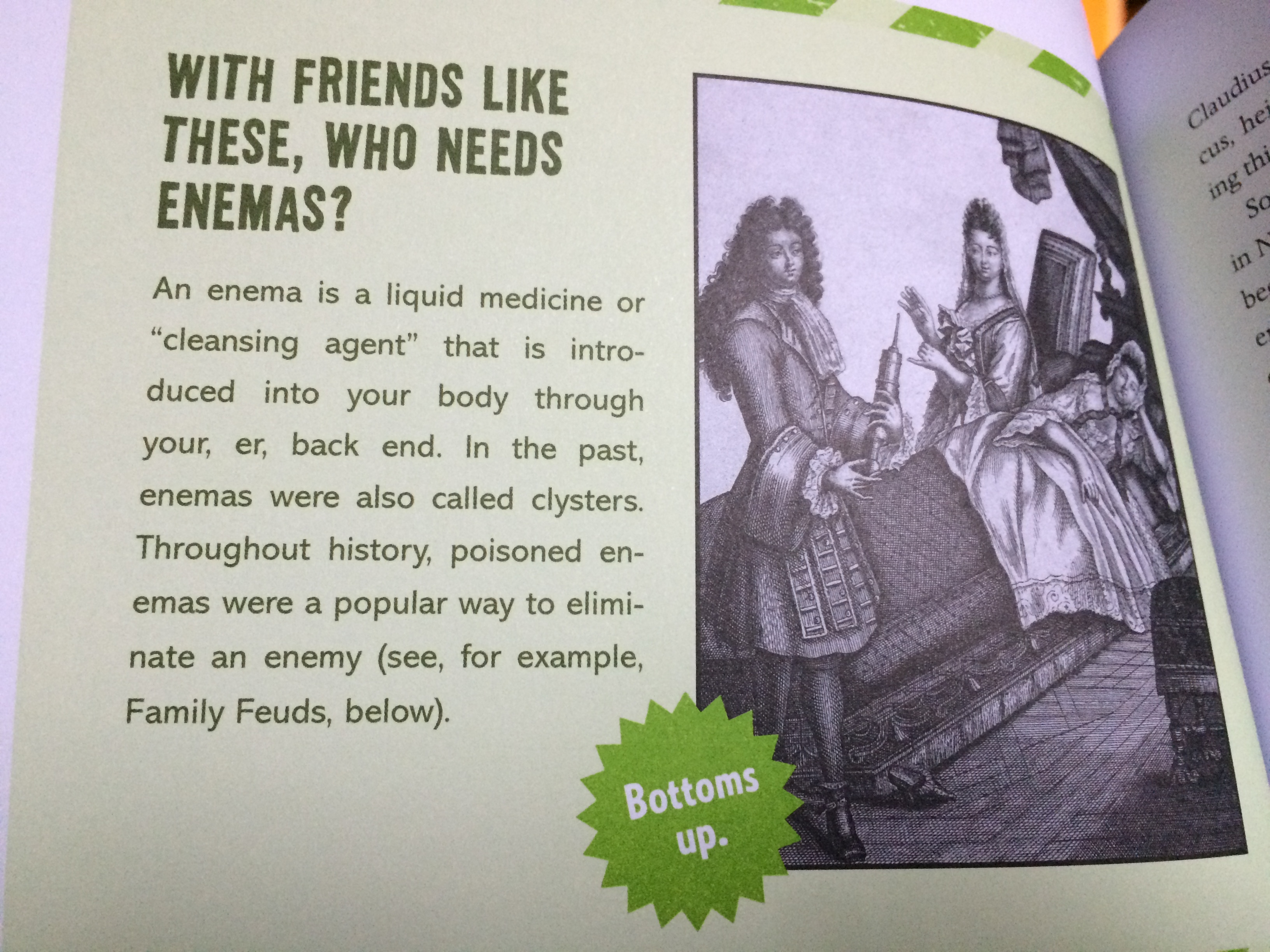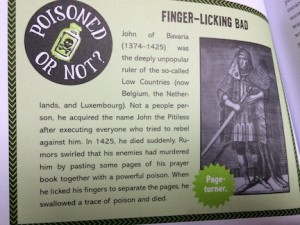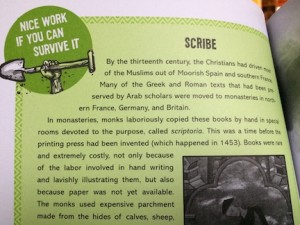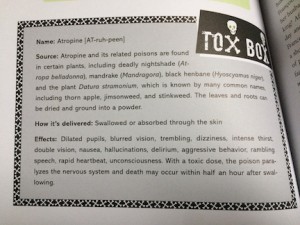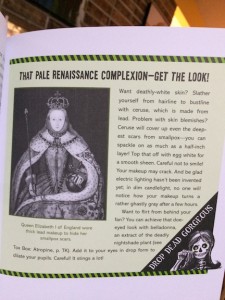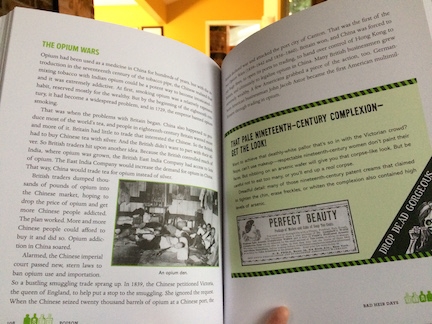 And yes, if you're wondering, this review is perfect for Labor Day! One of my favorite features of the book was the "Nice Work if You Can Survive It" sidebars, which told of various professions throughout the ages where people were actually poisoned by their jobs (did you know mad hatters were mad because of the chemicals used for felting?). Sobering, to say the least. And it made me even more grateful for regulations that protect workers from unscrupulous business owners!
Be sure to check out Sarah's other great books, too!