Today I'm thrilled to wel­come back author Deb­o­rah Hop­kin­son. I inter­viewed Deb­o­rah here pre­vi­ous­ly in a more gen­er­al sense, but this time I'd like to talk specifics about her lat­est book, KNIT YOUR BIT, com­ing from Put­nam Juve­nile on Feb­ru­ary 21, 2013.
KNIT YOUR BIT is a fic­tion­al­ized account of the real "Knit-In" event at Cen­tral Park in 1918. Despite being fic­tion, it was heav­i­ly researched to get the his­tor­i­cal details right, and read­ers can learn a lot about the time, World War I, and the peo­ple who lived then.
Please help me wel­come back Deborah!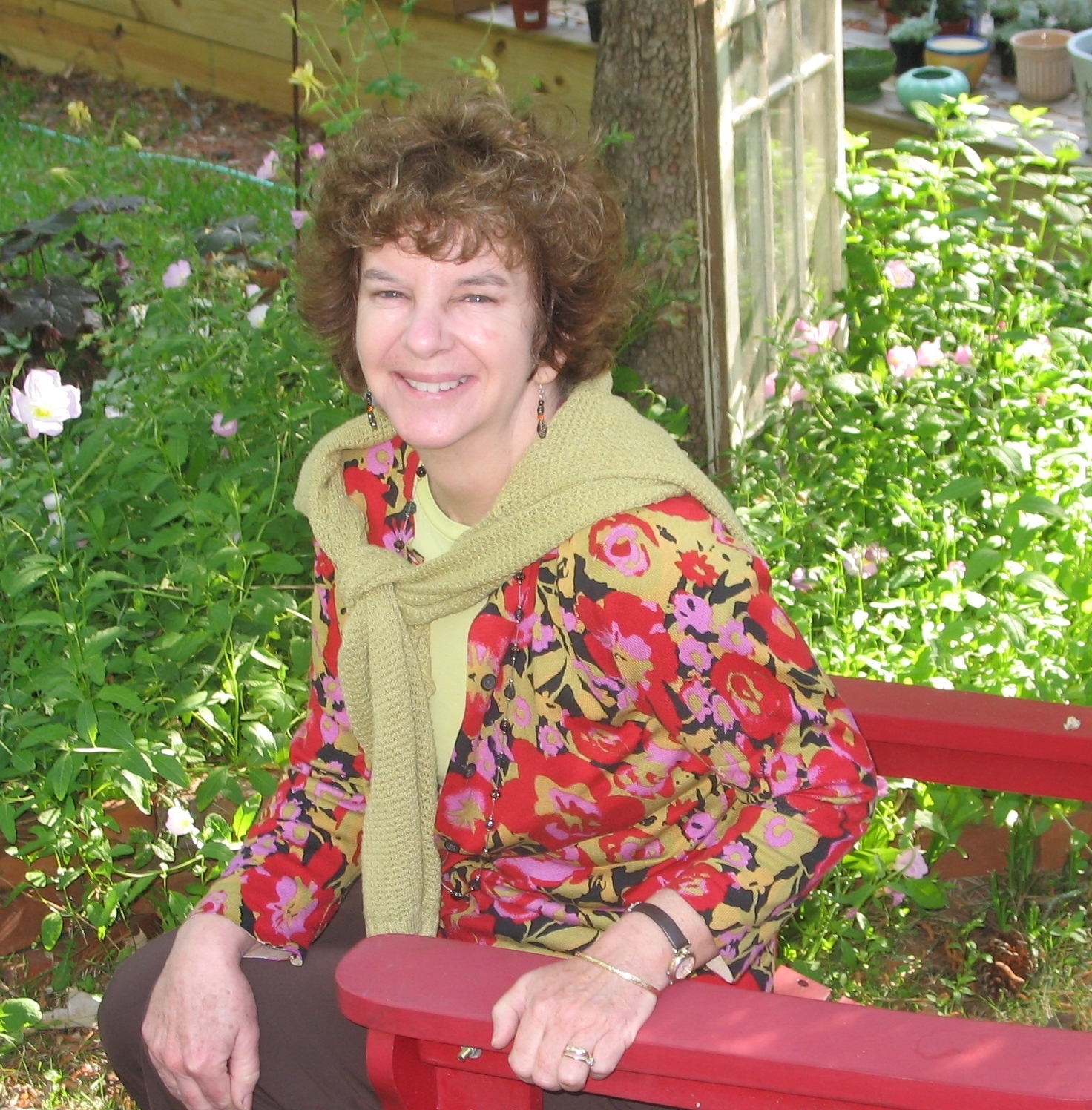 LT: Hi, Deb­o­rah. It's great to have you back. I love KNIT YOUR BIT and how it melds a fic­tion­al sto­ry with a non­fic­tion event. How did you first become inter­est­ed in writ­ing about this top­ic? Where did the seed of the sto­ry come from?
DH: The seed of this sto­ry actu­al­ly dates back some years, to my first pro­fes­sion­al job. After grad­u­ate school I stum­bled into a career in fundrais­ing, which I have pur­sued ever since, in addi­tion to being a writer. My first posi­tion was Staff Writer for the Amer­i­can Red Cross in Honolulu.


DH: As part of a his­to­ry cel­e­bra­tion, I wrote some arti­cles for the organization's newslet­ter and stum­bled upon one of fire­men knit­ting in World War I. I loved that image. As a writer inter­est­ed in his­to­ry, I col­lect books on a wide vari­ety of top­ics. At some point, think­ing about the upcom­ing anniver­sary of WWI, I remem­bered that pho­to and began read­ing about the his­to­ry of knit­ting. Even­tu­al­ly, in Anne L. Macdonald's NO IDLE HANDS, THE SOCIAL HISTORY OF AMERICAN KNITTING, I found a ref­er­ence to the 1918 Cen­tral Park Knit­ting Bee, and that's where the sto­ry began.
LT: What kind of read­er do you think this book will appeal to?


DH: I think that my edi­tor, Shau­na Rossano, and the illus­tra­tor, Steven Gua­nac­cia, have done won­ders to make this sto­ry appeal­ing to young read­ers. I hope peo­ple who love crafts and knit­ting will be inter­est­ed. I know that I often sign copies of my pic­ture book, SWEET CLARA AND THE FREEDOM QUILT, which are being giv­en as gifts to adults. I hope folks will give KNIT YOUR BIT to friends (women and men, as well as boys and girls) who knit.
LT: What was your research process like for this book?
DH: Like many of my pic­ture books, KNIT YOUR BIT is his­tor­i­cal fic­tion inspired by real peo­ple or events, and includes an author's note about knit­ting for sol­diers dur­ing World War I.
DH: The New York Times pub­lished an arti­cle on the knit­ting bee back in 1918, and some of the details of the prizes award­ed are pulled direct­ly from that piece. I also researched and got per­mis­sion for the his­toric pho­tos on the end­pa­pers, which include one of sheep graz­ing dur­ing World War I on the White House lawn. Unfor­tu­nate­ly, I wasn't able to track down per­mis­sions for the Maki­ki fire sta­tion pho­to­graph, but I have added to my Pin­ter­est Board for KNIT YOUR BIT: http://pinterest.com/DAhopkinson/knit-your-bit-a-world-war-i-story/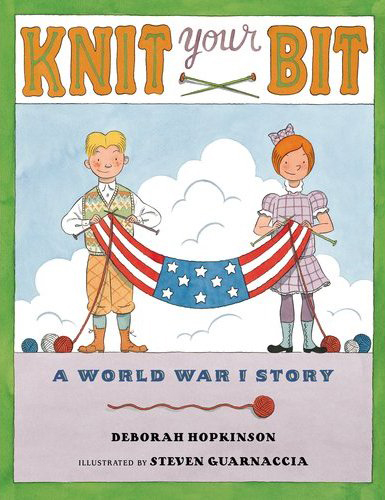 LT: What was your favorite part of the book to research and/or write? What was the hard­est part of the research and/or writ­ing for you? How did you deal with that?
DH: I actu­al­ly love doing research of any kind. The hard­est part is not hav­ing enough time, or not being able to trav­el to do research on-site. For KNIT YOUR BIT, the fact that I couldn't actu­al­ly find any first-per­son accounts of chil­dren who par­tic­i­pat­ed in the knit­ting bee meant that I felt the sto­ry, although based on real events, need­ed to be his­tor­i­cal fic­tion to be appeal­ing to read­ers. I always tell kids that when authors put words in character's mouths the sto­ry becomes fiction.
LT: How have your research and writ­ing process­es evolved over the course of your career?
DH: I think my process­es have improved over the years. I'm writ­ing a non­fic­tion book now on World War II, and I'm being care­ful to cite each source metic­u­lous­ly as I go along.

DH: This is some­thing I learned the hard way, espe­cial­ly with longer non­fic­tion. The vet­ting and research process for my 2012 book,
TITANIC, VOICES FROM THE DISASTER
(a
YALSA Non­fic­tion Award final­ist
) was incred­i­bly detailed and time-con­sum­ing, because of the wealth of infor­ma­tion and the sheer com­plex­i­ty of the sto­ry. So even though it might be tedious, I have learned to take my time and care­ful­ly track infor­ma­tion and sources. It def­i­nite­ly saves time later!
LT: I think every book teach­es us some­thing new, about the world, about our­selves, or about the craft of writ­ing. What have you learned as a result of writ­ing this book?
DH: I tend to write for old­er read­ers, espe­cial­ly since both my kids are now in their twen­ties. I like to do author vis­its and talk with first and sec­ond graders and imag­ine how the book will sound if I'm shar­ing it with them. That was espe­cial­ly help­ful in par­ing down this sto­ry to be as kid-friend­ly as possible.
LT: Besides pro­mot­ing your new book, what are you work­ing on now?

DH: Right now, I'm fin­ish­ing the proof­read­ing for my fall mid­dle grade nov­el,
THE GREAT TROUBLE, A MYSTERY OF LONDON, THE BLUE DEATH, AND A BOY CALLED EEL
. I'm very excit­ed about it because 2013 is the bicen­ten­ni­al of the birth of Dr. John Snow, whose work in the 1854 cholera epi­dem­ic changed med­ical his­to­ry. With the recent out­breaks of cholera in Haiti, this top­ic is espe­cial­ly rel­e­vant today.
LT: Is there any­thing else you'd like to tell us about?
DH: I have sev­er­al knit­ter friends who helped with this book, includ­ing Robin Smith, who knits hats for pre­ma­ture babies with her sec­ond graders.
DH: I, on the oth­er hand, am an extreme­ly poor knit­ter and I'm not very good at hats – or socks. I knit scarves for relax­ation only, and only dare give my hand­i­work to peo­ple who don't knit at all. I am lucky enough to live near Port­land, Ore­gon, where there are many won­der­ful yarn stores and enthu­si­as­tic knitters.
DH: I'm also delight­ed that the tra­di­tion of knit­ting for sol­diers con­tin­ues today. I hope that KNIT YOUR BIT inspires read­ers to learn a new skill or share one with others.
LT: Thanks so much for shar­ing with us, Deb­o­rah. And best of luck with KNIT YOUR BIT!