Phew! Now that I got my revision done and sent in, I can get back to reading Cybils nominees in the nonfiction picture book category that I am judging. Last year I wrote up longer reviews of only a few of the Cybils nominees. This year I'm going to try to write many more, but shorter, reviews. Rather than offer comprehensive reviews, the goal will be to capture my initial impressions and thoughts. So, here comes the first batch!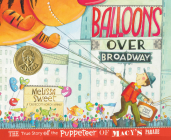 BALLOONS OVER BROADWAY by Melissa Sweet (Houghton Mifflin)
This is a wonderful book that should appeal to all kinds of kids, across a wide age range, and with many different interests. The artwork is stunning. The story of Tony Sarg and the beginnings of the Macy's Thanksgiving Day Parade puppets is one that needed to be told, and this book tells it artfully, illustrating the man's creativity as well as hard work and dedication. Entertaining, inspiring, and educational—all rolled into one beautiful package.




BROTHERS AT BAT by Audrey Vernick (Clarion)
This is the true story of the Acerra family and their 12-member all-brother baseball team. Baseball fans especially will love this heartfelt telling of the family's travails and triumphs, both on the field and off, but the expertly told family story offers something for everyone. The text and art work together beautifully to bring the historical period to life.




A PLACE FOR BATS by Melissa Stewart (Peachtree)
Okay, I have to admit that I have a bit of a bat phobia. On a rational level, I know they're helpful and I'm glad they're out there, but I really don't like having to think about them. Stewart does an excellent job of raising awareness about the importance of bats as well as offering ways people can help them thrive. The fascinating illustrations are realistic and not "cute-ified," which did make me squirm a little, but Stewart's text compensates by creating sympathy for the creatures. Even as an adult reader, I learned a lot about bats. This book would make a good science read-aloud for preschool and early elementary grades. And maybe those kids won't develop an irrational bat phobia like mine!




ANNIE AND HELEN by Deborah Hopkinson (Schwartz and Wade)
I love Deborah Hopkinson's work, and the story of Helen Keller and her teacher, Annie Sullivan, has always fascinated me, so I was excited to see this one in the nomination list. It didn't disappoint. Told sparingly and through primary sources, it focuses on the early relationship between the two women and on Sullivan's struggles to break through Keller's barriers. The art adds a beautiful, historical feel to the text, and the book ends on a triumphant note with Keller's first written letter home.




BON APPETIT! by Jessie Hartland (Schwartz and Wade)
This is a delicious biography of Julia Child! Although a tad overwhelming and busy at first glance, the art and text quickly draw readers in and hook them, and reading it becomes a rewarding adventure. Hartland uses energy, humor, and compassion to follow Child's life story from childhood on in a style that mimics her personality and how she lived her life. Jam-packed with facts and entertaining details, this longer picture book with fascinate older picture-book readers.