Phew! Now that I got my revi­sion done and sent in, I can get back to read­ing Cybils nom­i­nees in the non­fic­tion pic­ture book cat­e­go­ry that I am judg­ing. Last year I wrote up longer reviews of only a few of the Cybils nom­i­nees. This year I'm going to try to write many more, but short­er, reviews. Rather than offer com­pre­hen­sive reviews, the goal will be to cap­ture my ini­tial impres­sions and thoughts. So, here comes the first batch!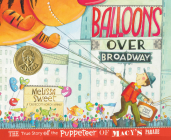 BALLOONS OVER BROADWAY by Melis­sa Sweet (Houghton Mifflin)
This is a won­der­ful book that should appeal to all kinds of kids, across a wide age range, and with many dif­fer­ent inter­ests. The art­work is stun­ning. The sto­ry of Tony Sarg and the begin­nings of the Macy's Thanks­giv­ing Day Parade pup­pets is one that need­ed to be told, and this book tells it art­ful­ly, illus­trat­ing the man's cre­ativ­i­ty as well as hard work and ded­i­ca­tion. Enter­tain­ing, inspir­ing, and educational—all rolled into one beau­ti­ful package.




BROTHERS AT BAT by Audrey Ver­nick (Clar­i­on)
This is the true sto­ry of the Acer­ra fam­i­ly and their 12-mem­ber all-broth­er base­ball team. Base­ball fans espe­cial­ly will love this heart­felt telling of the family's tra­vails and tri­umphs, both on the field and off, but the expert­ly told fam­i­ly sto­ry offers some­thing for every­one. The text and art work togeth­er beau­ti­ful­ly to bring the his­tor­i­cal peri­od to life.




A PLACE FOR BATS by Melis­sa Stew­art (Peachtree)
Okay, I have to admit that I have a bit of a bat pho­bia. On a ratio­nal lev­el, I know they're help­ful and I'm glad they're out there, but I real­ly don't like hav­ing to think about them. Stew­art does an excel­lent job of rais­ing aware­ness about the impor­tance of bats as well as offer­ing ways peo­ple can help them thrive. The fas­ci­nat­ing illus­tra­tions are real­is­tic and not "cute-ified," which did make me squirm a lit­tle, but Stewart's text com­pen­sates by cre­at­ing sym­pa­thy for the crea­tures. Even as an adult read­er, I learned a lot about bats. This book would make a good sci­ence read-aloud for preschool and ear­ly ele­men­tary grades. And maybe those kids won't devel­op an irra­tional bat pho­bia like mine!




ANNIE AND HELEN by Deb­o­rah Hop­kin­son (Schwartz and Wade)
I love Deb­o­rah Hopkinson's work, and the sto­ry of Helen Keller and her teacher, Annie Sul­li­van, has always fas­ci­nat­ed me, so I was excit­ed to see this one in the nom­i­na­tion list. It didn't dis­ap­point. Told spar­ing­ly and through pri­ma­ry sources, it focus­es on the ear­ly rela­tion­ship between the two women and on Sullivan's strug­gles to break through Keller's bar­ri­ers. The art adds a beau­ti­ful, his­tor­i­cal feel to the text, and the book ends on a tri­umphant note with Keller's first writ­ten let­ter home.




BON APPETIT! by Jessie Hart­land (Schwartz and Wade)
This is a deli­cious biog­ra­phy of Julia Child! Although a tad over­whelm­ing and busy at first glance, the art and text quick­ly draw read­ers in and hook them, and read­ing it becomes a reward­ing adven­ture. Hart­land uses ener­gy, humor, and com­pas­sion to fol­low Child's life sto­ry from child­hood on in a style that mim­ics her per­son­al­i­ty and how she lived her life. Jam-packed with facts and enter­tain­ing details, this longer pic­ture book with fas­ci­nate old­er pic­ture-book readers.