I've been singing the prais­es of my new tread­mill desk set­up on Twit­ter recent­ly. My first full week in action, I noticed:
I logged 23 miles, with­out even think­ing about it. Wow!
I noticed great­ly improved focus and concentration.
I felt much more ener­getic, both while on the tread­mill and off. No more after­noon ener­gy slump!
My aching shoul­der and numb left arm (due to a bulging disk and pinched nerve in my neck) vir­tu­al­ly stopped their hurt­ing and tin­gling. Pain relief was an unex­pect­ed, but much appre­ci­at­ed, bonus.
Last but not least, walk-danc­ing to a great song on Pan­do­ra is much more fun (and bet­ter exer­cise) than chair-danc­ing! (I'm thank­ful I work at home, though, as this could be major­ly humil­i­at­ing in a more pub­lic space.)
Coin­ci­den­tal­ly (or not? maybe it was prompt­ed by my enthu­si­as­tic Tweets), a friend post­ed a link to Arthur Slade's hilar­i­ous and inspir­ing post about his tread­mill desk set­up. Who knew there's a whole move­ment out there? Thanks for unit­ing the Tread Heads, Arthur!
Any­way, a few of you have asked what my set­up is. Not being as handy, patient, or thrifty as Arthur and oth­ers are, I splurged for the instant-up store-bought solu­tion made by the good peo­ple at TrekDesk and put it on top of a Pro-Form 505 CST Tread­mill. It was super easy to assem­ble and set up. Here's a look at the result: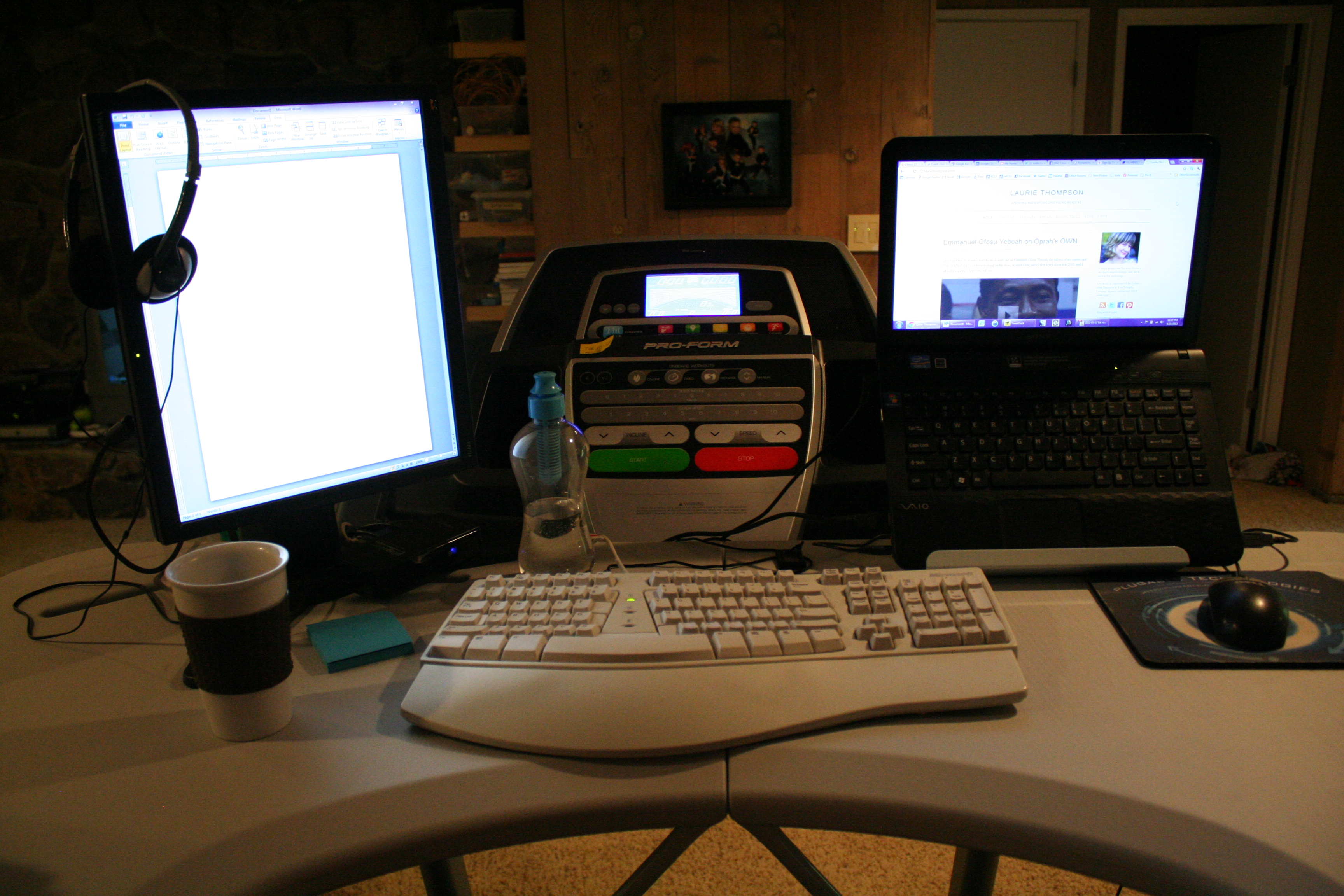 The TrekDesk comes with a stur­dy met­al doc­u­ment hold­er, which serves as a lap­top hold­er in my set­up (above, on right). Then, I added a Plu­gable USB 2.0 Dock­ing Client and an extra mon­i­tor, rotat­ed to por­trait mode so I can see a whole man­u­script page at once, or a whole web page, or what­ev­er. I can't image work­ing with­out a dual-mon­i­tor set­up, and the dock­ing client also allows me to grab my lap­top and go and come back again with­out deal­ing with tons of plugs, cables, and cords first.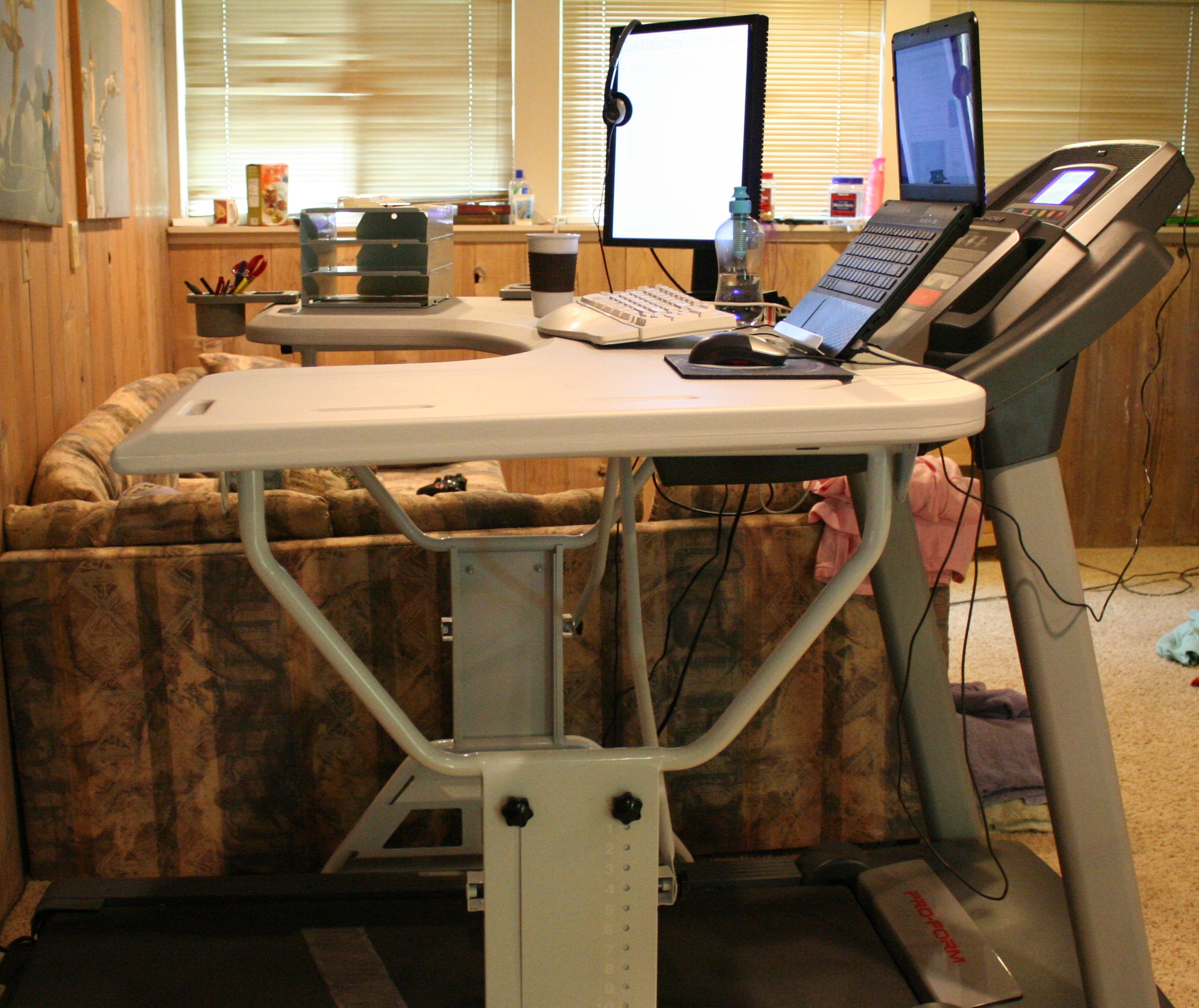 This all takes up quite bit of space, unfor­tu­nate­ly, so I had to move out of my tiny guest-room/of­fice and into the fam­i­ly room, which means head­phones are a must now that the kids are out of school for the sum­mer. And it means we need a new, small­er couch as the ancient behe­moth no longer fits. Darn.
So, I still have a few adjust­ments to make to the room, but I am lov­ing the desk itself and the new work­ing expe­ri­ence that comes from it.
I'd love to hear about your expe­ri­ences with or ques­tions about tread­mill desks. Does it, or would it, work for you? Why or why not?