I'm still pinch­ing myself about sign­ing with Ammi-Joan Paque­tte at
Erin Mur­phy Lit­er­ary Agency
. I've always known Joan and Erin are amaz­ing, but I was­n't expect­ing the close-knit, ultra-sup­port­ive group of EMLA clients who total­ly sweet­en the pot. I set about try­ing to read all of their books and was thrilled to dis­cov­er fel­low non­fic­tion (and fic­tion!) author
Audrey Ver­nick
. I knew I want­ed to get to know her bet­ter as well as pick her brain a lit­tle, so I'm excit­ed to be the 3rd stop on her sum­mer 2011 blog tour!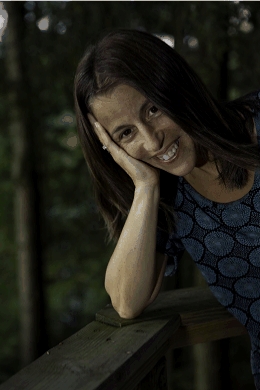 Lau­rie: Wel­come, Audrey! Thanks for stop­ping by. Your first book, IS YOUR BUFFALO READY FOR KINDERGARTEN, was a light-heart­ed, hilar­i­ous­ly fun­ny book for the preschool set. Your sec­ond, SHE LOVED BASEBALL: THE EFFA MANLEY STORY, was a seri­ous, pas­sion­ate pic­ture book biog­ra­phy. Now, here we are cel­e­brat­ing your return to young fic­tion with the release of TEACH YOUR BUFFALO TO PLAY DRUMS. (Con­grat­u­la­tions!)

Lau­rie: One of the things that jumps out at me about all of your books is what a strong and unique voice they have, yet they're total­ly dif­fer­ent! As authors, we're told, and often strug­gle, to find our own one true voice… but you've found two! How did you devel­op them? How do you switch back and forth between your BUFFALO voice and your non­fic­tion voice?
Audrey: I strug­gled with this ques­tion, because before I was pub­lished, I found it mad­den­ing the way peo­ple, espe­cial­ly edi­tors, talked about voice. "It's hard to define, but I know it when I see it." THAT IS NOT HELPFUL! I want to give an infor­ma­tive answer, but the truth is that voice is the one part of the writ­ing process that's just there for me. I'm not at all con­scious of devel­op­ing voice or switch­ing between voic­es. I write and it's there.
Audrey: But as I think more about it, my brain keeps me pulling me back to the tru­ly dread­ful pic­ture books I used to write, which had no voice at all. Before writ­ing for kids, I wrote lit­er­ary short fic­tion for adults (which makes writ­ing for kids seem like a lucra­tive busi­ness deci­sion). My voice was always in the short sto­ries, but it did take me some time to get it into my chil­dren's writ­ing. A lot of time, actu­al­ly. Some­thing clicked into place with the buf­fa­lo books, and the best expla­na­tion I can give is that I learned to get out of my own way. I used to waste a lot of my nar­ra­tive space explain­ing the world I cre­at­ed and why char­ac­ters act­ed as they did. Now I state it and move on. And that, some­how, cleared out the room my voice had been wait­ing for.



Audrey: Late­ly I've been think­ing a lot about voice in non­fic­tion. I real­ly admire some voice-heavy non­fic­tion books, and I'm play­ing around with that, at least in my head, for the non­fic­tion project I've been work­ing on for years. The exam­ples that come to mind are both base­ball books–Kadir Nel­son's WE ARE THE SHIP, about as per­fect as a book could be (though maybe more for adult read­ers of chil­dren's books than for chil­dren), and the won­der­ful YOU NEVER HEARD OF SANDY KOUFAX? by Jon­ah Win­ter (illus­trat­ed by Andre Car­ril­ho). Those books deliv­er on three fronts, where I was only expect­ing two–information about a sub­ject in which I was inter­est­ed, gor­geous art, and the bonus: a real­ly inter­est­ing voice to tell the story.
Lau­rie: You also have a nov­el com­ing out this fall. How did you find that voice, and how is it like or unlike the two we've already seen?



Audrey: The voice in WATER BALLOON is truest to… me. To who I am. Not nec­es­sar­i­ly who I was at thir­teen, the age of the book's narrator/protagonist, but who I am now, dis­tilled back to a younger age.
Audrey: I start­ed this book sev­en years ago and the voice was the exact same in the first sen­tence of the first draft as it was when I com­plet­ed the final revi­sion. But man alive, did I need to work on plot. If my char­ac­ters had their way, they would lounge and emote for 300 pages.
Lau­rie: Anoth­er mul­ti-tal­ent­ed author of both fic­tion and non­fic­tion (and fel­low EMLA client) Chris Bar­ton wrote in a guest post on Ras­co from RIF, "I slide back and forth between fic­tion and non­fic­tion with­out real­ly think­ing much about it, my expe­ri­ences with one build­ing on the oth­er. I sus­pect the youngest read­ers approach the two gen­res pret­ty much the same way—when you've explored only a smidge of the world, all books are about explor­ing more of it. It's as we get old­er, as both read­ers and writ­ers, that our tastes divide."
Lau­rie: I guess, for some of us, our tastes nev­er did divide. (Per­haps because we nev­er grew up?) Do you have a pref­er­ence? Which cre­ative process do you enjoy more: fic­tion or nonfiction?
Audrey: I think writ­ing fun­ny comes more nat­u­ral­ly and is more fun. Writ­ing non­fic­tion is hard­er. But some­times there's a greater sat­is­fac­tion in suc­cess­ful­ly com­plet­ing a dif­fi­cult task. And I feel some­thing that's found at the cross­roads of pride and delight at shar­ing some­one else's sto­ry with a wide audience.
Audrey: I would­n't say I'm drawn to non­fic­tion as a whole, though. Some indi­vid­ual sto­ries just call me. And while it's obvi­ous that some of them are baseball–in the case of my first book, BARK & TIM, it was a paint­ing. I have likened see­ing Tim Brown's paint­ing to the human-inter­est sto­ry I once read about a woman who saw a news sto­ry about an orphan in anoth­er coun­try and had this imme­di­ate, strong knowl­edge: That's my son. It was that strong when I saw "Feed­ing Bark." That's MY paint­ing. My art. My sto­ry. For the play­ful, fic­tion books, I'm sim­ply drawn in by the strong pull/desire to write some­thing funny.
Lau­rie: Chris also wrote, "based on my own expe­ri­ences slip­ping back and forth between gen­res, I believe they might even find inspi­ra­tion for their next fic­tion project."
Lau­rie: Do you also find that one informs the oth­er? Do you need to do both to stay bal­anced? Where do you pull such dif­fer­ent ideas from? Do you think they come from the same place somehow?
Audrey: Both kinds of stories—fiction and nonfiction—call to me. I don't go seek­ing sto­ry ideas. I find myself won­der­ing about some­thing or some­one (non­fic­tion) and want­i­ng to explore to find out more. Usu­al­ly in the case of fic­tion pic­ture books, I say some­thing, though some­times I just think it, and it echoes until I start look­ing at it for sto­ry poten­tial. The clos­est I've come to one inform­ing the oth­er was when read­ing a par­tic­u­lar kind of non­fic­tion pic­ture book—the spate of inter-species friend­ship books—led to writ­ing a fic­tion spoof of the genre, the upcom­ing BOGART & VINNIE.
Lau­rie: Do you tend to work on fic­tion projects and non­fic­tion projects at the same time? Or do you keep them com­plete­ly separate?
Audrey: I work on them simul­ta­ne­ous­ly. I don't have any trou­ble switch­ing gears, for the most part.
Lau­rie: How is your process dif­fer­ent for some­thing like TEACH YOUR BUFFALO TO PLAY DRUMS and SHE LOVED BASEBALL?
Audrey: I just need an idea to start writ­ing fic­tion pic­ture books. A title, a premise, a character–those have all been my start­ing points for dif­fer­ent fic­tion pic­ture books. For non­fic­tion, I need a lot of infor­ma­tion. I need inter­views, back­ground infor­ma­tion, etc. And I need time for the sto­ry to boil down enough that I can envi­sion an open­ing scene, where an open­ing scene almost always nat­u­ral­ly emerges for me when writ­ing fic­tion pic­ture books.
Audrey: When I get stuck writ­ing non­fic­tion, it's usu­al­ly a good hint that I need to do more research. When I'm stuck writ­ing fic­tion, it's kind of my own prob­lem to fix. After wait­ing a few days to see if an answer comes to me, I'll some­times try to sit down and write five pos­si­ble ways out. This usu­al­ly works. One thing I've done when stuck writ­ing both fic­tion and non­fic­tion, with suc­cess, is talk it through with smart people.
Audrey: The edit­ing process is sim­i­lar in that both are almost always about strip­ping away to find the essen­tial sto­ry. With non­fic­tion, it's wrench­ing, because you're cut­ting away parts of a life. I still mourn for a scene in SHE LOVED BASEBALL. I find it more sat­is­fy­ing with fic­tion, because for me, my humor usu­al­ly comes through best when it's in a stark, brief form. But that's not how I write it–that hap­pens in revision.


Lau­rie: What are you work­ing on now?
Audrey: I am revis­ing a recent­ly acquired pic­ture book enti­tled BOGART & VINNIE, A COMPLETELY MADE-UP STORY OF TRUE FRIENDSHIP. I find myself in the new-to-me sit­u­a­tion of turn­ing a char­ac­ter from a pot­bel­lied pig into a rhinoceros.
Audrey: I'm also plan­ning to start a new upper mid­dle-grade nov­el this sum­mer, which scares me more than any oth­er kind of writ­ing. Nov­els are so con­sum­ing and, for me, real­ly hard! I know a lot about my main char­ac­ter and her sit­u­a­tion, about where she starts and where she'll end up, but get­ting her to move and do things has proven to be a challenge.
Audrey: Mixed in there are a cou­ple of oth­er pic­ture book projects–mostly fic­tion, with one nonfiction–that I return to every now and then. And one new one that's just start­ing to scratch its way to the surface.
Lau­rie: What do you most want peo­ple to know about you as an author and as a person?
Audrey: That is a big question.
Audrey: I'm a big read­er. The moments I love best as a read­er are the ones that make me laugh, or the ones I HAVE to read aloud or paste into an email for some­one else whom I know will get it exact­ly as I do, or stum­bling upon phras­ing that pleas­es me to my core. Most recent­ly, it was this sen­tence in Ann Patch­et­t's STATE OF WONDER, when a char­ac­ter receives bad news: "There was inside of her a very mod­est phys­i­cal col­lapse, not a faint but a sort of fold­ing, as if she were an exten­sion ruler and her ankles and knees and hips were all being brought togeth­er at clos­er angles." It's not an espe­cial­ly impor­tant moment in the book, but those words evoked some­thing in me. I reread them sev­er­al times, with great sat­is­fac­tion and pleasure.
Audrey: As a writer, I don't think there's any way to con­scious­ly strive for such moments in our own writ­ing. But I think that's why I write–in the hope that I might pro­vide that kind of moment for a reader.
Audrey: As a per­son, boy that's hard. When my sis­ters and I describe peo­ple, we always find our­selves falling upon the same rubric of fun­ny, smart, and nice. They claim they haven't, but I believe they have, more than once, sub­tly sug­gest­ed that I might want to work a bit on the nice part. I am a strange com­bi­na­tion of mis­an­thrope and some­one exceed­ing­ly fond of and loy­al to the core of peo­ple I adore.
Lau­rie: Thanks so much, Audrey! I can't wait to see TEACH YOUR BUFFALO TO PLAY DRUMS and all of your oth­er upcom­ing projects.
Read on about Audrey, the buf­fa­lo, and more on the rest of her sum­mer 2011 blog tour: