I'm finally starting to be able to come down from the high that was last weekend's SCBWI Western Washington's Writing and Illustrating for Children conference. After an extended period of not enough sleep, too much forced extroversion, and total detail overwhelm, I expected to be exhausted, but instead I was completely energized. It was so many kinds of awesome for me. I actually broke into tears driving home (the good kind, to be sure), and I've been walking around with a silly grin on my face ever since.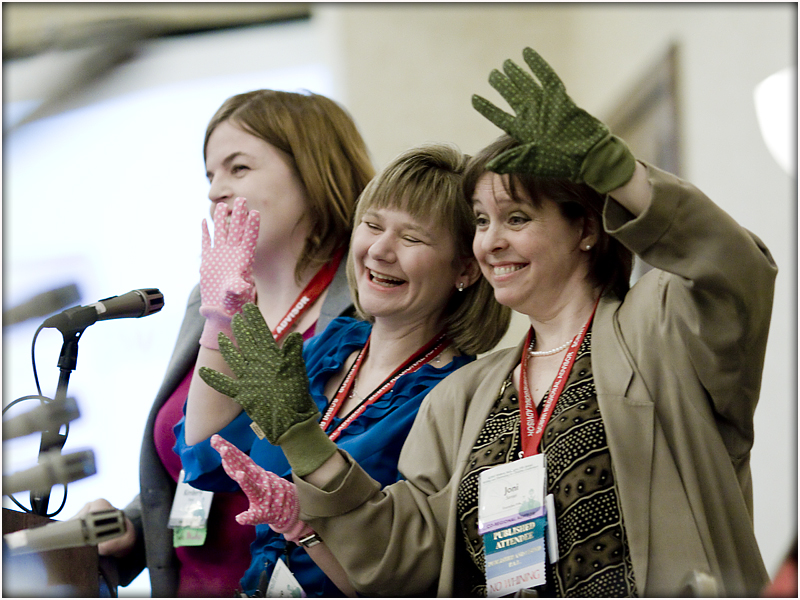 First of all, just being in the same room with that many people who care about the same thing I do is a gift. I've felt that at every writer's conference I've ever been to, and that in itself is reason enough to go. As a recovering pleaser, I guess I'm still a total sucker for validation.
More than that, though, was the shift in my own reality. I had three  goals for this conference:
Try to relax and enjoy the moment. I have a strong perfectionist streak and can be a total control freak sometimes, but this year I was able to (mostly) just let go and make the best of it.
Connect with people rather than their roles. I have always felt self-conscious around the faculty—those gatekeepers and success stories whom I so admire and respect—but this year I felt like I could've brought all of them home to my messy house for beer and burgers (probably more of a testament to their humility and grace than any personal growth on my part!).
Get more comfortable speaking to a crowd. I have always been terrified of public speaking, but this year it was not only easy, it was actually fun!
I've wished and worked for these qualities all my life, and they finally chose to manifest themselves last weekend. I feel like Laini Taylor's Magpie Windwitch, stuffing my most noxious demons into a fine glass bottle and pounding the cork in tight—banishing them to darkness where they can no longer exercise their evil powers.
So, the trick now is to go back to the solitary work of writing and revising without the task list spreadsheet, inexorable deadline, or golden "boss" pin. I can't delegate anything away to my more competent friends, no one will be stopping me in the hall to thank me for my efforts, and there will be no standing ovation when it's done. But I still have more goals to achieve (and more demons to banish), so it's back to work I go with a renewed sense of confidence and optimism.
How about you: did you have pre-conference goals, do you feel like you achieved them, and what's up next on your to-do list?