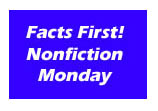 What a great idea! A group of tal­ent­ed authors who write fan­tas­tic non­fic­tion for kids have just launched a new project: INK Think Tank. "Each author has con­nect­ed his or her books to nation­al cur­ricu­lum stan­dards through a data­base that is acces­si­ble to every­one." This is great for the authors involved, great for edu­ca­tors, and great for non­fic­tion for kids over­all. Way to go, I.N.K.ers!
I would love to know what book Andrew Karre was work­ing on here for Lern­er! Any­one got time to try to reverse engi­neer his clues?
I've been work­ing on fic­tion late­ly, and I've guess I've fall­en behind on the non­fic­tion mar­ket. I've been watch­ing the Cybils nom­i­na­tions roll in, and WOW! For both the pic­ture-book and mid­dle-grade/y­oung adult non­fic­tion cat­e­gories, the books look amaz­ing! I've got some seri­ous (fun!) read­ing to do. Con­grats to all of the nominees!
Anas­ta­sia must've writ­ten this one just for me… I love books, I love the mag­ic of a child learn­ing to read, and I love cats! I've read all but one of her 5 Great Books About Cats.