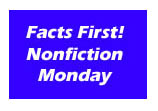 What a great idea! A group of talented authors who write fantastic nonfiction for kids have just launched a new project: INK Think Tank. "Each author has connected his or her books to national curriculum standards through a database that is accessible to everyone." This is great for the authors involved, great for educators, and great for nonfiction for kids overall. Way to go, I.N.K.ers!
I would love to know what book Andrew Karre was working on here for Lerner! Anyone got time to try to reverse engineer his clues?
I've been working on fiction lately, and I've guess I've fallen behind on the nonfiction market. I've been watching the Cybils nominations roll in, and WOW! For both the picture-book and middle-grade/young adult nonfiction categories, the books look amazing! I've got some serious (fun!) reading to do. Congrats to all of the nominees!
Anastasia must've written this one just for me… I love books, I love the magic of a child learning to read, and I love cats! I've read all but one of her 5 Great Books About Cats.