ATTACK! BOSS! CHEAT CODE!
writ­ten by Chris Bar­ton, illus­trat­ed by Joey Spi­ot­to
pub­lished by POW! Kids Books, Octo­ber 2014
32 pages
From the pub­lish­er's web page:
An iron­ic yet infor­ma­tive alpha­bet that defines the most impor­tant gam­ing terms that every­one needs to know, Attack! Boss! Cheat Code! A Gamer's Alpha­bet is the ulti­mate crossover gift for our age, a book that can actu­al­ly bring togeth­er video game-obsessed kids and their often per­plexed parents.
If you can deci­pher the fol­low­ing sen­tence, you don't need this book: "This open beta game is in third-per­son but first-per­son is unlock­able if you know the cheat code or install your own mod, but either way, for the best attack on the boss on this lev­el, try to grab that power-up!"
— See more at: http://powkidsbooks.com/attack-boss-cheat-code-a-gamers-alphabet/#sthash.sLnYcu9z.dpuf
Okay, I know I'm show­ing my geeky gamer girl side, but I love, love, love this book, and I think today's young (and not-so-young) read­ers will, too!
It's an alpha­bet book, of course, which means the infor­ma­tion is orga­nized by let­ter. With­in that con­straint, Bar­ton some­how man­ages to work in a whole bunch of key con­cepts nec­es­sary to under­stand­ing video games. Some are expect­ed, such as "boss." Oth­ers are more sur­pris­ing, like "instance." In either case, read­ers will love see­ing the terms they're more famil­iar with from the games they love play­ing, as well as the terms they're less famil­iar with but may have run across in con­ver­sa­tions with friends. I've played a fair amount of video games in my life­time, and I was still very pleas­ant­ly sur­prised to learn a few new terms myself!
The art­work is bright and fun and helps illus­trate the con­cepts well. The illus­tra­tor tips a nos­tal­gic hat to old­er games that more grownup read­ers will appre­ci­ate, while at the same time ref­er­enc­ing enough cur­rent faves to delight younger gamers.
Check this one out, and then come back on Wednes­day for my inter­view with the author, Chris Bar­ton!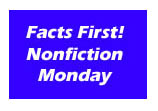 (Dis­claimer: The review copy was won by the blog­ger as part of a pro­mo­tion­al giveaway.)