ATTACK! BOSS! CHEAT CODE!
written by Chris Barton, illustrated by Joey Spiotto
published by POW! Kids Books, October 2014
32 pages
From the publisher's web page:
An ironic yet informative alphabet that defines the most important gaming terms that everyone needs to know, Attack! Boss! Cheat Code! A Gamer's Alphabet is the ultimate crossover gift for our age, a book that can actually bring together video game-obsessed kids and their often perplexed parents.
If you can decipher the following sentence, you don't need this book: "This open beta game is in third-person but first-person is unlockable if you know the cheat code or install your own mod, but either way, for the best attack on the boss on this level, try to grab that power-up!"
– See more at: http://powkidsbooks.com/attack-boss-cheat-code-a-gamers-alphabet/#sthash.sLnYcu9z.dpuf
Okay, I know I'm showing my geeky gamer girl side, but I love, love, love this book, and I think today's young (and not-so-young) readers will, too!
It's an alphabet book, of course, which means the information is organized by letter. Within that constraint, Barton somehow manages to work in a whole bunch of key concepts necessary to understanding video games. Some are expected, such as "boss." Others are more surprising, like "instance." In either case, readers will love seeing the terms they're more familiar with from the games they love playing, as well as the terms they're less familiar with but may have run across in conversations with friends. I've played a fair amount of video games in my lifetime, and I was still very pleasantly surprised to learn a few new terms myself!
The artwork is bright and fun and helps illustrate the concepts well. The illustrator tips a nostalgic hat to older games that more grownup readers will appreciate, while at the same time referencing enough current faves to delight younger gamers.
Check this one out, and then come back on Wednesday for my interview with the author, Chris Barton!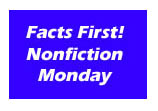 (Disclaimer: The review copy was won by the blogger as part of a promotional giveaway.)