This is the second post in the series introducing the amazing young people who are profiled in my upcoming book, BE A CHANGEMAKER: HOW TO START SOMETHING THAT MATTERS (Beyond Words/Simon Pulse, September 2014). Today I'm introducing Edward Jiang, founder of StudentRND, and giving some behind-the-scenes details about our in-person interview.


Edward loves technology, but he was frustrated by the structured opportunities available to him in high school. He wanted to have the time and resources to just play with technology alongside other enthusiasts and see what they could make out of it. So, right before graduation, he recruited some of his friends to spend the summer of 2009 hanging out with him at his house and building cool technology projects together. He had such a great time that he decided to build a permanent place in the community where any interested student could do the same. He called it StudentRND.

By 2013, StudentRND occupied a 3,500-square-foot office space in Bellevue, WA, with an electronics lab (featuring soldering tools and oscilloscopes), a fabrication lab (with a 3-D printer and laser cutter), a computer lab (loaded with software packages), and an impressive technology library. When I visited, Edward showed me how he used his Twitter account to unlock the door, and I got to see their custom vending machine and a set of the plasma speakers created at StudentRND by Marshall Meng. Impressive, to say the least!
Edward was one of the first people I interviewed for BE A CHANGEMAKER, and it was an experience I won't soon forget. To my surprise, he was skeptical about the book and made no attempt to hide his feelings. He politely questioned the need for a book like this specifically for teens, who are perfectly capable of reading books for adults. I'm so grateful to him for raising this issue early on! His doubts guided me throughout the writing process, reminding me to never talk down to my audience as I struggled to include the most useful content in the most directly relevant ways. I hope I've succeeded in delivering something worthy of teen readers. If I have, I know I owe it in no small part to Edward and his unflinching honesty.
Now a registered nonprofit, StudentRND controls a six-figure annual budget and receives more than a third of its funding from technology companies like eBay, Splunk, Coinstar, Stratos, and Medtronic. Major online media outlets like TechCrunch, GeekWire, and Mashable as well as traditional media like newspapers, radio, and television have featured StudentRND. And they recently added three technology veterans from companies including Splunk, Amazon, and Google to their board of directors, joining Edward and StudentRND program director Tyler Menezes.

Last weekend 24 cities across the country hosted CodeDay events for hundreds of youth. First launched in 2011, StudentRND's CodeDay events are 24-hour student hackathons. Young technologists pitch ideas, form teams, and build a cool app or game together in one day. What can a student do in one day? Mohammad Adib created and published Sidebar, an Android app with more than 200,000 downloads! And that's just one of many CodeDay success stories.
StudentRND and its CodeDay program appear poised to continue growing, reaching more students, engaging them in technology, and making real products. And Edward Jiang made that change happen.
Follow StudentRND on Facebook and on Twitter. Follow CodeDay on Facebook and on Twitter.
---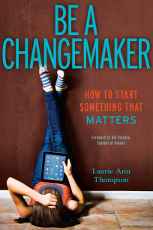 If you'd like to read more about Edward and other young people like him who are putting their passions into action to make a positive difference in the world, please pre-order the book at Amazon.com, Barnes & Noble, IndieBound, Powell's, or Beyond Words, or Secret Garden Books. Ordering from Secret Garden Books can get you a signed copy if you allow an extra week or two for delivery and indicate how you'd like it personalized in the "other notes about your order" field.