Last week I post­ed this review of Dar­cy Pat­ti­son's mov­ing new pic­ture book, WISDOM, THE MIDWAY ALBATROSS. Today, Dar­cy stops by to dis­cuss it!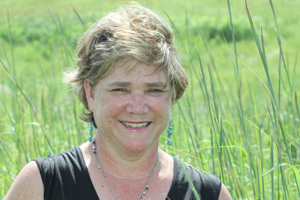 LT: Hi, Dar­cy! I'm so excit­ed to have you vis­it. Can you tell me how you first become inter­est­ed in writ­ing about Wisdom?
DP: I have been inter­est­ed in writ­ing more nature/science relat­ed books, so a cou­ple times a month, I read the Fish and Wildlife Ser­vice blog at http://www.fws.gov/news/blog/, just trolling for top­ics. After the earth­quake and tsuna­mi last year, I saw infor­ma­tion on the old­est wild bird in the world, who sur­vived the tsuna­mi and had to learn more.
LT: Although you're tra­di­tion­al­ly pub­lished many times over, this book is pub­lished by your own inde­pen­dent pub­lish­ing com­pa­ny. Con­grat­u­la­tions on what must have been a huge effort to pull every­thing togeth­er! Can you talk about your deci­sion to go that route with this book?
DP: I cre­at­ed the Mims House pub­lish­er to address time­ly sto­ries like that of Wis­dom. Tra­di­tion­al pub­lish­ers work on a very long lead time, often tak­ing two or three or four years to bring a pic­ture book to the mar­ket­place. With print-on-demand tech­nol­o­gy, I can do it much quick­er. For mar­ket­ing, I can shout very loud online, 'Read all about it.' Tra­di­tion­al pub­lish­ers will always hold the lion's share of the mar­ket­place, but there's also room for niche pub­lish­ers, sup­port­ed by new technologies.
LT: Can you tell us about Kit­ty Harvill's illus­tra­tion process? How did she cap­ture Wis­dom in her art?
DP: The Fish and Wildlife ser­vice makes pho­tos avail­able as pub­lic domain mate­r­i­al at http://digitalmedia.fws.gov/, so it was very easy to find images for Kit­ty to use as pho­to ref­er­ences as she did her watercolors.
LT: I think every book teach­es us some­thing new, about the world, about our­selves, or about the craft of writ­ing. What have you learned as a result of writ­ing this book? What sur­prised you the most dur­ing the process?
DP: I was total­ly sur­prised that birds could still be lay­ing eggs at the age of 61. But Wis­dom just laid a new egg in Decem­ber, 2011.
LT: Are there any tips you would like to share with aspir­ing children's book writ­ers, espe­cial­ly those writ­ing non­fic­tion for kids?
DP: Talk to the source. When I real­ized I want­ed to write about Wis­dom, I went direct­ly to the biol­o­gist who lives and works on Mid­way Atoll, Pete Leary. He was invalu­able in giv­ing me infor­ma­tion and vet­ting the man­u­script. The oth­er tip is to dig deep­er. This sto­ry is excit­ing part­ly because of Wis­dom's longevi­ty. I did a time­line of her life and times to under­stand what she has lived through. If I had only told the sto­ry of the tsuna­mi, it would­n't have been as pow­er­ful as the sto­ry of over 60 years of survival.
LT: I've always said that I will know I've made it when I receive one let­ter from one child say­ing that some­thing I wrote made a pos­i­tive dif­fer­ence in his or her life. How do you define suc­cess? Do you feel
like you've achieved it? If not, what's left on your to-do list?
DP: I have loved every part of Wis­dom's sto­ry and chron­i­cling it for chil­dren. I take it one project at a time, and if I can say that I did the best job pos­si­ble, then I am hap­py. On my to-do list? Find­ing more equal­ly stir­ring tales about nature.
LT: What are you work­ing on now?
DP: My new book, DESERT BATHS (Syl­van Dell) comes out in August 2012. It's a sto­ry about how desert ani­mals take a bath–lots of fun!
LT: What would you most like peo­ple to know about you?
DP: I love to write.
LT: And it shows! It's always inspir­ing and help­ful to get a "peak behind the cur­tain" of the writ­ers I admire. Thanks again, Darcy!
And, if you'd like to read an inter­view with the illus­tra­tor of WISDOM, Kit­ty Harvill, please click on over to this post at Archimedes Notebook.