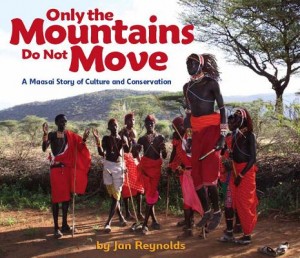 Only the Moun­tains Do Not Move: A Maa­sai Sto­ry of Cul­ture and Conservation
by Jan Reynolds
Lee & Low Books, Sep­tem­ber 01, 2011
40 pages
Grades 3–4
I've always been fas­ci­nat­ed by the Maa­sai, so I was pleased to see this book about their cul­ture writ­ten for chil­dren, and this book did­n't dis­ap­point. Straight­for­ward text is com­bined with Maa­sai proverbs and beau­ti­ful pho­tog­ra­phy to give us a detailed glimpse at mod­ern-day Maa­sai life. This is a bal­anced rep­re­sen­ta­tion: Reynolds isn't afraid to show the less pleas­ant (bit­ing bugs!) or shock­ing (drink­ing cow blood!) aspects of Maa­sai life, but she also reveals the peace and togeth­er­ness it brings. Espe­cial­ly rel­e­vant to her young read­ers is how she focus­es on what the Maa­sai boys and girls do at dif­fer­ent ages.
One pleas­ant sur­prise was how Reynolds shares with read­ers not only the his­tor­i­cal Maa­sai cul­ture, but also how the Maa­sai way of life is chang­ing due to out­side pres­sures and how they are adapt­ing to this new world, giv­ing the sto­ry con­text in the broad­er world.
I'd be remiss, how­ev­er, if I did­n't men­tion that there were a few minor draw­backs for me. First, it both­ered me not to have pro­nun­ci­a­tion guides for the Maa words embed­ded in the text (but there is one at the end). Sec­ond, although the Maa­sai proverbs were love­ly, I want­ed more of them and to have them appear more reg­u­lar­ly through­out the text. As it is, with 10–14 pages between proverbs, they sort of sur­prised me each time and felt more like inter­rup­tions than the embell­ish­ments they should have been. Final­ly, I would have liked to get a lit­tle clos­er to the main fam­i­ly through­out the whole book. Some­times the text seems to move way out to the Maa­sai in gen­er­al for a long time, then it zooms in briefly to the main char­ac­ters, then goes right back out again. I would've liked more con­nec­tions to have been made between the gen­er­al way of life and the spe­cif­ic family.
On the plus side, the back mat­ter includes an author's note, a glos­sary and pro­nun­ci­a­tion guide, a web site for more infor­ma­tion, and source notes and acknowl­edge­ments. There's also a very inter­est­ing inter­view and book talk with the author avail­able here, which should make it ever more appeal­ing for teach­ers hop­ing to use it in the classroom.
This is a won­der­ful book for intro­duc­ing a unique and fas­ci­nat­ing African cul­ture to upper ele­men­tary students.