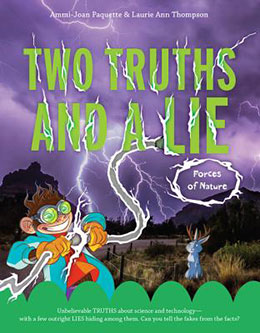 Other Books in this Series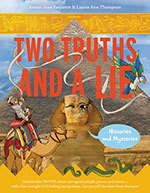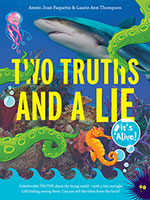 Did you know stud­ies have shown that too many fid­get spin­ners spin­ning in the same direc­tion can poten­tial­ly have adverse effects on the earth's mag­net­ic field? Or that there's a com­pa­ny that can turn your deceased loved one's remains into a dia­mond? Or that the loud­est sound in his­to­ry was made by the erup­tion of a vol­cano in 1883, whose echo­ing blast cir­cled the plan­et twice?
Wel­come to Two Truths and a Lie: Forces of Nature! You've heard of the game: Every sto­ry in this book is strange and astound­ing, but one out of every three is an out­right lie. Pick­ing out the fakes isn't as easy as you think, how­ev­er. Some false sto­ries are based on truth, and some of the true sto­ries are just plain unbe­liev­able! Don't be fooled by the pho­tos that accom­pa­ny each story—it's going to take all your smarts and some clever research to fer­ret out the truth.
From a man who gave him­self an appen­dec­to­my to radio sig­nals from oth­er plan­ets to eagles that have been trained to take out spy drones, the sto­ries in this third install­ment in the Two Truths and a Lie series will amaze you! Just don't believe every­thing you read….