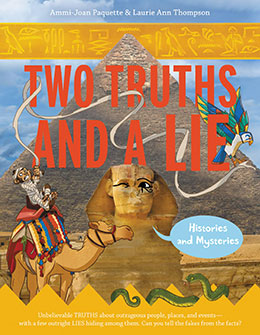 Other Books in this Series
Did you know that a young girl once saved an entire beach community from a devastating tsunami thanks to something she learned in her fourth-grade geography lesson? Or that there is a person alive today who generates her own magnetic field? Or how about the fact that Benjamin Franklin once challenged the Royal Academy of Brussels to devise a way to make farts smell good?
You know the game: Every story in this book is strange and astounding, but one out of every three is an outright lie. Some false stories are based on truth, and some of the true stories are just plain unbelievable! Don't be fooled by the photos that accompany each story—it's going to take all your smarts and some clever research to root out the alternative facts. Don't believe everything you read!
My blog tour for Two Truths and a Lie: Histories and Mysteries
My blog posts about this series.
"With the phrase 'fake news' being tossed around a great deal these days, this collection of stories in which one out of every three is a lie is both timely and entertaining…. Readers with a taste for trivia and the strange-but-true aspects of geography and history will find much to enjoy." (Kirkus Reviews)
"Even dyed-in-the-wool skeptics will be hard put to spot the ringers: footprints embedded in sandstone on the roof of Kentucky's Mammoth Caves, dental fillings more than 12,000 years old, or a trove of lead tiles embedded with ancient Roman curses? Along with suggestions for side projects and discussions, the authors offer fact lists containing one false factoid as extra challenges to readers' credulity. Happily, the back matter includes explanations that identify the baloney, as well as a savvy guide to evaluating information sources." (Booklist)